Getting There is Half the Fun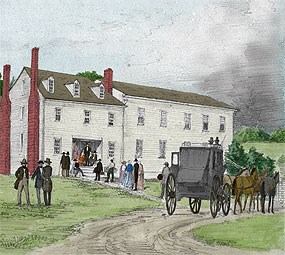 ---
When tours began at Mammoth Cave, visitors found that getting to the cave was considerably easier than traveling to many other parts of the state. Regular stagecoach service operated from large cities such as Lexington, joining with smaller local runs between such places near the cave as Glasgow, Glasgow Junction (now Park City), and Cave City. Later a regular route developed between Louisville and Nashville. Steam packets, such as the steamboat
Hobson
, the passenger boat
Chaperone
, and the tow boats
Emma
and
Canoy
also brought travelers up the Green River from Bowling Green after the completion of the river locks and dams in 1843.
Andy McCoy operated two six-horse coaches, the Florida and the John E. Bell, on the stage line from Cave City to Mammoth Cave, using, in part, a road Dr. Croghan had built for the express purpose of bringing visitors to the cave. The arrival of McCoy's stages at the Mammoth Cave hotel was routinely met with a bugle call, and a crowd of eager people would welcome their guests as the porters carted in the luggage.
On Friday, September 3, 1880, the John E. Bell, carrying seven passengers, was waylaid as it passed near Little Hope Church. Two masked brigands emerged from the woods, held up the stage and ordered all the terrified passengers into the road, except the aged Judge R.H. Rountree and his daughter Lizzie. The party was stripped of its valuables, all save one wallet that a passenger had had the wit to stow under the coach seat. Judge Rountree lost a gold watch and $55, and the thieves took his daughter's diamond rings.
Then the bandits, gallantly wishing the party "better luck next time," rode away into the woods, their identity unknown. But a few months later the infamous robber Jesse James was murdered in St. Louis by an accomplice, and on his body was found Judge Rountree's watch.
Dr. W. Stump Forwood recalls the experience of stage travel through cave country in An Historical and Descriptive narrative of Kentucky, published in 1870:
At the date of our journey the latter part of May this road was in comparatively good condition, but in the winter and early part of the spring it is said to be almost impassable to travelers. The greater part of the soil is a light colored, sticky clay, with a little sand at intervals ... there are small cultivated patches of ground here and there, scarcely deserving the name of farms. The country generally is covered with straggling forests, consisting chiefly of "blackjack" white oak, chestnut, etc. Frequently along the road may be seen small circular depressions in the ground called 'sinks,' the surface having fallen in in consequence of subterraneous excavation. The whole of the surrounding country appears to be of a cavernous nature; and if the traveler should be so unfortunate as to possess a timid disposition or large development of caution, he might be apprehensive of a sudden disappearance of the stagecoach into the bowels of the earth.
Last updated: May 23, 2018