Cave Wars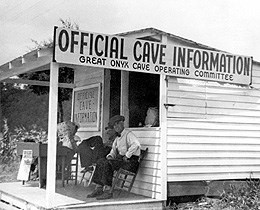 ---
By 1920, a war had broken out in the Kentucky Cave Country – a war of economics. The combatants were the Mammoth Cave Estate and practically everyone else who owned a cave in Mammoth Cave Ridge and Flint Ridge.
Mammoth Cave, by this time a century-old tourist attraction, had demonstrated the profit to be had in tourism. That other cave owners would seek to share that profit was inevitable, and the competition grew rancorous. Colossal Cave, Long Cave, Short's Cave, Great Onyx Cave, Indian Cave, Salts Cave and Crystal Cave all vied for the attention of passing mororists bound for the world-famous Mammoth, and strange signs began to sprout by the roadside, reading "DO NOT BE CONFUSED – NO ONE HAS THE RIGHT TO STOP YOU ON THIS ROAD."
Agents from the various caves began intercepting cars on the road, and conversations such as this were not uncommon: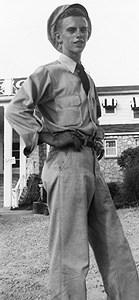 "Excuse me sir – "
"What did you stop me for?"
"Pardon, sir, but are you headed for the Mammoth Cave?"
"Well, yes, not that it's any of your business."
"Oh, it's a good thing I caught you sir. Mammoth Cave has been flooded clear to the ceiling by the rain last week. There's no way in."
"You don't say! And here I've driven all this way."
"Well! You don't have to be disappointed, sir! Colossal Cave is just up the road, a little past Mammoth Cave, high and dry! I've even got a couple of tickets on me I could sell you ...."
Mammoth Cave, of course, had not been flooded.
Last updated: May 23, 2018