Another Day, Another Dollar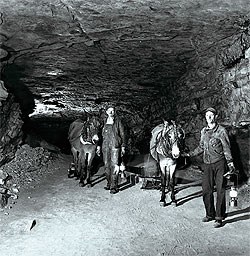 ---
In the meantime, the Civilian Conservation Corps arrived on the scene to begin developing the property for use as a national park. The roads were little more than wagon ruts, impassable in wet weather. The trails within the cave remained rough, the same flagstone paths Stephen Bishop and others laid out almost a hundred years before. No communications were available; there was no housing; the water system was crippled.
Four camps of CCC workers worked for $1 per day building housing, roads, cave trails, communications systems, water systems, restrooms, showers, and a service elevator to the famous Snowball Room in the cave.
As 1934 wore on, problems arose on the legal front. The condemnation proceedings for park lands currently in Kentucky courts demonstrated that the park would never be completed unless the cases could be brought in Federal court, and in a meeting between the Commission, the Association, and representatives of the National Park Service, all parties agreed that the NPS would take over the responsibility for acquisition. Also agreed at the meeting were that the lands within the minimum boundary would be turned over to the NPS except those cave and hotel properties whose revenues could then be turned over directly to the Service rather than the U.S. Treasury. Also, all monies would be consolidated and turned over to the NPS except those needed to manage the cave and hotel operation and meet overhead costs.
With these agreements in hand, the National Park Service took up the process of land acquisition. The newly appointed Mammoth Cave Operating Committee, established by NPS Director Arno Cammerer, the Commission, and the Association, ran the park. On May 22, 1936, the Secretary of the Interior formally accepted the park into the system, though no funding would ensue until all the lands defined under the 1926 act had been acquired.
Last updated: May 23, 2018