A New National Park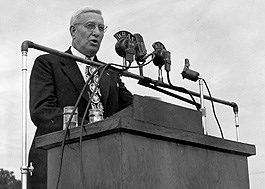 ---
The minimum acreage was obtained by July 1, 1941, and the lands were then declared a national park. But there was an imperfection in the plan. The Great Onyx Cave and Crystal Cave properties, situated within the minimum boundary, had been valued at a price out of reach of the National Park Service. Secretary Harold Ickes signed a December 1940 order excluding the two properties from the park so that the plan could move forward, and another 20 years would pass before the two caves would join the rest of Mammoth Cave National Park.
The Mammoth Cave Operating Committee would oversee the operation of the Old and New Entrance properties until 1941, when it would be succeeded by the newly formed and authorized National Park Concessions, Inc.
The park itself would have to wait five years, until the close of World War II, for the formal dedication establishing it as the 26th unit of the National Park Service on September 18, 1946.
Last updated: May 23, 2018