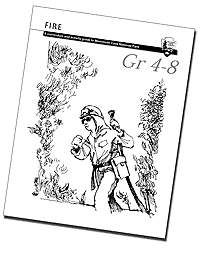 Mammoth Cave National Park has developed curriculum materials for teachers to use in educating students in grades 4-8 about fire and its role in the park. The curriculum is available for download below either in its entirety or as individual units, along with the appendices.


Fire Curriculum (entire, 2.7mb)






Individual Units:

Recipe for a Fire
Stopping the Flames
Fire & Man – Friend or Foe?
Hot Habitats (Classified)
Plot Monitoring
Acre By Acre
Fire and Weather
Weather In Your Pocket
Fire Fighting Costs Money!

Appendixes:

The Changing Role of Fire in Kentucky's Forests
A Chronology of Large Wildland Fires in the United States
Fire Videos Available from Mammoth Cave National Park