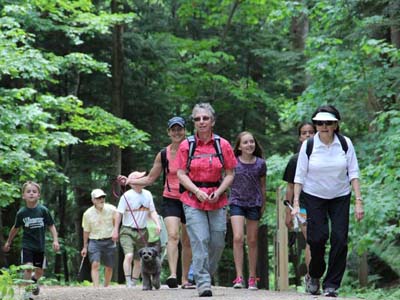 Flavors, Fun, and Fitness
on the Trails of Woodstock, VT
The Annual Trek to Taste - a celebration of local food and local trails - is scheduled for Saturday, June 3, 2017 from 10am to 3pm at the Marsh-Billings-Rockefeller National Historical Park.

This free event celebrating National Trails Day is co-sponsored by over 30 area organizations and is one of the most popular events in the Upper Valley.

This year's Trek will feature some familiar elements and introduce some new ones in celebration of the 100th anniversary of the National Park Service.
Guided hikes will begin at the Forest Center following the dedication ceremony at 10:30 AM and again at Noon. Walkers of all ages are invited to join knowledgeable area guides for treks to the park's horse shed meadow (.4 mile), the Nordic Hut (1 mile) and Mount Tom's South Peak Summit (2 miles). Also at 10:30, Miss Amanda will offer a special yoga hike and the park's curator will be leading a walk featuring a new Centennial outdoor sculpture exhibit developed in partnership with the New England Sculpture Association.
Five "hubs" of activities will be spread around the National Park and Billing Park's trail system. Under the big tent at the Forest Center visitors will find the Upper Valley Farm to School Network showcase. Over a dozen area school teams will exhibit exciting projects related to local food and farms - and provide tasty food samples. Exhibitors will also include the Ottauquechee Regional Planning Commissions' popular interactive stream table, ice cream-making with the Billings Farm & Museum, health tips with the Mount Ascutney Hospital and Medical Center ArtisTree and Vermont Institute of Natural Science (VINS) will be stationed at the terminus of the shortest hike which will lead to the park's horse shed meadow. This location will feature kid-friendly activities including special trail snacks, a raptor, decorating bandanas and stickers, and wildlife "eye spy" activities. The Woodstock High School and Middle School Farm to School program is preparing wood fired pizza at the Nordic Hut, using many locally sourced delicious ingredients cooked in a mobile oven. Sustainable Woodstock is gathering gourmet food from area farms and establishments, providing well deserved tastes by hikers who make it to the Summit of Mount Tom. The Woodstock Historical Society will be at the vista with a historic photo display with views from the summit taken over the last century, and a refreshing traditional "switchel" for you to try. Many activities, such as making walking sticks and a local Valley Quest will be organized for trekkers young and old. The Upper Valley Trails Alliance Green Mountain Club, and Appalachian Trail Conservancy will provide hiking tips and trail and information. The day will include music by Vermont Fiddle Orchestra from 10:30 –12:30 and Jack Snyder from 1:00 –3:00 starting at 1 p.m., and an ice cream social sponsored by the Billings Park Commission with homemade ice cream from the Woodstock Creamery.