Peak to Peak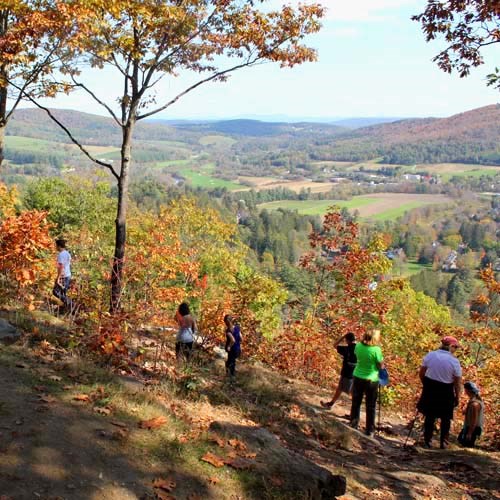 Annual Peak to Peak Event
Exploring the trails of Woodstock, VT
Saturday, October 13, 2018
10am-2:30pm
~
On the Green in Woodstock ~
Registration opens @ 9:30am
Hikes begin @ 10am, 10:30am & 1pm
♦ Fall Fun on the Village Green
♦ Autumn hikes with spectacular views
♦ Join a guided hike, yoga hike or history hike or grab a map and hit the trails on your own!
♦ Explore Woodstock's trails during the height of fall color, with snacks and activities for all ages along the way. With colorful leaves transforming Woodstock's woodlands, it's the perfect time of year to lace up your boots and hit the trail. The seventh annual Peak to Peak event invites locals and visitors alike to explore the walking paths of Woodstock, VT.

The event is centered on the Woodstock Village Green, wher participants can learn about local recreation opportunities, play family-friendly games, and join expert guides for specialized hikes up Mt. Peg or Mt. Tom.

New this year, the event will also feature a hiker hub at the park's historica pont, the Pogue, where autumn's hues reflect vividly on the surface of still water. Walkers who make it to the top of the peaks or to the Pogue can enjoy apple cider, cheese, crackers and art activities to reward their efforts. the event is free and open to the public.
Join juided hikes to scenic viewpoints on Mount Peg or Mount Tom - or grab a
Walk Woodstock
map and head out on your own.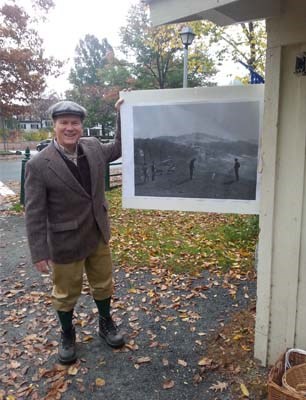 Peak to Peak to Pogue Challenge
Hearty 7 miles roundtrip
Departs @ 10am
Summit both Mt. Tom and Mt. Peg, and loop around the Pogue. Bring a lunch and fuel your journey.
Mt Peg History Hike
Easy 1.5 mile roundtrip
Departs @ 10:30am
Explore the landscape history of Mt. Peg with a local historian, with special focus on the golf course that used to occupy its slopes.
Mt Tom Foliage Hike
Moderate 3.5 mile roundtrip
Departs @ 10:30am
Hike the historic aulkner Trail to South Peak for a birds-eye view of the town of Woodstock. A scenice uphill trek for hikers of all ages.
Water Wanderings
Moderate 3 miles roundtrip

Departs @ 11am
Meet at the Carriage Barn Visitor Center of an exploration of natural and human-made water features from garden fountains to babbling brooks, culminating with a snack stop at the Pogue.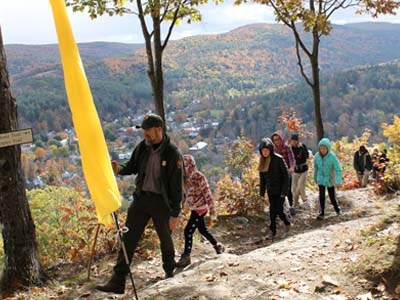 Mt Peg Family Foliage Hike
Easy 1.5 miles roundtrip
Departs @ 1pm
Climb the gentle slopes of Mt. Peg for a fantastic panoramic viw of the vibrant hillsides on this family-friendly walk.
Peak to Peak is made possible with the support of many partners including: Billings Park Commission, Green Mountain Club, Holt Survey Associates, Sustainable Woodstock, Upper Valley Sierra Club, Upper Valley Trails Alliance and Vital Communities

The Boots to Boats initiative, supported by a grant from the National Park Foundation, encourages participants to recreate on their public lands and waters in and between Vermont and New Hampshire's only national park sites, via the Appalachian National Scenic Trail and the Connecticut River National Blueway. From yoga hikes to public paddle days, guided events have been offered throughout the summer and into fall. For more information, or to plan your own Boots to Boats adventure in any season, check out go.nps.gov/bootstoboats.
Last updated: March 25, 2019