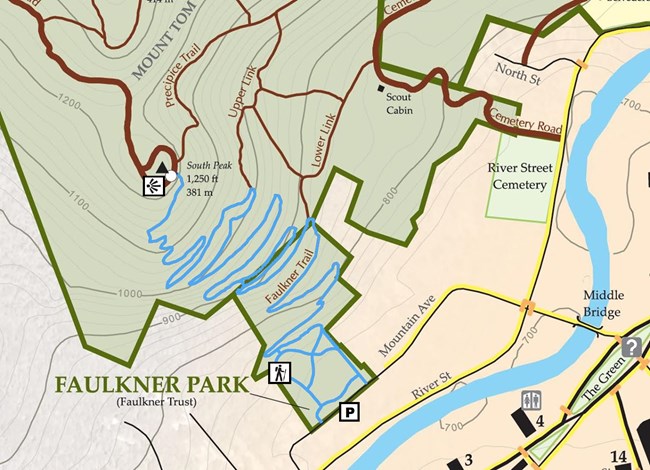 The Faulkner Trail is a popular hike featuring gentle switchbacks that build up to an incredible panoramic view of Woodstock from the South Peak of Mount Tom. Most of the hike gradually gains elevation, leading to a scenic overlook with a bench. The last 100 yards to the summit is strenuous. At this section of the trail, a handrail assists walkers with the uneven footing up the steep terrain to the peak. Give the rail a wiggle to ensure firmness before use. Please remain on the trail, and don't cut the switchbacks.
History
The Faulkner trail was carefully constructed in 1937 by Marianne Faulkner in memory of her husband Edward Daniels Faulkner. She designed it to mirror gentle "cardiac health" trails in the spa town of Baden Baden, Germany. It connects the town of Woodstock with the trails of Marsh-Billings-Rockefeller National Park.
The Faulkner Trail has been continually maintained and repaired by groups including: the National Park Service Rivers Trails and Conservation Assistance Program; the Billings Park Commission;Vermont Youth Conservation Corps and the Student Conservation Association.