Appalachian Trail Hikes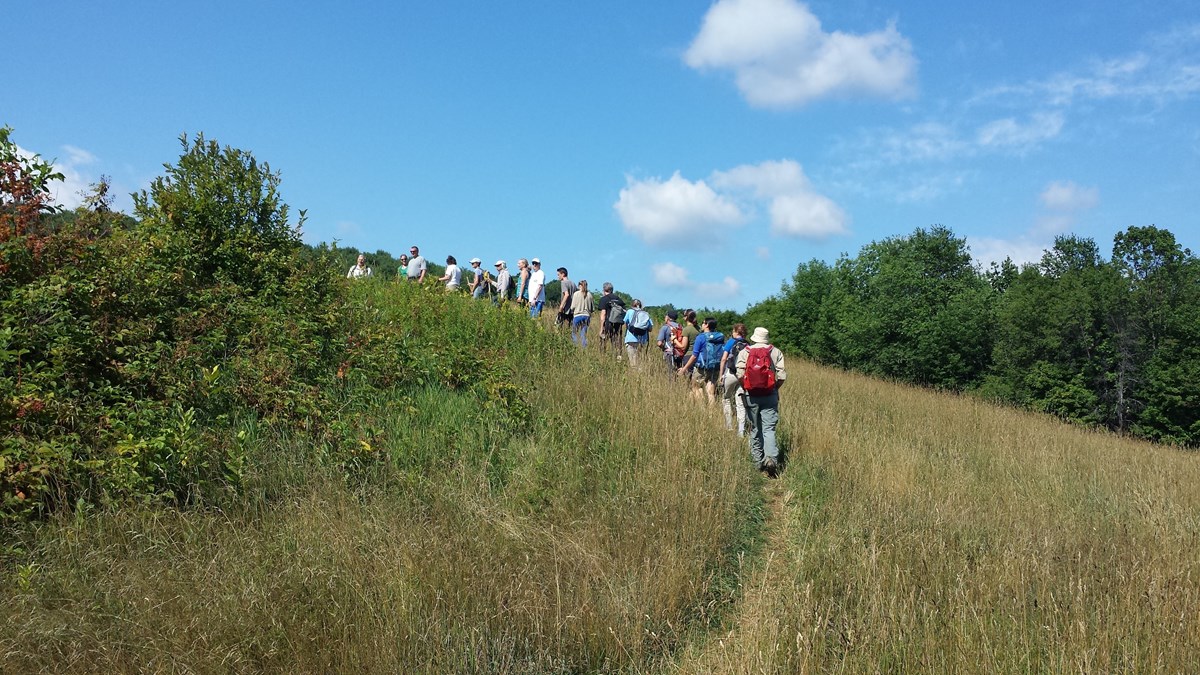 Join National Park staff and Green Mountain Club volunteers on a hike along the Appalachian Trail! All hikes begin at the Billings Farm & Museum parking lot. A shuttle will bring you and the group to the trailhead, and pick you up to bring you back at the end of the hike. Bring plenty of water, snacks, sunscreen, and hiking shoes. If visitors show up unprepared, they will not be allowed to attend.
Only 12 spots are available for each hike, so please call 802-457-3368 ext. 0 to reserve your spot!
Date

Estimated Distance

Hike

Trail Description

Elevation Change
6/18
2.1 miles
Rt 12 to Stage Rd
Trail begins on the eastern side of VT 12, with a steep initial climb up Dana Hill (elevation 1530). Trail ends at Stage Road. Steady climb to top of Dana Hill then steady descent down to Stage Road.
700' up
700' down
7/2
2.4 miles
Stage Rd to Pomfret Rd
Most family friendly hike. Trail begins by crossing a bridge over Barnard Brook. Section will end by crossing over the Pomfret Brook using a cable to walk on rocks or through the brook.
300' up
200' down
7/16
2.2 miles
Pomfret Rd to Cloudland Rd
Trail begins at Pomfret Road. Steady climb with beautiful views at top of Dupuis Hill.
700' up
400' down
7/23
3.3 miles
Cloudland Rd to Joe Ranger Rd
Lots of ups and downs! Pass by Thistle Hill Shelter. Steep downhill after Thistle Hill Shelter. Nice views from Arms Hill just before Joe Ranger Road. Trail ends when you reach Joe Ranger Road (dirt road).
600' up 600' down
8/6
3.9 miles
Joe Ranger Rd to the White River
Hilltop pastures with views and old red pine plantation. Old cellar hole on right just after sharp left-hand turn at a cairn. Starts on steep sidehill up with a tricky bit of rock ledge. Lots of downhill, steeply down to paved Quechee-West Hartford Road, then downhill on paved road to VT-14 and White River. Small parking area on left just after Quechee-West Hartford bridge across from West Hartford Public Library.
300' up 1200' down
8/27
4 miles
Tigertown Road to Happy Hill Rd
Northbound: Lots of uphill from the start. Eventually you will pass Happy Hill Shelter on your right. Shortly after passing the shelter, stay left and take William Tucker Trail towards Happy Hill Road. You will come to a large metal gate and a wooden kiosk. This is where this section of trail ends.
1400' up 700' down
9/10
3.69 miles
Happy Hill Rd to Elm Street
Mostly gentle, with slightly steeper downhill towards the end. This is the last section of AT in Vermont. Drop off is at end of Happy Hill Road at metal gate and wooden kiosk. Pick up is on Elm Street at wooden kiosk. Small parking areas at each location.
200' up 500' down
9/17
2.4 miles
Stage Rd to Pomfret (again!)
Most family friendly hike. Trail begins by crossing a bridge over Barnard Brook. Section will end by crossing over the Pomfret Brook using a cable to walk on rocks or through the brook.
300' up 200' down
Last updated: June 3, 2022