Group Tours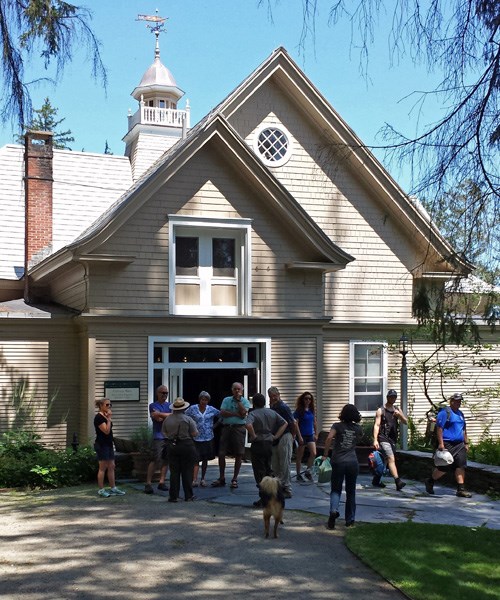 Marsh-Billings-Rockefeller Group Tour Information
If you are looking to reserve a tour for 12 people or less, reservations are available for tours and programs up to 60 days in advance on Recreation.gov. Tours and programs are limited admission, so please reserve in advance! For groups larger than 12, please read on.

Marsh-Billings-Rockefeller National Historical Park is happy to welcome commercial tours and other large groups to experience the only national park dedicated to the history of conservation.
We are open daily from late May through October 31.
The overflow parking lot at Billings Farm & Museum, our non-profit partner, is able to accommodate buses or large numbers of automobiles.
Many commercial tours work with both sites to create a classic Vermont itinerary for their guests. You can reach Billings Farm & Museum at 802-457-2355
► All tour groups (including Commercial Bus tour groups)
$9.00 per individual.
► Large groups
are required to call ahead for special arrangements. To schedule a group tour, please email mabi_visitorservices@nps.gov with your requested tour date and time. Reservations are not guaranteed until a confirmation is recieved.
►
Reservations are highly recommended.
Each Mansion tour is limited to 12 persons. Other programs also may have limited enrollment. Reservations may be made by calling 802-457-3368 ext 222, or in person at the Carriage Barn Visitor Center or the National Park Service desk at the Billings Farm & Museum Visitor Center.
Services Offered to Large Groups

The following services are well suited to large groups. We will do our best to align with your desired itinerary, however due to staffing limitations, ranger-guided sessions may only be available on certain days and times.
Viewing the introductory film, A Place in the Land, at Billings Farm & Museum (larger auditorium) or the Carriage Barn Visitor Center. (35 mins)

A ranger to meet & greet the group, guide them up the hill, and provide a brief historical overview of the site. (15 mins)
Group open house walk thru - A ranger to provide an introduction to the group on the mansion porch (15 minutes), and then have the group walk through the first floor of the house in groups of six for five minutes each (ex. 55 minutes for a group of 48).

A ranger to lead the group around the historical grounds, providing an in-depth narrative about the landscape, gardens, forest and exterior of the Mansion and other historic buildings. (30-45 mins)

The opportunity to browse the visitor center exhibits and Eastern National gift shop (15 minutes)
We will do our best to provide a ranger introduction for all groups, and welcome those who cannot experience a ranger-guided tour to explore the grounds independently.
Mansion Tours for Groups
Many visitors to the park are keen to experience the Marsh-Billings-Rockefeller Mansion, where three families – all of whom contributed significantly to environmental thought and practice – lived for almost 200 years.
Because of the fragile and priceless nature of the art and artifacts and the narrow spaces into which the tours venture, the Mansion is not set up to accommodate large tour groups. All access to the building is by ranger-guided tour only, and those tours are limited to a maximum of 12 individuals at a time.
Large tour groups (defined as any group with more than 24 individuals) may only tour the Mansion if they can arrive to the site by 9:00 am. No other times are available for large groups to access a Mansion Tour.
If your group is 24 people or fewer, or see the chart below for available tour times.
All tours of the Mansion cost $9/person for commercial groups (senior rates and America the Beautiful Passes do not apply).


If your group consists of…

Possible Start times

Minimum visit length*

12 or fewer people

9:00 am

9:15 am

9:30 am

9:45 am

10:00 am

11:00 am

11:15 am

11:30 am

11:45 am

12:00 pm

2:45 pm

15 minutes for an intro plus the duration of the tour = 45 minutes

13 to 24 people*

9:00 am

9:15 am

9:30 am

9:45 am

11:30 am

15 minutes for an intro plus two tour rotations = 60 minutes

25 to 36 people*

9:00 am

15 minutes for an intro, plus three tour rotations = 1 hour 20 minutes

37 to 48 people*

9:00 am

15 minutes for an intro, plus four tour rotations = 1 hour 45 minutes
*For groups with 13 or more individuals, we will split the group into rotations, and each sub-group will experience two or more activities (touring the mansion, watching the park film, touring the gardens). Please work with us to determine which additional services to provide to your group in addition to their Mansion Tours.
If none of the above Mansion Tour times work with your schedule, note that we would be happy to work with your group to provide any of the other services mentioned above free of charge (including a tour of the gardens and exterior of the Mansion), when a ranger is available.
For greatest success in ensuring your desired park experience:
Groups larger than 6 individuals are advised to call ahead for tour arrangements.
Groups larger than 12 individuals MUST reserve mansion tours at least one week in advance .

Groups larger than 24 individuals should contact the park several months in advance to secure mansion tours.
We will not accommodate groups larger than 12 individuals on a walk-in basis. Advanced arrangement must be made.
To book your group tour, call 802-457-3368 x0.
We understand that sometimes groups run late. If you anticipate being more than 15 minutes late, please call the park at 802-457-3368 x0. Note that mansion tours may need to be shortened under these circumstances.
Accessibility
We offer closed-captioning of the park film, and assistive listening devices to augment the audibility of all tours.
The Carriage Barn Visitor Center and Marsh-Billings-Rockefeller Mansion are located on a steep, 1/8 mile walk up a dirt road from the parking area at Billings Farm & Museum. With advanced notice, we can try to secure a shuttle service from the Farm up to the Park for tour guests with mobility challenges.
The park has wheelchairs available for loan, and elevator service in the Mansion. Motorized scooters are not permitted in the Mansion due to narrow spaces and fragile artifacts. However, custom motorized wheelchairs (those which guests with disabilities occupy continuously to facilitate independent mobility) can be accommodated.
Last updated: August 24, 2022