Forest Festival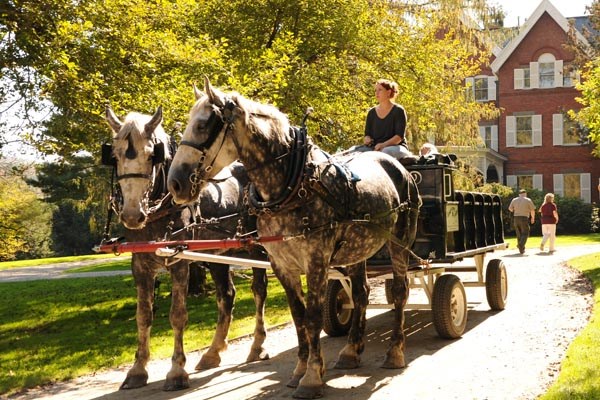 September 21-22, 2019
► Join horse-drawn wagon rides
► Enjoy hands on craft activities
► Learn about forest ecology
► Watch woodworking demos
► Take a relaxing yoga hike
Explore your park in its fall glory while exploring forest history, ecology and art. Horse drawn wagon rides, woodworking and portable sawmill demonstrations, hikes with foresters, wood crafts for kids, and more! (Park admission and activities free.) For more information call: 802-457-3368 x222.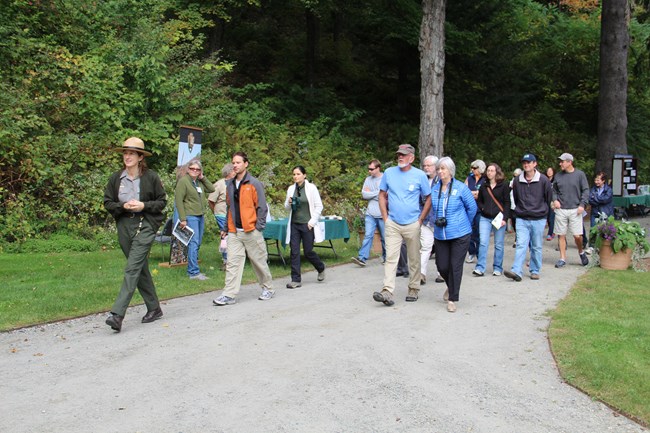 Hike with Windsor County Foresters
• Sat 11am - Carriage Barn Visitor Ctr.
• Sun 9am - Forest Center
What does a county forester do? On both Saturday and Sunday, meet the Windsor County Foresters and chat about your forest management. Hannah Dallas, the Southern Windsor County Forester will lead Saturday's hike starting from the Carriage Barn Visitor Center. AJ Follensbee, the Windsor/Orange County Forester will lead Sundays hike, departing at 9am from the Forest Center.

Saturday's Hike 11am, lead by Hannah Dallas
Location: Carriage Barn Visitor Center
Sunday's Hike 9am, lead by AJ Follensbee
Location: Forest Center
Join AJ Follensbee on a short hike through the historic Marsh-Billings-Rockefeller forest, the birthplace of George Perkins Marsh and considered to be the oldest continuously managed forest in North America. Learn how active forest management can create beautiful landscapes and produce timber at the same time.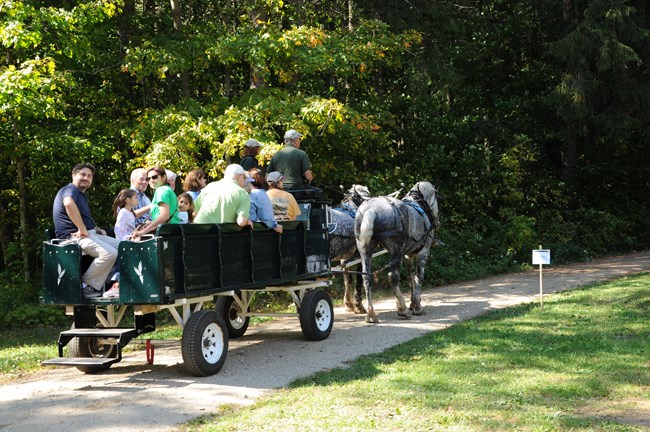 Horse Drawn Wagon Rides
Saturday & Sunday: 12-4pm
Location: Pickup/depart Carriage Barn Visitor Center
Ride in a horse-drawn wagon to explore areas of the forest and visit the Pony Pasture activity hub.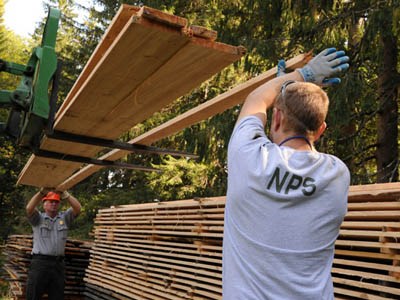 Woodcraft Demonstration
Location: Carriage Barn Visitor Center
Portable Sawmill Demonstration
Location: Pony Pasture
See logs transformed into lumber at a portable sawmill. These small mills are able to travel to locations with relatively few logs and saw them into lumber that can be used onsite.
Vermont Woodworkers create unique wooden products and discuss the art and value of this sustainable craft. Bowls, and other woodenware will be made for all to see.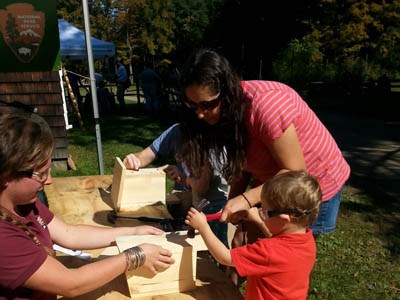 Wood Crafting and Family Activities
Location: Pony Pasture
Make your own planter from wood harvested from the park, or make your own walking stick, or your own bookmark.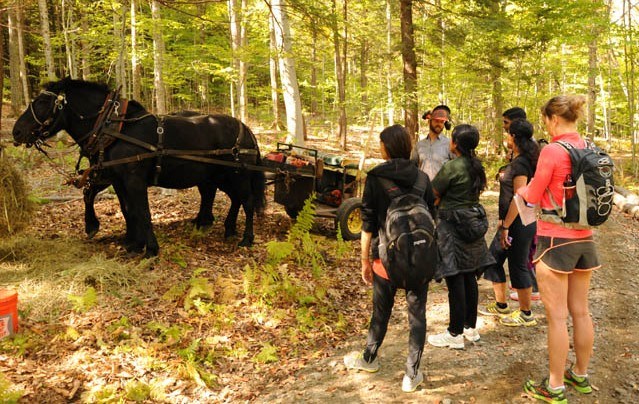 Horse-Powered Logging
Location: Upper Meadow Trail,
just off the Pony Pasture activity hub
Meet some Vermont draft horses at work in the woods. Visit with horse loggers Ben Canonica and John Hanley (with horses Ros and Jo) and learn about low impact forestry.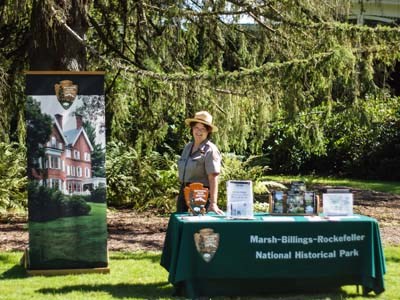 Mansion Tours (Fee charged)
Saturday & Sunday
Location: Start at Carriage Barn Visitor Center
Join a ranger for a tour of the Mansion. Tours will be offered four times: 10am & 12pm, 2pm and 4pm.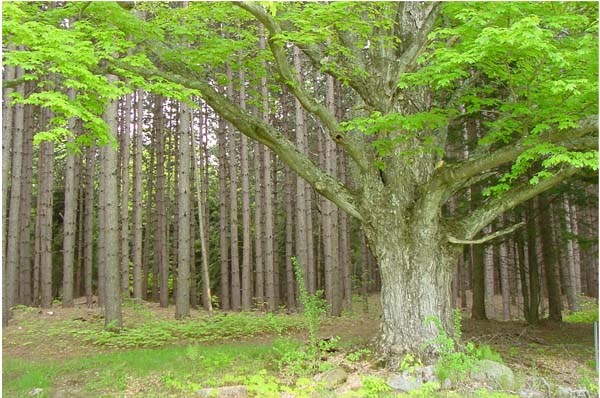 Understanding the Forested Landscape
Saturday 9am
Location: Forest Center

Wander the woods with Walter Poleman, Field Naturalist. Discover the Park's diverse forest communities and history etched in the land. A 1-hour indoor program followed by 2-hour walk. Reservations are recommended.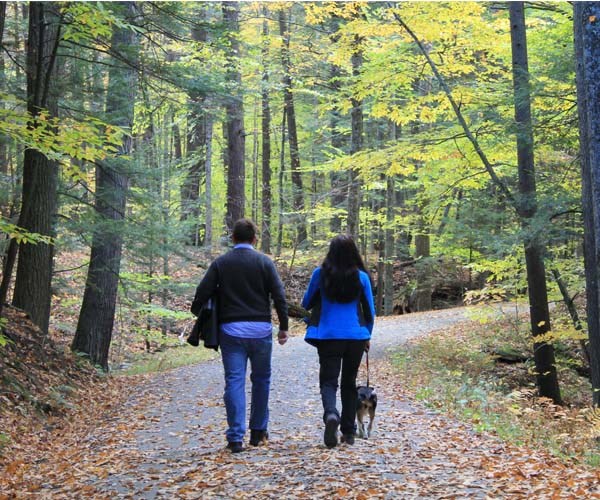 Forest History and the Future
Saturday 2pm
Location: Start at Carriage Barn
Visitor Center

Hike through our sustainably-managed working forest, learning how people have shaped this landscape past, present and future.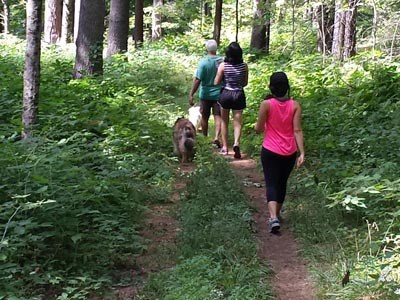 Alosada Kpiwi (let us walk in the woods):
Indigenous Perspectives on the Northeastern Forest
Sunday September 22 12-2pm
Rich Holschuh, an indigenous cultural researcher, who serves as a public liaison for the Elnu Abenaki Tribe, is on the Vermont Commission for Native American Affairs, and is himself of Mi'kmaq and European heritage, will be leading the hike.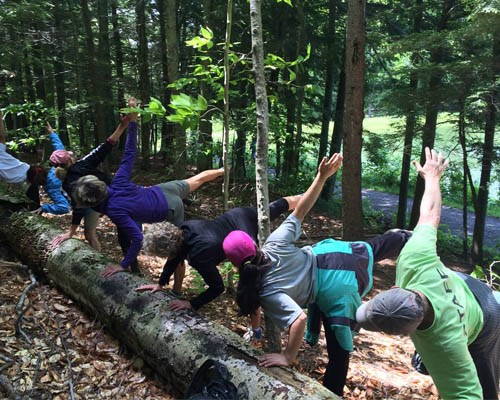 Yoga Hike with Miss Amanda Anderson
Inner Lift Yoga
Sunday September 22 2-4pm
Location: Departing from the Formal Gardens (behind the Mansion)
Join us for a moving meditation along the less-traveled paths of the park such as the little-known
Waterfall Garden
,
North Peak
, and
One Less Traveled
Trails. We'll hike all the way to the Pogue and end at the Proper Road trailhead, where a shuttle will bring us back to the Visitor Center. Expect lots of great yoga stops and a relaxing meditation at the end of this event.
Last updated: September 17, 2019