Find Your Park in Vermont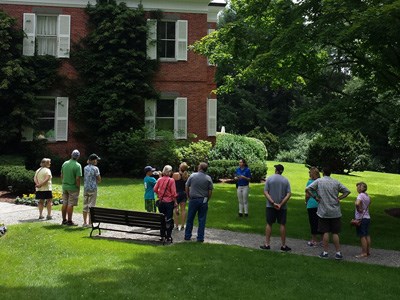 What do Parks mean to you?
Parks mean many things to many people—they are places of outdoor adventures, landscapes of respite and restoration, hallowed grounds of sacrifice, and sites that mark the most pivotal moments in our nation's history.
The National Park idea emerged 150 years ago during the Civil War when the nation was struggling over the moral imperative of equal rights for all, and the words of
George Perkins Marsh
were gaining fertile ground in the call to recognize the co-dependence of society and nature.
Frederick Billings
nurtured the germ of the National Park idea when he purchased a set of photos by photographer Carleton Watkins of Yosemite Valley. Another set of Watkins' stunning photographs were sent to Washington and inspired a divided congress to join efforts in an unprecedented act to preserve an iconic landscape for all Americans. It would take another 50 years to officially establish the National Park Service.
If you only have a short time to spend with us, we have you covered there too! Stop by the visitor desk (Open May-Oct) to
plan your park experience
with guides, adventure packs and, of course, the
Junior Ranger booklet.
We look forward to seeing you on the trails, in the gardens, sitting a spell on the porch, or at one of these programs…and on our
Facebook
page where you can tell us about your park adventures. Wherever you go, whatever you do—we invite you to Find Your Park!
Last updated: June 26, 2020