Date & Time

Multiple Days: 06/03/2017, 07/22/2017, 08/19/2017, 10/14/2017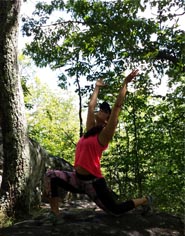 Enjoy a ~2 hour walking meditation in the woods as you pause for instruction that incorporates elements of the natural environment.  Please note that each date is at a different location!

Saturday, June 3, 10:15am at Marsh-Billings-Rockefeller NHP during Trek to Taste.  Meet at the Forest Center.
Saturday, July 22, 10:30am at Saint-Gaudens NHS. (603) 675-2175. Meet in the visitor parking lot.
Saturday, August 19, 10:30am on the Appalachian Trail.  Meet at the Billings Farm & Museum Visitor Center.  Bring a snack.
Saturday, October 14, 10:30am on Mount Peg during Peak to Peak.  Meet on the Woodstock Village Green.