Date & Time

01/13/2018 10:00 AM to 1:00 PM

Fee Information

Free; Reservations – Please pre-register as space is limited. Contact us at the National Park (information below) to reserve your space. Be sure to tell us how many are coming.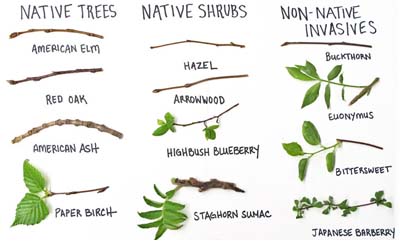 The leaves have fallen, and identifying the trees in your backyard can be challenging. Join us for this two-hour workshop to learn how to identify common Vermont trees and shrubs during the winter months, focusing on their twig, bud, needle, and bark characteristics. Jon Bouton, who has more than 40 years of experience helping landowners see the forest and the trees, will lead an indoor discussion followed by a trek through the park to gain hands-on learning experience. Bring a bagged lunch and join us for an open lunch discussion after the workshop from 12:00 - 1:00pm; hot cocoa and coffee provided!
 
Please dress appropriately for outdoor activity, and bring a water bottle and snowshoes if possible. Adult and children's snowshoes are available if needed. Event will continue snow or shine! Co-sponsored by Vermont Coverts and the Vermont Woodlands Association.
.