Boots to Boats Boating Options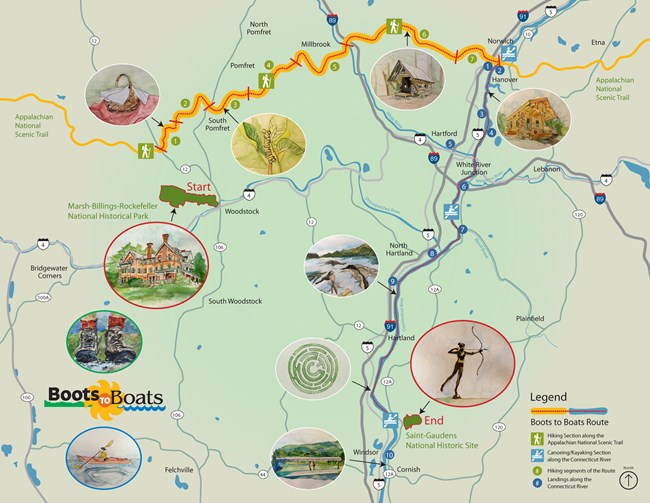 Boats to Boats River Splash: July 16, 2017
Boots to Boats Section Hikes: June 17, July 1, July 15, July 29, August 12, Sept 2, Sept 16, Sept 30
Boots to Boats Public Kayak Day: June 25

►Activity Guide

►Adventure Map*

►Seven Hikes

►Boating Options

►Certificates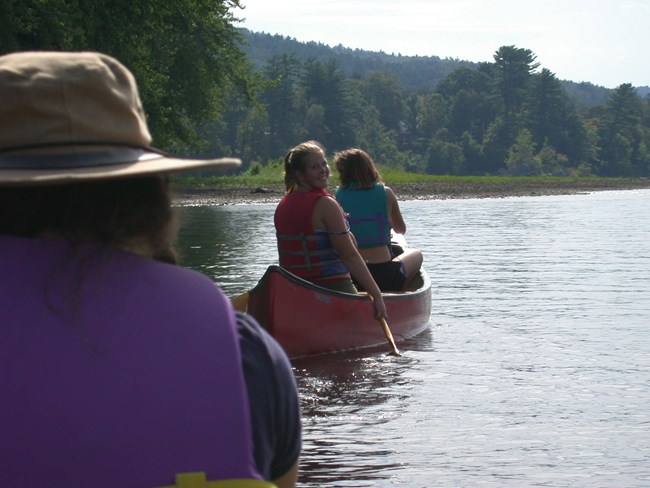 ►Getting Started!

The Boots to Boats Connecticut river section runs from Norwich Vermont to Cornish, New Hampshire, home of Saint-Gaudens NHS. The Connecticut River is the country's only designated National Blueway, a recognition of the vibrant community-based watershed partnerships that flourish in the area. Boots to Boats is an example of such partnerships, designed to encourage informed stewardship of our waterways and watersheds.
Safety First!
The Connecticut Rivers Paddlers Trail has plentiful information about the river which can be found here: http://www.connecticutriverpaddlerstrail.org/ including:
Carry a map of the river with you, and know the location of dams and other hazards. If you are unsure of conditions ahead, pull to shore and scout. Some breached dams must be portaged due to exposed rebar and other hazards! View Maps and Guides
Use Personal Flotation Devices (life jackets). All boats must carry an approved life jacket for each person. State laws require children 12 years and younger to wear PFDs at all times. PFDs must be worn by all Sep. 15th - May 15th (MA) and Oct. 1st - May 30th (CT). Learn more why Life Jackets Matter
Always secure your boat, don't simply "beach" it. River flows are affected by operations at dams, and water levels can fluctuate several feet without warning . For river flow forecasts call TransCanada's toll free hotline: 1-800-452-1737.
Be aware of river flows before your trip. Especially during the spring and during the fall, flows can rise significantly. Check the flow forecast prior to your trip.
Be prepared for cold water. Wear your life jacket, stay fueled and hydrated, avoid cotton, pack a change of clothes in a dry bag, and know the symptoms and treatment for hypothermia. Learn more
Don't drink untreated river water. Bring your own water, or plan to filter or boil river water before use. In some locations, you can check the status of the river's water quality before your trip.
In an emergency call 911. Consider purchasing a Hike Safe card. Not only will you support NH Fish and Game's Search and Rescue program, the card provides insurance from liability for repay rescue costs due to negligence. Knowing your GPS location will significantly reduce rescue time.
Bring a cell phone or, even better, a personal locator device. (Learn more) Warning, cell coverage is not reliable, especially north of Lancaster! Coverage maps: Verizon, ATT, Sprint , T-Mobile
Obey all warnings near dams. Buoys may not be present early or late in the season! Be especially careful when launching or landing immediately downstream of dams. Water may rise suddenly, creating dangerous currents or sweeping away beached boats.
Share your route. Leave their itinerary with a friend/family member. Sign into registers when you pass them - if a rescue was necessary, it can help narrow down your location.
Banks may be slippery; watch your footing!
Beware of poison ivy; which is common along the river in MA and CT. Know how to identify and treat.
For your own safety, be sure to check river conditions and the weather forecast before you set out. For flowcast at Wilder Dam go to www.uppervalleyrowing.org.

Life vest fitting:

1.

Check the manufacturer's label to ensure that the life jacket is a proper fit for your size and weight.

2. Make sure the jacket is properly fastened.

3.

Hold your arms straight up over your head.

4.

Ask a friend to grasp the tops of the arm openings and gently pull up.

5.

Make sure there is no excess room above the openings and that the jacket does not ride up over your chin or face

In Case of Lightning: If thunder or lightning occur whileboating, get onto dry land as quickly as possible and squat on your life vest (a good insulator) at least 30 feet awayfrom any other person until the danger has passed.
When leaving your boat for any length oftime, always tie it securely! River levels can change unexpectedly.
The US Coast Guard is another good source for boating safety information www.uscgboating.org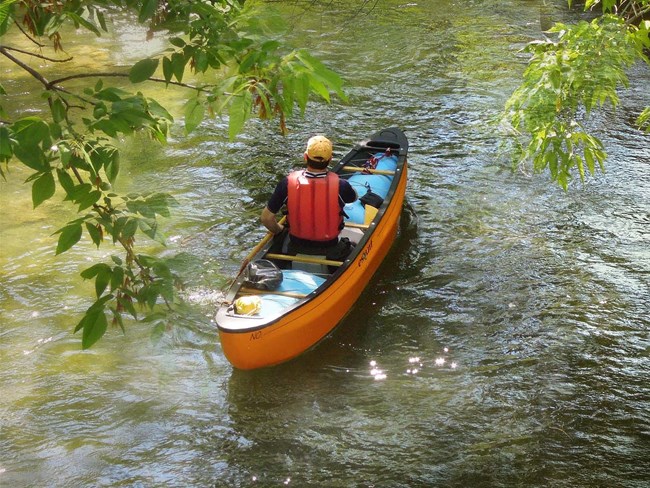 Boots to Boats suggests ten possible places where you can enter or exit the river in the stretch between Norwich, VT and Cornish, NH.
►Getting There - Finding the Boat Launches by road
1. Norwich Boat Landing: In Norwich, VT, take route 10A toward New Hampshire. At the traffic light just before the river, turn left onto River Road. The Norwich Boat Landing is about half a mile along on the right. Parking is just before the landing.
2. Ledyard Canoe Club: This club, in Hanover, NH, allows public use.Crossing the river from Norwich on Rte 10A ,take the first left between two brick pillars. Veer left and park in the parking lot. TheCanoe Club is at the far end of this lot. Do not try to drive down the narrowpath just before the second building on the left!
3. Wilder Picnic Area (Kilowatt Park) Wilder, VT. Take VT Rte 5 north from the junction with VT Rte14 in Hartford, VT, for two miles and turn right on Gilette Road. Drive 0.4miles to the public launch in Kilowatt Park.
4. Wilder Dam Boat Launch. The dam is on NH Rte 10 between West Lebanon and Hanover. Parking is on the north (non-river) side of the road, so you will have to carry your boat across a busy road.This tricky launching point is not good for novice boaters.
5. Watson Park is on VT Rte 14 in Hartford, VT, 0.8 miles east of the intersection of VT Rte 14 and VT Rte 5, just after the Interstate overpass. From Kilowatt Park, take Gillette Street to VT Rte 5 and turn left to reach the Rte14/Rte 5 junction.
6. Lebanon Boat Launch: This undeveloped boat launch behind the Hannaford Supermarket in West Lebanon gives easy access to the river. Take Market Street, just south of Hannafords for access. Some parking available.
7. Bloods Brook Boat Launch: Undeveloped, rather steep and rocky. Approaching from the north on NH Rte 12A,1.7 miles south of Walmart, turn right into the Lebanon Wildlife Management Area.
8. Ottauquechee Boat Launch is off Mill Street in North Hartland, VT, north of the covered bridges.
9. Sumner Falls Boat Launch: in Hartland, VT, take VT Rte 5 north to cross over Interstate 91. Take the second right on a dirt road to a picnic area and the launch point. Watch out for poison ivy along the trail.
10. Cornish, NH Boat Launch is on NH Route12A just across the river from Windsor, VT.
►Getting In - On the River
Section 1: Norwich, VT or Hanover, NH to Gilman Island Boat Landing and Camping Area. 1.5 miles
Put in at Boat Launches 1 or 2 to paddle under the impressive Ledyard Bridge and explore Mink Brook to your left, on the NH side of the river, before reaching Gilman Island.
Stop at the southern tip of Gilman Island to find free camping and an outhouse. There's also a cabin which can be reserved for the night through the Dartmouth Outing Club (603 643 6709).
Section 2: Gilman Island to Wilder Picnic Area (Kilowatt Park) VT, 1 mile, or Wilder Dam, NH, 2 miles. This section ends just before Wilder Dam, which is not navigable.

After Gilman Island, you'll see a tiny island on NH side with a beach and a rope swing which makes a good stopping place.
Paddle south, and decide if you wish to pull out on the Vermont side, which is easier, or the New Hampshire side, where re-entry to the river is a little tricky. Paddle over to your chosen side of the river at least half a mile before the landing.
If you pull out on the Vermont side at Wilder Picnic Area (Kilowatt Park), the next recommended launching place is Boat Launch 5 , Watson Park, Hartford, VT, three miles away by road. This is on the White River, which joins the Connecticut at White River Junction.
If you pull out on the New Hampshire side at the small beach above Wilder Dam you have a 400 yard portage (carry) across a driveway, down 20 steps and over cobbles to a small sandy area.
The river below Wilder Dam may sometimes be very low, so check conditions ahead of time.
Section 3: Watson Park, Hartford, VT, to Lebanon Boat Launch, 3.5 milesor Wilder Dam, Lebanon, NH,to Lebanon Boat Launch, 4 miles
At Watson Park (Boat Launch 5) you are on the White River. Put in here and, keeping in the central channel to avoid grounding, paddle one mile to join the Connecticut River, at White River Junction, then continue downstream.
If you put in below Wilder Dam (Boat Launch 4), on the NH side, and paddle downriver, you'll pass the junction(confluence) of the White River and the Connecticut 1.5 miles downstream.
The next good landing place is Lebanon Boat Launch, (Boat Launch 6)on the NH (left) side of the river, 2.5 miles downstream from the White River confluence, near a wastewater treatment plant.This is an undeveloped but not difficult landing.
Section 4: Lebanon Boat Launch to Burnaps Island and the Ottauquechee River, passing Bloods Brook Boat Launch. Total distance: 3.5 miles.
Please do not land on the two small islands you pass between Lebanon and Bloods Brook Boat Launches, they are home to some rare plants and the endangered cobble tiger beetle.
1.5 miles downstream of Lebanon Boat Launch is another undeveloped launch area, at Blood's Brook (Boat Launch 7), where you may put in or pull out.Access here is very steep.
Continue downstream to Burnaps Island which has a free primitive campsite on its Vermont facing side.
Just past Burnaps Island the Ottauquechee River runs down from Woodstock, VT to join the Connecticut. Take a side trip up this scenic river, paddling half a mile up to the twin covered bridges in North Hartland.(Boat Launch 8) Water may be low in high summer.
Section 5: Burnaps Island/Ottauquechee River to Sumner Falls
Setting out from Burnaps Island, or putting in at the Ottaquechee Boat Launch and paddling down to the Connecticut, stay well away from rocks in the Connecticut River here - locals call them "Hen and Chicks" - and watch out for shallow spots and rapids.
As you near Sumner Falls (Boat Launch 9), pull over to the Vermont side (right) well above the Falls and pull out for a roughly 15-minute portage, returning to the water just past the Falls.
There's a pleasant picnic area and an outhouse here.
Section 6: Sumner Falls to Cornish Boat Landing, 5 miles
Continue down a delightful stretch of the River with four small rapids.
Three miles below Sumner Falls find the Path of Life Garden, where you can moor to visit a meditative 14-acre garden, then the free, primitive Burnham Meadow Campsite, both on the VT (right) side of the river.
Just past the Path of Life Garden, on the other (NH) side of the river, you'll pass Blow Me Down Farm, part of Saint-Gaudens National Historic Site. Your destination, the Cornish, NH, Boat Launch (10), is 1.5 miles downstream on the NH (left) side, just north of the longest covered bridge in New England, connecting Windsor, VT to Cornish, NH.

►Congratulations You've Arrived!



►Back to
Adventures
page
Last updated: May 16, 2018