Boots to Boats and Beyond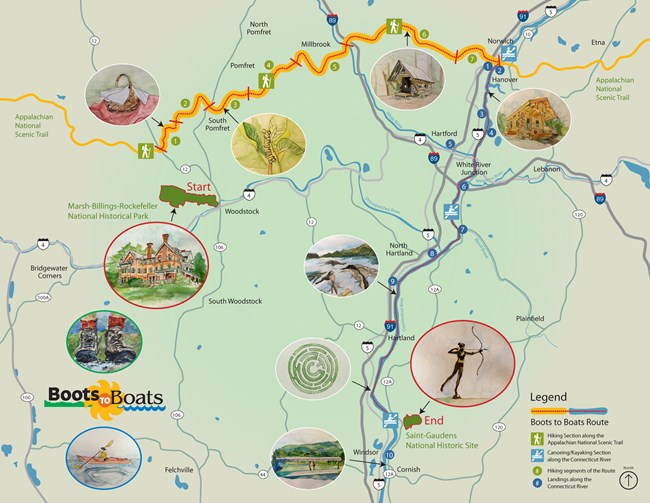 The Boots to Boats initiative connects the only national park in Vermont, Marsh-Billings-Rockefeller National Historical Park, with the only national park in New Hampshire, Saint Gaudens National Historical Park, via the Appalachian National Scenic Trail and the Connecticut River National Blueway. You are invited to hike, paddle, stroll, practice yoga, fish, meditate, or define your own type of recreation along the way.

To encourage beginners and seasoned participants, alike, we offer a variety of free, guided experiences in local public lands and waters in the Boots to Boats area. Join the National Park Service and our partners for these activities on specific dates, or explore on your own.

►Activity Guide
►Adventure Map*
►Seven Hikes
►Boating Options
►Certificates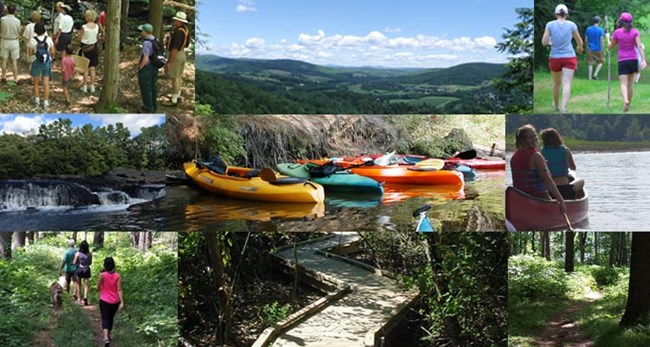 In celebration of its centennial in 2016
the National Park Service imagined a link between Vermont's Marsh-Billings-Rockefeller National Historical Park and New Hampshire's Saint-Gaudens National Historical Park "Boots to Boats" is a series of hikes and paddles highlighting two National Parks, the Appalachian National Scenic Trail and the Connecticut River Blueway.
► Featuring 2 amazing parks, 1 scenic trail, and 1 national blueway.
► All ages and fitness levels are invited to experience a Boots to Boats adventure.
► Link to hiking and boating descriptions to craft your adventure or participate in the organized activities.
► Contact us: 802-457-3368 x222 with questions.
►Your Boots to Boats and Beyond could include up to 21 miles of glorious hiking through forest and mountain, and 20 miles paddling down an awesome river.
►You don't have to do it all. You're invited to walk or paddle any amount of the trail.
Hiking in the two parks & Appalachian Trail
► Marsh-Billings-Rockefeller National Historical Park in Woodstock,Vermont offers more than 20 miles of walking trails, including seven miles of wide carriage roads - no motor vehicles or bicycles allowed - through historic forests on Mount Tom. Find a map of the park.
►Saint-Gaudens National Historical Park in Cornish, New Hampshire offers a self-guided nature trail and a scenic hiking trail through 80 acres of forest, as well as the chance to stroll in beautiful gardens featuring inspirational sculptures. Find a map of the park.

►Hiking on the Appalachian Trail between the two parks - Seven short sections of the AT, from two to five miles one-way, connect Woodstock and Norwich, Vermont along the Appalachian National Scenic Trail.

Appalachian Trail Hikes - 2019
Hike on the iconic long distance trail with park staff and the Green Mountain Club. These guided treks are perfect for fit first-timers and long-time "AT" hikers. The focus is mostly on hiking, but the group will pause for occasional stories and activities. Bring a water bottle and a snack. Hike duration varies from 1.5 to 3 hours plus travel to and from the trail heads. Shuttle available, 12 person limit. Registration Required, call 802-457-3368 x222. Meets at 9:30am on the following Saturdays: June 15, June 29, July 13, July 27, August 10, August 17, August 31, September 14.

Yoga Hikes with Inner Lift Yoga - 2019 TBD
Enjoy a ~2 hour walking meditation in the woods and fields as you pause for instruction that incorporates elements of the natural environment. Each date is at a different location!
Last updated: April 18, 2019