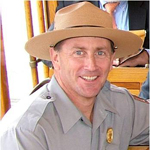 Michael Creasey to lead Marsh-Billings-Rockefeller National Historical Park
and Conservation Study Institute
January 10, 2012
Northeast Regional Director Dennis R. Reidenbach has named Michael Creasey as the Superintendent of Marsh-Billings-Rockefeller National Historical Park and the Executive Director of the Conservation Study Institute in Woodstock, Vermont.He replaces Rolf Diamant as superintendent and Nora Mitchell as Director, both of whom retired in September.Creasey will assume his new duties in mid-February.
"Michael Creasey has a unique suite of skills that have prepared him to lead both the park and the Conservation Study Institute," said Reidenbach."With the recent launch of the National Park Service's Call to Action, we are looking to the park and Conservation Study Institute to provide learning environments to promote 21st century skills that foster collaborative, adaptive, and resilient leadership.Creasey's track record as an innovator and his extensive experience working collaboratively with parks, communities and partners make him the right person for this multi-faceted position."
"The opportunity to manage a special place like Marsh-Billings-Rockefeller National Historical Park and the Conservation Study Institute is exciting," said Creasey." I would like to see the pioneering spirit of these three conservationists act as a catalyst to help inspire Park Service leaders and partners realize the vision the NPS seeks for our next century."
Creasey, a 28-year veteran of the National Park Service, has served as Superintendent of Lowell National Historical Park in Massachusetts since 2005. Lowell is best known for its collaborative work with hundreds of partners that together, develop and present educational and interpretive programs, preserve the historic character of Lowell, and celebrate the diverse cultural heritage of the region.
During his tenure at Lowell, Creasey was selected as a Loeb Fellow to attend Harvard University within the Graduate School of Design where he concentrated on leadership, business and organizational culture, urban design and public policy. Creasey also recently served as the acting Commissioner for the National Parks of New York Harbor, overseeing ten national parks within the metro region of New York City and New Jersey.
Immediately prior to his time at Lowell, Creasey served as the Executive Director of the Blackstone River Valley National Heritage Corridor in Rhode Island and Massachusetts. Creasey served a 19-member Federal Commission that oversaw the management of the National Corridor, a partnership aimed at balancing heritage preservation and development along a 46-mile long river corridor that included two states and 24 cities and towns.
Creasey has also held a variety of positions with the National Park Service throughout the country, including with the Mid-Atlantic Regional Office in Philadelphia, the Southwest Regional Office in New Mexico, Independence National Historical Park and Valley Forge National Historical Park in Pennsylvania, Upper Delaware Scenic and Recreational River in New York and Pennsylvania, and Timpanogos Cave National Monument in Utah.