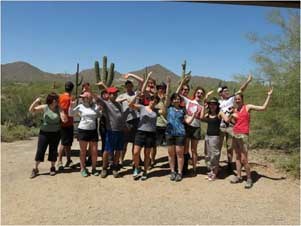 Trail Partnership Intern attends the International Trails Symposium
It was an honor to be one of the first Hulet Hornbeck Youth Scholarship recipients at the bi-annual American Trails International Trails Symposium. Eighteen young adults from ages 18-25 were chosen for this scholarship that provided training and mentoring opportunities to inspire young adults to choose a career path in which they can become natural resource stewards and leaders. The scholarship allowed me to attend the symposium in Phoenix, Arizona and provided the opportunity to network with a diverse group of talented trail professionals.
We were certainly taken care of, but we were also kept extremely busy. The first day started at 5:30 with a sunrise hike and the day continued non-stop with other activities including mountain biking, archery, kayaking and the opening ceremony. We were guided by managers of various land agencies including the Forest Service, Phoenix Parks and Rec, and Arizona Game and Fish Department. We learned about new legislation related to outdoor rec, invasive plant problems they deal with in Arizona and tactics to address specific user conflicts on the trails. The rest of the week was filled with conference sessions and opportunities to learn new techniques in trail planning, development and management from presenters around the country and the world. Finally, on the last day the group gave presentations about their passions, jobs and what each of us learned at the symposium. Although it was not widely attended our presentations opened a discussion between the younger and older trail professionals from how to engage youth and volunteers, to how to start a career in this tough economy. It was refreshing to the youth to be heard and reassuring to the more experienced to know that there are passionate young people out there to take their place as many of them are close to retirement. Overall the symposium gave me a sense of belonging and opened my eyes to diverse natural resource career opportunities. Oh yeah- other fun new experiences included cacti and zero humidity!