GPM Intern Blogs Summer 2011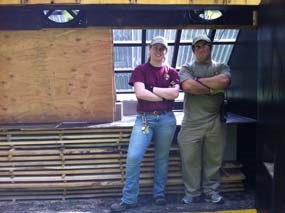 First Thoughts
Week 1

Hello all! My name is Virginia Bones and I am one of the George Perkins Marsh Conservation Interns at the Marsh-Billings-Rockefeller National Historical Park this summer. I just graduated Woodstock Union High School this past June. This is a completely new experience for me and so over the course of the next ten or so weeks I would like to share my experiences at the park. Each day I journal, I will pick a theme, as each week my partner and I will be spending time with the different departments as we learn about the park.

One of the things that struck me in particular this first week is the fact that the people at the park here really do intend to practice what they preach. They have created new solar buildings out of local wood to reduce our carbon output, make sure that the forestry programs in the park are succeeding and using the land in a pragmatic and careful way. The buildings have a passive solar design and are so open and inviting, it feels as though you are outside in the sunshine instead of in a building. A mission of cooperation and involvement with the local community is also a strong message that has been made a reality. Local and regional Vermont Youth Conservation Corps crews have been using the park as a resource as well as have local classrooms, hikers, and dog walkers. The park has really worked with the community to serve as a recreational and educational resource, inviting input from members of the local community.

The rangers here are all helping me to get oriented to the area and to the job. Mike (the other intern) and I have many of the ranger duties and so we work with them very closely. We join in at meetings and have interpretation trainings so that we are better able to serve the guests and convey the message of the park. The week in particular we are focusing on getting to know the National Park system in a national sense, instead of focusing solely on our park. And we are beginning to think of it as Our Park. It seems rather like home in that the people who lived here had a presence here, and so do we. Perhaps I feel this way because I grew up here but there is a certain sense of belonging, probably because I am now seeing the behind the scenes operation and have a certain emotional investment.

Of completely different subject matter, the department we worked with this week was Rivers and Trails, which helps to maintain many of these local resources, such as the trails in Faulkner Park in Woodstock and the nearby AT. Mike and I helped some VYCC crews to redefine some trails and revegetate certain areas to deter hikers from taking those paths. The experience of hauling rocks, replanting ferns, and digging holes reminded me of the power of the human body to make such a large impact on our environment. Of course, this was with intention, but I still find the strength, both mental and physical, of the kids who are part of the crews to be amazing.

While this week was hectic but educational in terms of getting oriented and situated, it has been rewarding to see the things I learned about in school being put into action. The experience has actually caused me to create my next life goal. I would like to see as many National Parks as I can before I die. If I'm lucky, perhaps I will get to see all of them (although there are only two documented people who have ever done this). I think this job is giving me a new appreciation for the National Park system and it would be interesting to see how rangers approach interpretation at different parks. This is a National Historical park, so history is one of our main focuses. At a park with a different focus, the approach might be different in order to get across a different message. These are just some things that I ponder about. Perhaps one day I will have an answer! Until next time!
******************************************************************************
Hiking with the Mountains and Rivers Forever Summer Camp

Today we went hiking with the Mountains and Rivers Forever Summer Camp. The day was filled with adventure and creativity. The kids took a look at the craft of natural, ephemeral art, and got a chance to make their own. We then hiked to the South Peak of Mount Tom, while the kids snapped photos of the beautiful landscape of the natural Vermont countryside. The kids took time to journal about an expanded moment in time, and we were all awed by the complexity and detail as they each presented an excerpt from their notebooks.

Later, we marched down to the Pogue, where the kids studied macro-invertebrates with guest entomologist Allen Graham. As we journeyed back towards the Visitors Center, the kids studied the Park's unigrid map and learned how to track distances and find their direction in the Park. The day was capped off with a swim in the Ottauquechee River under the iron bridge. The fun will continue for the campers later next week as they tube down the river on a 2.3 mile journey.
Mike Farbman
George Perkins Marsh Conservation Intern
************************************************************************
Reflections on a Second Week

My second week was spent getting adjusted to the routine here. I have had a chance to process all of the information from my orientation and am now able to be a little bit more independent. I was able to do a lot of the duty stations on my own for the first time. On my first rove (hike around the park, interacting with visitors), I noticed many of the things that Julia, the ranger I first roved with, pointed out. I am now pretty good at identifying trees, which was a skill I never had before. In particular mushrooms have been sporing and growing very rapidly so I was able to observe at least 7 or 8 different kinds of mushrooms. Some of them seem very out if this world, and I am always amazed at the different forms life takes. I have yet to identify them all, but they now serve as landmarks for me.

Interestingly, this job has really helped me to get to know the Woodstock area better. Even though I went to Woodstock Union High, I grew up on the Rutland side of Killington. Having to answer visitor questions at the Chamber of Commerce Booth on the Green or at the Billings Farm has acquainted me better with this area. Also the history that I am learning of the park and area now mean more because I can visualize the different roads and places better.

One of my highlights this week was Interpretation training with Scott. Since I am working mostly with the rangers, I need to be able to interpret things for people. The textbook definition is to help people make intellectual and emotional connections with the park. Doing that though, is not textbook easy, and so Scott introduced us to different methods as well as a general understanding of the less tangible aspects of interpretation. I found the training very interesting as I learned many good presentation skills. Rangers are in a sense like teachers, where they have specific contents and material that they must convey to their audience, but they also must, or rather should, spark an interest and a connection. Students who can relate to the subject matter are more likely to care about the subject. As Scott explained, once one cares about a subject, or in his case a history or park, then one is more likely to care about conservation.

I still have a few things to learn, such as the specific standard operating procedures (SOP's). I had a horribly embarrassing experience concerning my ignorance of the SOP's, but in general I am learning as I go. I have never really had the opportunity to learn purely through action and experience, usually my learning has been supplemented with books or other materials. So this internship is giving me a different perspective. I would like to end with a quote that Scott gave me about interpretation.

"Do not try to satisfy your vanity by teaching a great many things. Awaken people's curiosity. It is enough to open minds; do not overload them. Put there just a spark. If there is some good inflammable stuff, it will catch fire." - Anatole France

Virginia Bones
*******************************************************************************
Diversity!

Boy does time fly. It feels like only yesterday we started here at Marsh Billings Rockefeller National Historical Park, yet we have kept extremely busy. The Mansion has been full of tours all week long and, we've had visitors of all ages and from all across the world from China to the British Virgin Islands.

Even though at the Commerce booth on the Village Green I'm supposed to provide information to the visitors, I feel that I always learn more from them, then they learn from me. Sitting and chatting with men and women who have traveled the world and garnered a lifetime's worth of experience is simply humbling. I even met a man who had visited every National Park in America as of two years ago. On the flip side the unconventional organization of the Town, Farm, and the Park, makes my job very rewarding when I can actually help someone out and make a difference in their lives that day, even if it's just pointing out where the Welcome Center restrooms are located. I talked to one couple that got off route 89 because they saw a sign for Woodstock and were expecting a rock concert of epic proportions. However, they were not disappointed, because not only were they treated to some local live music on the Green, but also an incredible Marketplace, which seemed to materialize out of thin air, appeared and all other lost premonitions were forgotten.

Our job descriptions became more diverse these last few weeks as we took independent projects around the park. I have been spearheading the conversion of priceless VHS tapes onto Gold-plated archival grade DVDs for long term storage and preservation. I have also created a searchable database for the Carriage Barn Library. Virginia Bones and I have been collaborating on creating Graphical representations of electric, water, oil, and propane cost and usage. Our efforts will be used to show the progress, if any, that has been made through the myriad of efficiency enhancements the maintenance department have made over the last couple of years.

Mike Farbman

************************************************************************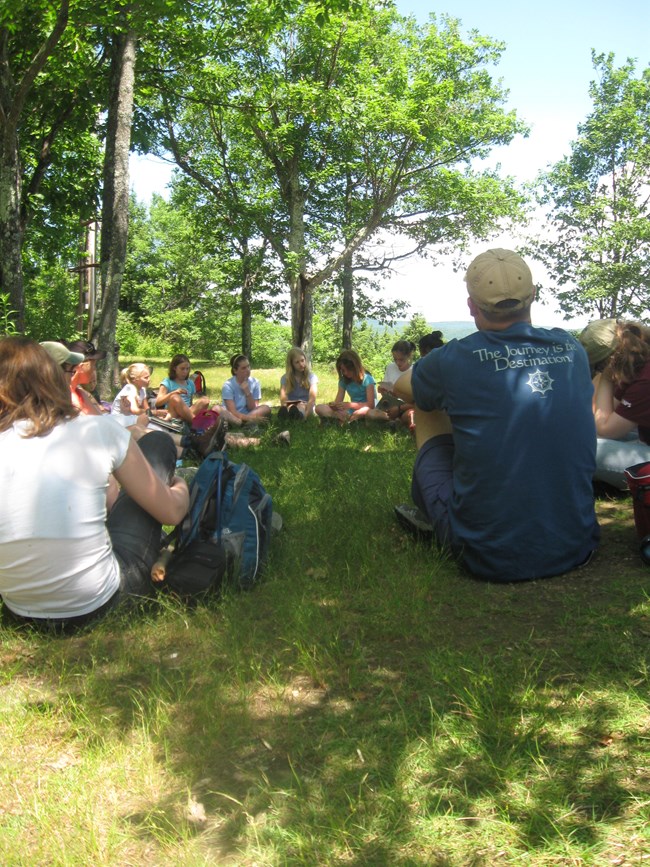 Kids, Weeds, and Counting!
Week 3

What an interesting week it has been! I got to work with some new departments (new to me anyway) and was kept very busy. I am also slowly getting into the habit of journaling every day, a task that I find difficult to motivate myself to do, but is getting easier with each passing day. Our leadership training this week was led by Alison Foster, the SCA/Unilever intern here at the park. Our usual leader, Kat, was away working with a summer camp called Mountains and Rivers Forever, which introduced kids to nature and the park here. Alison led us (Mike, Bridget, and I) in a workshop on Diversity and Sensitivity which was very interesting and not as uncomfortable as one might think. We are all from different backgrounds, but we all get along really well.

Speaking of the Mountains and Rivers Forever camp, it was the group we spent our work day with on Thursday. There were about 20 kids who were young teenagers and 3 adult leaders. One of the leaders, Lisa Kaija, is a local art teacher so she taught the kids about Andy Goldsworthy, an artist who uses materials he finds in nature to create art. The kids then made their own version of an Andy Goldsworthy piece and many of them were very creative! We took a hike up the gorgeous Precipice Trail (or ran up) and had lunch at the overlook at South Peak. We also got a lesson at the Pogue about macro invertebrates from a local entomologist who introduced the kids to the huge variety of insects and other creatures that live in the Pogue. The kids got samples of water from the pond and had to go searching for the creatures while others tried to catch the very fast moving dragonflies in nets. Unfortunately, we weren't able to spend the entire day with the kids, but it was great fun and they were all so enthusiastic.

Mike and I spent the first of many Friday mornings working outside with the Facility and Maintenance crew. We learned why people mulch underneath hedges and around their gardens, as well as how to weed properly. My past experiences with weeding were not successful as I pulled up the plants I wanted to keep and left the weeds so this was a great learning experience for me! Mike and I also worked together to reset one of the counting machines we have in the park that keeps track of how many people use the park. The task was not easy as the counter has to be aligned with its reflector just so and the entire job took us about two and a half hours in total. I didn't spend much time in the mansion this week as I was out an about in the park, but I was mansion steward when my parents came for a tour and they enjoyed themselves very much!

Virginia Bones

*************************************************************************
The Importance of Reflection
Week 4

This week I spent a lot more time in mansion than in the past few weeks. I had the duty of mansion steward from 3 to 5 three times this week. It is one of my favorite stations as it comes at the end of the day and often it is very peaceful. I like being in the mansion in general. The rangers all have a general tour that they have to give, but each one has unique facts and tid-bits. To get to hear all the knowledge of the rangers combined is really cool. The rangers themselves don't get to do that. During our daily morning meetings we often discuss information that someone has found in a book or a connection one of us has made between the families of our park. It is the first time that I have been in a work environment where everyone around me has the same enthusiasm for their work and are eager to share.

Our leadership workshop topic this week was reflection. As someone who is not too fond of journaling, and even has a hard time blogging, this was perhaps pertinent. One of the requirements of this internship is to blog and keep a daily journal. This workshop actually showed me the value of journaling, not just how to journal but more importantly why. We hand made our own journals and decorated them. We are calling them our challenge journals, because we are challenging ourselves to write in them everyday for two weeks. I do hope that with blogging, my daily journal for the park and my new challenge journal that I will be able to reflect a bit on my experience this summer. I know that a lot of my learning has been and will continue to be experiential. I have only read about six books to orient myself with the park, everything else, such as giving directions and pruning I am learning by doing.

Speaking of pruning, that was the activity Mike and I did with the facility and maintenance department this Friday. We learned to prune hedges and pruned the ones in the nursery. (Just in case we messed up, the trees will have another year to grow in before they are put on view for the visitors!) I enjoyed myself and learned a lot about hemlocks, the trees we were pruning, and the work that goes into keeping formal gardens looking the way they do. I have a much greater appreciation and admiration for the men and women who have the skill to prune hedges without making them look like something took a huge bite out of them!

Virginia Bones
************************************************************************
Plants, Trees, and Hidden Spaces
Week 5 Natural Resource Management Work

This week I spent a lot of time with the Natural Resource Management department. On Monday a bunch of us went with the SCA (Student Conservation Association) Invasive Species interns, Jessica and Navit, to the Vermont Land Trust's King Farm, which borders the park. We worked with an Army Corps of Engineers Crew and a few staff members from VINS (The Vermont Institute of Natural Science). We spent the day pulling up invasive species, in particular buckthorn, autumn olive, non-native honeysuckle and barberry. It was absolutely amazing to see the sides of the trail before we began and after. It seemed rather a daunting task in the morning because as far as we could see the sides of the trail we covered in invasives. When we were done, the sides of the trails were reduced to dirt and a few struggling, but now free maple saplings. I got to see why these species are so dangerous to our local ecosystems, but it was also very hopeful to see the progress and the size of the area that we had managed to clear by the end of the day. Of course, we only barely scratched the surface, but every little bit helps.

I also spent some time with the forestry crews who are working the western part of the park on the forestry operations this year. I was stationed at the trail closing to ensure that visitors did not go into dangerous areas. It was a great interpretive opportunity since I was able to explain why we, as a national park are cutting down trees. This was something that I had wondered myself and as they say, the best way to learn something is to teach it to someone else. I have also been able to ameliorate my skills in speaking with the public. I am becoming more comfortable as in interpreter thanks to the practice I'm been given and the advice from many of the interpretive rangers. Since our leadership workshop this week was about communication styles, I have been able to tie this new knowledge about the way I communicate into the way I give information to visitors.

I was able to see the inside of the Bungalow, one of the areas shown on our hidden spaces tour. Laura Anderson, the park's curator was airing out some of the rooms. Since the tour does not go inside the house it was a great opportunity. The Rockefellers had some fantastic international pieces, particularly from Asia and Africa that were absolutely breath taking. It seems crazy to me that there are so many hidden treasures tucked away, like at the Metropolitan Museum of Art in New York or the Louvre in Paris. Obviously, we don't have the same volume, but I feel like some of the pieces we have in the park's collection are of the same quality. I never dreamed that such art was here in Woodstock Vermont!

I have been working on many projects this week including painting tree signs to inform visitors about the species of trees in the park as well as reorganizing our resource library into a more formal system. One of the great things about this internship is that both Mike and I have been given the opportunity to explore specific projects at the park that spark our interest. I have definitely learned a lot more about trees and am even able to identify a few by their leaves and bark. Before I started I could barely identify a sugar maple! With our projects Mike and I are more independent and are able to pursue our own interests while at the same time getting the opportunity to work with the rangers and learn about the park from them.

Virginia Bones
************************************************************************
A little of This, and a Little of That
Week 6

This was a very interesting week as I was able to work with most of the departments here at the park, all within a similar timeframe. I worked with the VYCC and education departments at the King Farm on Thursday. We learned about the history of the farm as well as the situation there with invasive plants and identified many of the species of trees that surround the farmhouse. The information was presented in little lessons, and each group of three or four rotated to each stations. After, we had a charrette, or brainstorming session to discuss the future of the farm and ideas to get youth involved. It was very informative; not only about local history, but also about the perspective that other youth my age have about the national park and other historical resources in the area. Mike and I were also able to facilitate some education because we led the leadership workshop this week instead of Kat. Mike chose conflict and resolution in the workplace and I chose learning styles. We lead our own sessions and it gave us a chance to play a different role in the workshop than we normally do. We each got feedback on our topics as well as our presentation skills.

I worked with facility and maintenance again this Friday. This time we were replacing a few trees in our hemlock hedges which had died. After pulling out a huge stump we replaced the stump with a hemlock tree from our nursery. It was one of the ones that Mike and I had pruned a few weeks ago, so I guess we didn't do too bad a job for our first time! I thought we would just dig the tree out of the nursery, plop it in the hole left by the dead tree and then fill in some dirt. Boy was I wrong! I never knew there was so much to learn about the proper technique for replanting a tree. I learned how to make a root ball and to make sure that the tree was level in the ground. I have never had a very green thumb, but I do hope that the tree I replanted survives.

Every year the NPS conducts a visitor survey to see how the public views the park and the quality of service etc. We started handing them out to visitors this week and if I wasn't completely comfortable with speaking to the public before this week, I am definitely comfortable now. I had to begin conversations with guests and politely ask them to fill out the survey. Most guests were happy to do it and had great reviews about the park. In the beginning, having one on one conversations with strangers made me a little nervous, but by the end of the week I had definitely created a rhythm for myself and became more comfortable.

I continued work on my library projects and other activities in between my main duty stations. There is definitely no shortage of work at the park. Some how I have also found time to journal and get caught up on all the days that I was missing. Even though I do some of the same things every week, the order in which I do them always varies and my routine changes daily as I a get to work on different projects and with different people. It is a very refreshing change.

Virginia Bones

************************************************************************
The Best Yet!
Week 7

I would have to say that this week has been my best yet, and I seem to think that every week. On Monday I got to spend all day in the sun in a canoe on a beautiful pond. I worked with the same invasive crew as I did a few weeks ago, but instead of pulling land invasive species, we pulled water-based species. The crew was working at Dewey Pond in Quechee and we spent the day pulling milfoil out the pond. It has completely taken over the area and has created a lot of problems for local animals in particular fish and muskrats, whose habitat has been diminished because of the plant. It is a water weed that is soft and feathery, but grows so thickly that there seems to be more milfoil than water in the pond. We went out in seven canoes and filled each one to the brim twice. We had to go in the first time because the boats were sitting so low in the water that we would have sunk if any more weight was added! We filled an entire dump truck and it was very rewarding to see the enormous amount of plant material that we were able to extract from the pond. As usual, we only scratched the surface, but every little bit helps.

I also got the opportunity to go on an archaeological dig this Friday. As I will be going to college in a few weeks to study archaeology, this was a fantastic opportunity for me. The park has a connection with the US Forest Service and so I joined the state archaeologist, Dave Lacy, a few members of UVM, and some volunteers at a site on Mount Tabor. The site is located next to a pond and is a 2.5 mile hike up the Appalacian Trail (AT). It was gorgeous and I envy the people who are able to spend their entire summers traveling the AT. Prior to this summer I was not particularly fond of hiking or camping, but I think through my experiences at the park, I have really come to enjoy them. It is now one of my life goals to be able to hike the entire AT. The site was a late archaic Native American site and was full of artifacts. This particular site is helping to change the traditional view of this period and giving us more accurate information about the people who lived here over 10,000 years ago.

Next week is Mike's last week so he and I are collaborating to create a power point presentation for the rest of the staff here at Marsh Billings. While we have been able to work with many people, we have not had a chance to work with all of them so our presentation will show everyone what we did as well as what we learned. As I've said, many of the things I have learned this summer were not learned from books but from getting to experience things myself. Sure, I now know how to plant a tree but I can also explain some of the workings of the NPS. Thankfully, I still have about another month left here so I will be able to spend more time in the park.

Virginia Bones

************************************************************************
A sense of place
Week 8

The beginning of this week was a little slow as it rained almost constantly for two days. We had fewer visitors, but I got to catch up on some projects and finishing my journal which is one of the requirements for the internship. Some days it is easy to do and others I find myself not even wanting to pick up a pen! However, having daily journal entries has really helped Mike and I create our final presentation for the park. This Wednesday was Mike's last day, so on Tuesday we presented to the park staff our impressions and some of the experiences that we have had throughout the summer. It went very well as we are both comfortable with speaking publicly and are comfortable amongst our colleagues.

Despite the fact that we have fewer visitors when it rains, the rain makes the park seem very peaceful. Often that park is bustling with visitors and staff members and people walking their dogs. Earlier this week, there was a slower pace, it seemed; a nice change from the hustle and bustle. The rain dripping off the trees and the sweet, fresh smell that lingers in the air almost makes it feel as though it is a different park. The echoing of the rain on the mansion roof is also calming to me, like the rustling of the trees when I am in the woods.

This week I heard a lot about the 'specialness of a place'. Michelle Fields, an English teacher at the local high school is part of a group who is trying to get youth to develop a sense of belonging within a place in the park, like under a favorite tree by the brook. She gave a presentation about her ideas on Wednesday and not two days later, our writer in residence, Wendy Call, gave a presentation on her previous work and the work she hopes to accomplish here at the park. Her most recent book, about the economy of southern Mexican villages gives the reader an idea about the importance of a place within people's hearts and memories. She is conducting research at national parks nationwide to explore how the American public views the places that are our national parks and heritage. Prior to this week I had only really thought of places as Point A or Point B. As I was roving I started to think about the park in a new light. I have memories invested here. When I started the summer, the park was a house and a forest and visitors. Now I see myself as part of the park, it is my park, the one I am most familiar with and the one I care most about. No longer is the forest just a bunch of trees, but it is the place where I learned to enjoy hiking or where I wrote some of my best journal entries. The mansion is not just a nice old house, but it is the location of many happy memories of morning meetings. When I first started this summer, I knew the park was beautiful aesthetically. Now I know that it is beautiful inherently and that is something that will stay with me for a long time. The idea that I now can see a place on the outside and inside now, so to speak, is something that really hit home for me this week.

Virginia Bones

************************************************************************
This is the real world
Week 9

This week I spent quite a lot of time out and about away from the main hub of activity that is the Carriage Barn Visitor Center. On Tuesday I went to our sister park St. Gaudens National Historic Site in New Hampshire and helped some biologists from our regional office do water quality monitoring. We tested several sites for flow volume and speed, nutrients, temperature and water height. I learned how to properly take water samples and we sent them to a lab to be tested for more advanced chemicals and nutrients. Having studied water quality and pollution in my AP Environmental Science class last year, it was great to see the tests and procedures that my textbook has discussed being used in the 'real world'. In total we tested three sites: two brooks and a pond. Each site had a gorgeous walk or hike to it, usually along a trail, so I got to see a lot of the grounds of St. Gaudens. I did not get to visit the house or the sculpture garden and that is something I'd like to do before I leave for the summer.

I also spent a lot of time roving this week, probably to make up for the fact that I haven't really roved much in the past few weeks. I got to hike some trails that I hadn't done before and I also did the forest quest that the park offers. It is a treasure hunt with markers along the way. The treasure is a special stamp and log book that is hidden in the hollow of an old maple tree at the end of the journey. It was great to walk through the forest looking for specific things as it helped my sense of navigation as well as pointing out things I that hadn't seen before. I helped our Natural Resource Manager, Kyle, pick up salamander boards that were in the way of the forestry operations that are continuing in the southwest section of the park. They are wooden boards 1 ft by 1 ft. and are favorite habitats and hiding places for growing salamanders. There were 100 spread out in a grid so that scientists can collect data on the movements and habits of salamanders. The best part, other than actually seeing a few salamanders was getting to bushwhack through the forest (with my trusty guide of course so I wouldn't get lost!).

The SCA (Student Conservation Association) interns gave their presentations on their experiences this summer on this past Wednesday, just as Mike and I did last week. It was interesting to hear about their summers since they did not work mainly with interpretation. One girl, Navit worked with the Natural Resource Department and invasive species while two other girls, Danielle and Alison worked mostly with the Education and Curatorial Departments along with the Conservation Study Institute. This is the time of year when the staff begins to shrink as interns leave or go back to college. Mike, my partner, left last week and one of our interpretive rangers, Bridget, had her last day this Tuesday as she is leaving to return to college. I will definitely miss everyone who is leaving as they helped to make the atmosphere here so inviting and productive. In another two weeks it will be my turn to say goodbye. While I am looking forward to going to college, I will miss the park and everyone here.
Virginia Bones
************************************************************************

Farewell!

Wow! What a summer it has been. I can't believe it is over. My summer as a George Perkins Marsh Conservation Intern was one of the most rewarding summer experiences I have ever had. I learned so much about the history of the place where I grew up and what its significance in the world is, than I ever have in my 13 years in school. I roved through the forest, I have planted trees, dug trails, answered visitors' questions, converted VHS to DVD, read a few books, and learned a lot. The people who I met here are amazing. A group with truly unique skill sets, they each have bring their own expertise to the helm, and together we have combined this assorted knowledge to probe the darkest nadirs of wonder and we have all accomplished spectacular feats this summer. I am glad to have had this opportunity to be able to use my brain and my hands, and spend some time outside in this beautiful Vermont climate. It is incomprehensible that by the closing of this week I will be out on New York's Finger Lakes at Cornell. I hope that people there are as open-minded as they are here. However, whatever happens, and whoever I meet, I know I will be able to confront difficult situations better and be a stronger leader, in part to our Tuesday morning leadership seminars. I may not yet understand all I have learned here, but one thing's for certain, that I will definitely miss this place when I'm gone and will absolutely return to this the park. I am forever bonded to the National Park Service, and I gratefully thank the American People for giving me this wonderful opportunity, which could only be made possible by the greatest country on Earth and one that prides itself on being "land of the free and the home of the brave!"
Mike Farbman

************************************************************************
Green Thumbs
Final week

Journaling! A task which I have found very hard to do every day simply because I find it hard to motivate myself was the topic of our leadership training this week. Well actually reflection upon our experiences was the topic, but journaling is one way to reflect on life. Kat gave us some tips about journaling (it is important not to be self-conscious about your writing) and then we got to make our own homemade journals. She challenged us to write in it every day for two weeks so we will see if I succeed! Having made the journal though, I think it will be easier to write in it and we are able to have a wider topic base than just work at the park for this journal.

I have been working on creating tree signs over the past few weeks and this week was the first time when I really made some headway. The tree signs are made of bark from different kinds of trees and I am burning their common and scientific names into the wood. This will let people know what kind of tree they are looking at as well as what the interior grain of the wood looks like. The process is slow, but rather peaceful and I hope the signs will be helpful to visitors. This is just one of the many projects Mike and I have started for the summer. He is in the process of converting old VHS tapes into archival DVDs so that they will be preserved. Many of the tapes are important lectures and speakers which are irreplaceable. Apart from my tree sign project, I have been working with the curator at the park, Laura, to organize our research library into a call number system for a database. This way people will have an easier time of finding specific books and the records will be a lot less messy! These projects are more long term and we might not finish this summer, but we are at least making some headway on them.

This Friday we worked with the Facility and Maintenance crew again, but were graduated from mulching to pruning. Jordan, one of the members of the department, taught Mike and I proper technique for pruning trees, in this case hemlock saplings that are being grown in our nursery for eventual use in the hedges on the property. We trimmed those just as practice. If we had trimmed the hedges in view of the public than our mistakes would have been seen by all of our visitors, which would not be good! The ones we pruned have at least another year to regenerate anything we chop off by accident. Today was very hot and our pruning spree was cut short as I was not feeling well. It has been hot all week, but thankfully next week is supposed to be the end of this heat spell.

I definitely feel settled in and it feels as though I have been here forever (In a good way!) I have different duties every day so my days are varied and I have so many things to do so I am never bored. All the people here are great to work with and I think we have a very strong team.

Virginia Bones

*************************************************************************
Last updated: October 20, 2017