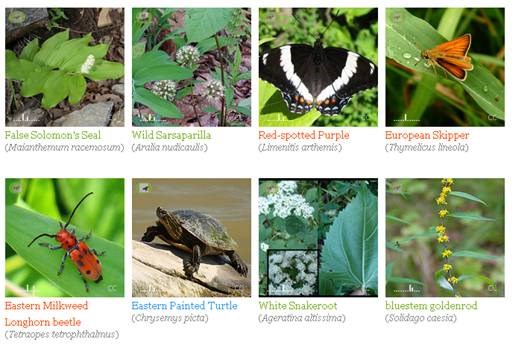 May 21, 2016 8 am - 4 pm
Bring your curiosity and a sense of wonder and find something wild in the woods at a Bioblitz Saturday, May 21, 8am to 4pm at Marsh-Billings-Rockefeller National Historical Park in Woodstock, Vermont. Naturalists and foresters will be your guides on short expeditions to different habitats within the park. Everyone is welcome to join in this Citizen Science event. No experience needed. No registration needed.
For our 2016 BioBlitz, we'll be joining more than 100 other national parks celebrating the centennial of the National Park Service with a BioBlitz during the week of May 16-22. (https://www.nps.gov/subjects/biodiversity/national-parks-bioblitz.htm)
Part scientific endeavor, part festival, part education – a BioBlitz is an event in which teams of volunteers: families, students, teachers, and other community members work together to find and identify as many species of plants, animals, fungi, and other organisms as possible in one day. All observations will contribute to the Vermont Atlas of Life.
People of all ages and skill levels are welcome. Bring your smart phone if you want to learn how to use the iNaturalist app to log your discoveries. Bring a camera, binoculars, magnifying glasses, butterfly nets, or gardening gloves if you'd like. Visit the BioBlitz headquarters at the park's Forest Center anytime between 8am and 4pm to join the fun.

Connect to the iNaturalist Vermont Atlas of Life to create an iNaturalist account to use during your BioBlitz adventure at the Park.