Jobs for Youth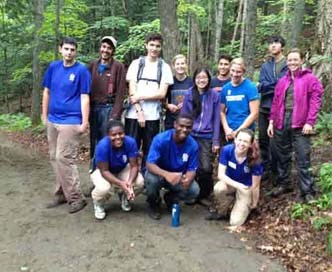 High School and College Students --> Below, you'll find an overview of a wide variety of internship and job opportunities within the park.

Marsh-Billings-Rockefeller works in partnership with the Student Conservation Association, the Vermont Youth Conservation Corps, the National Park Foundation, and the Upper Valley Trails Alliance to offer meaningful stewardship experiences for youth. Teens can conduct trail maintenance, forest management, interpretive programs, and career explorations. Contact: 802-457-3368 x255 for more information.
The Vermont Youth Conservation Corps (VYCC) Summer Community Crew
During the summer months, ten local students ages 16 to 18, work on a diversity of natural resource management and conservation projects, including invasive plant management, native plant restoration, forest management, trail maintenance, and more. In this non-residential program students earn minimum wage while developing resource management and leadership skills. Hiring for these positions, and for two adult Crew Leaders, typically begins in March. For more information and application materials, visit: www.vycc.org.
The Student Conservation Association (SCA) Conservation Crew
High school students ages 15-19 from across the U.S. spend several weeks each summer working on trail restoration and maintenance while camping outdoors. Crew members learn how to camp and live in the woods while gaining technical trail and resource management skills. All lodging and meals are covered, but students must provide their own travel to the park. For more information and application materials, visit: http://www.thesca.org
The Student Conservation Association (SCA) Internships
Each year the park hires several Student Conservation Association interns ages 22 and over for positions lasting from 10 weeks to one year. At least two interns each year serve as guides in the visitor services division. Resource management positions vary depending on current project needs, and include invasive plant management, natural resource inventory and monitoring, and trail partnership development. Travel, housing, training, and a weekly stipend are included. For more information and application materials, visit: http://www.thesca.org
George Perkins Marsh Conservation Interns
During the summer season, two local high-school students are offered a 10-week career exploration internship at the national park. In this paid position, students work as part of a team of park rangers, assisting with hands-on work projects in a diversity of park divisions (interpretation, resource management, facilities management, cultural resources), and participating in leadership and skill development workshops and mentoring. For more information, please contact the Place Based Learning Coordinator at: 802-760-7532 (or 802-457-3368 x 255).

Last updated: February 7, 2020