Teacher Blogs Previous Posts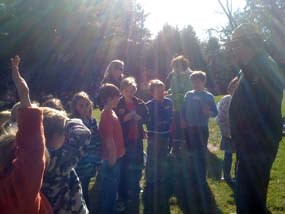 Super Junior Rangers: The Adventure Begins!

There are Junior Rangers and then there are Super Junior Rangers. The second grade students from the Pomfret, Killington and Woodstock Elementary Schools definitely fit in the latter category! These students came to the park in early November to learn about the Marsh, Billings, and Rockefeller families' contributions to conservation and what it means to be a steward. This unique Junior Ranger Program, brainchild of Park Ranger Marie Hanson, combines the traditional National Park Service Junior Ranger goals "explore, learn and protect" with curricular goals throughout the school year. Over the past two and a half years, park staff and local teachers such as Anne Bahlenhorst, Kathy Sehnal, Lisa Laird, Lindsay Ahsan and Barb Leonard have helped to shape the program to ensure it meets students' needs.

Last year the focus was on salamander monitoring and honing scientific skills. This year, in response to feedback from teachers, the program emphasis is on investigating how the community has evolved over the past two hundred years and the factors that contributed to that change. As the young students observe how people and the land affect one another, they are encouraged to think about the consequences of their own behavior and how they might help take care of their place or community.

The weather was unusually sunny for November in Vermont during the second grade visits, allowing for a good amount of time to be spent outside observing and journaling about the signs of human influence they saw during their hikes. Some of these observations promoted great discussion, such as "Did the culverts under the trails increase or decrease the amount of water that flooded the area during Tropical Storm Irene? "How is writing different when surrounded by construction noise versus more natural noises farther in the woods?"

The students also saw how people can influence through art. Chief of Interpretation, Tim Maguire, led small groups of students through the mansion to consider specific pieces of art. How did these pieces make them feel? What, if any, stories did they think the artists were trying to tell through their paintings? Although Mr. Maguire thought second graders might be a little young for this type of discussion, he commented later, "I am really surprised at how engaged they were and their very thoughtful responses!" A great start for our future Super Junior Rangers! Stay tuned to learn about their next adventures at the park!
---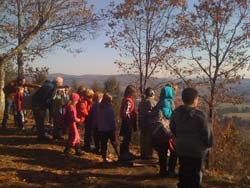 Cultivating our Own Green Mountain Heroes!

How do you integrate literature, science and physical education through place-based learning? Ask Woodstock Elementary School (WES) teachers John Souter, Jay Mumford and Four Winds Volunteer Coordinator Polly Mahoney. They recently took the fourth grade class to Marsh-Billings-Rockefeller National Historical Park to help students better understand what life was really like in the mid 1700's in Vermont. Although their students were already enjoying Green Mountain Hero by Edgar N. Jackson, (chronicling the real life adventures of one pioneering family in Vermont) Mr. Mumford and Mr. Souter wanted their students to really appreciate some of the challenges faced by these early settlers and learn some of the fundamentals needed for survival in the remote Northern Woods.

We started their journey at a remote trailhead by imaging what the 13-year-old protagonist Solomon Story might be feeling or thinking as he went into the wilds of Vermont with his father. Responses from each of the students ranged from excitement about finding a new home to fear that they might run into wolves. Students were then challenged to think about what they would need to know about the forest to successfully reach their destination in the heart of Vermont. What did they need to know to find food? Shelter? Move through the challenging terrain with their gear? Protect themselves from predators or unfriendly encounters with other humans? Also, what might they enjoy about the woods?

The book provided much background information, helping us to consider some of the differences in the forests of Vermont today versus 250 years ago. The class went on to discuss what someone would need to pack for such an adventure, keeping in mind the balance between needing to travel light yet also needing the essentials for survival and settlement. You couldn't just run over to the local hardware store or grocery store if you forgot something!

Time to start! We broke the class into four smaller groups of 7-8 students , so Mr. Souter, Mr. Mumford, Ms. Mahoney and I could be more encouraging of and responsive to student inquiries along the way. Although the hike required a substantial amount of physical activity that would normally have many 9 and 10 year olds complaining, not a whine was uttered as the students were so engrossed with using their senses to explore the mountain trail less than 1 mile from their school. The top of Mount Tom not only offered breath-taking views, but also a whole new perspective on their beautiful community nestled far below in the valley. Students were surprised at how different familiar landmarks looked from above and how their orientation changed dramatically.

Each small group continued its journey down the other side of the mountain, with discussions focused on the various types of trees they passed--how they looked, felt, functioned, and their uses in the 1700's and today. The groups then found quiet places where they could sit and journal. Each student picked one coniferous and one deciduous tree to carefully study and draw. Then the groups all met at a rustic one-room log cabin in the woods, much like those built in the 1700's. After lunch, they rotated through stations with hands-on activities from the Four Winds program. In one station they role played the various parts of a tree, in another they investigated the ample information provided by tree rings, and in the third, they learned how to use keys to identify trees.

We continued the rest of our journey in small groups down the mountain, practicing our observation and tree identification skills and continuing to discuss what life was like in the 1700's. Although the students must have been pretty tired after such an active day, once they got started on their final journaling activity no one in my group wanted to leave. Luckily the park will have the pleasure of hosting these green mountain heroes again in the winter and spring when we continue to make literature come to life, investigate our surrounding, and get some exercise!

~Joan Haley, Park Education Coordinator
---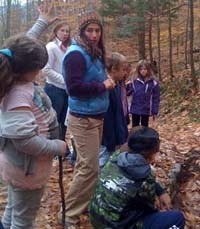 Learning about Weathering and Erosion at Marsh Billings Rockefeller

On a chilly November morning, 3rd and 4th grade students from Mercy Grinold's class at Bridgewater Village School, VT came to Marsh-Billings-Rockefeller to learn about erosion and weathering. Myself, Chelsea Vario, a graduate student at Dartmouth College, and Joan Haley, education specialist, helped to lead the group activities and discussions. The day started with a puppet show featuring two boulders that experience the forces of weathering and erosion from a flood, wind, and pounding ocean waves. The boulders decreased in size by the end of the presentation, and the children had their first glimmer of understanding the process of erosion. Then we did some fun, hands-on activities to simulate the forces of rain, wind and rivers on different substrates such as rocks and sand. I gave a slideshow depicting changes that have happened here in New Hampshire and Vermont since the Laurentide Ice sheet retreated approximately 10,000 years ago. The glacier itself was a huge erosive power moving over the entire region during the last glacial maximum, carrying with it boulders and smoothing mountaintops. Since the glacier retreated, weathering and erosion have slowly transformed the landscape from barren rock where nothing could live into deep soils, meadows, and forests.

The importance of erosion and weathering might be a difficult concept for adults and children alike to grasp. This is because the processes happen on a geologic timescale that is often too slow for humans to perceive. However, erosion has created many of the attributes of the landscape around us. Rain pounding on the same rock for hundreds of years (an example of weathering) may eventually weaken the rock so that it breaks apart and can be transported by wind or water (the movement of the rock is an example of erosion). Similarly, the roots of a tree will grow into tiny cracks in a rock in order to access minerals. Over time, the rock will weaken (weathering), and eventually break apart (erosion). This process, along with the build up of plant material when the tree dies, slowly but surely leads to several feet of soil overlaying granite bedrock.

Occasionally there are larger events that can change the landscape in only a few hours. Recently, we experienced a massive erosion event in the form of a tropical storm. The mud deposited over farm fields, yards and roadways had been eroded from upstream. As I led a walk through the forest at Marsh-Billings-Rockefeller, it was easy to point out signs of erosion left from the huge storm-gullies on the sides of the dirt road, and tree roots, which used to be in soil, hanging loose over stream beds. If we look carefully, we will notice signs of the process of weathering and erosion all around us. The 3rd grade class left Marsh-Billings- Rockefeller with a much better understanding of these processes and an understanding of where humans fit into this picture. Although watching a rock erode might not sound like much fun, a day in the forest learning about this important geologic phenomenon certainly was!

-Chelsea Vario, PhD Student

---
'Day of Caring'
Normally, on a day off from school, you might expect to find teenagers hanging out with their friends, sleeping, or playing sports. However, last Friday, over 35 teenagers from Woodstock Union High School dispersed out into the community for their annual 'Day of Caring'. They went to sites such as the Lucy Mackenzie Humane Society, a wildlife rehabilitation center in Bridgewater, the school grounds and to our park! Ten enthusiastic volunteers set out on 'Mary's Trail' to rake aside leaves and repair drainages. The trail has been damaged over time by failed water bars, and this fall's heavy rains had carved out some big ditches.

Students learned the names and functions of new tools and some basic principles of trail design. They quickly took to the task of re-establishing and clearing out existing drainages while clearing and fixing other sections of trail. All in all, eight water bars were cleaned and an entire trail cleared. There was a mini-celebration at 11:11:11 on 11/11 and high fives were had all around. This enthusiasm and pure joy of living was evident and awesome. Thanks volunteers!

---

Green Art Class - s

tudent quotes
- Before this class to me a stick was a stick, and I would never have thought I would ever paint with one or make art with sticks, flowers, leaves etc.

- I learned that using art that's from nature can really open your eyes, but you have to have patience.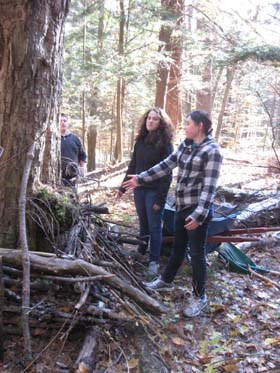 If you're strolling through the park and happen to notice several really eye-catching arrangements of sticks and other natural materials, then you've entered the WUHS Green Museum! Students from the Green Art class at Woodstock Union High School spent the first quarter of the year learning about eco-artists, working with natural materials, sculpture form and function, and interpretation of the landscape. They visited the park in September to tour and explore a section of woods in search of landscape features that they found interesting or unique, or that told a story about the land. After learning a bit about the history of the land and identification of natural elements, they collaboratively chose four locations to build their sculptures. Students spent several weeks in class drafting sketches, models, plans, and proposals which they presented to park staff in order to receive feedback about their sculpture plans. Throughout this process, students considered the question: How can sculptures encourage visitors to look deeply at unique or overlooked features of the landscape?

Finally, students returned to the park on November 1st to construct their sculptures. Excitement and creativity were tangible in the air as they scouted for usable materials, began construction, revised plans, consulted each other, watched as pieces fell apart, admired classmates' techniques, and finally completed their structures. They enjoyed the process of working in the outdoors, with natural materials that challenged their best laid plans, interacting with each other in different ways, and by applying lessons learned in the classroom on large-scale sculptures.

One student reflected 'We hope that the visitors of our sculpture will pay more attention to nature and how amazing it can be if one just looks a bit harder'. The class has created a map of their sculptures with descriptions of each and is available through the Place Based Learning Coordinator at 802.760.7532 or krobbins@wcsu.net.
---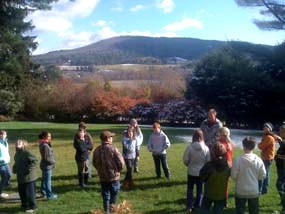 Thank you, MBRNHP, for a fantastic week!

Last week at Marsh-Billings-Rockefeller National Historical Park, we had the educational experience of a lifetime! Students in our district came away with a greater appreciation of the world around them, after viewing their world through the lenses of a microscope, camera, and telescope (using Stellarium). Thanks!

~Amy Simonds, Killington Elementary School





---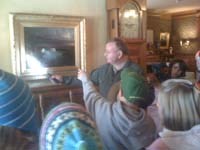 Putting it All in Perspective: Exploring Cosmic Scales, Day Five

Well, it was a bittersweet day. After such a wonder-filled week together, saying good-bye to the Pomfret, Reading, Barnard and Killington students and teachers felt like saying good-bye to family. The day began with students acting out some of the concepts they had learned throughout the week; becoming one with paramecium and supernovas. The creative juices continued to flow as they collaborated in small groups to create miniature speak choruses. Their performances reflected observations, ideas, new vocabulary and appreciation of their work at the park.

Finally, Chief of Interpretation Tim Maguire led the students on a special tour of the mansion to discover how famous Hudson River School artists, such as Albert Bierstadt and Thomas Cole, communicated their visions of the world through their paintings. The students were encouraged to continue to use their most important lenses to look for the beauty around them and to look their fellow human beings in the eye.

A huge thanks to Rob Hanson, Patty Collins, Nancy Boymer, and Amy Simonds, the incredible teachers who worked so hard to make this week a meaningful educational experience for their students. Also a special thanks to Sienna Whitney for all her support during the week.

~Joan Haley, Education Specialist
---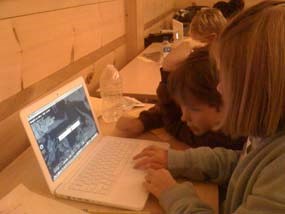 Galactic Illuminations: Day Four of Exploring Cosmic Scales

Do you know what causes our seasons? Why the moon waxes and wanes? If so, you are among a minority of Americans. Fifth and sixth grade students from Pomfret, Killington, Barnard and Reading investigated the answers to these questions and even more complex ones, such as "What is time"? Aided by an amazing array of photos, some taken by past students, Pomfret 6th Grade Teacher Rob Hanson did not hesitate to stretch the students' minds to the edge of the Universe.

The students, for their part, responded eagerly by asking their own questions, such as "Why are the cores of the galaxies so bright?", "Is it possible that other planets could be formed within our solar system?", "How does an asteroid start moving through the universe in the first place?" and finally "Just how microscopic are we?"

Using kid-friendly software to explore the "deep sky", students learned how to locate and describe common celestial bodies that have captured the imagination of humans for thousands years. From the sounds of their ooohs and ahhhs, the Orion Nebula, Andromena Galaxy, the Pleiades and other wonders of our Universe will continue to be appreciated and pondered for at least another generation.
---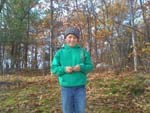 Looking at the World Differently Using a Camera Lens: Day Three of the "Exploring Cosmic Scales" Adventure

Students braved a wintery mix to capture some beautiful photos this week. To see this truly eye-opening work, go to: https://sites.google.com/a/wcsu.net/marshbillings/

Below students share their thoughts about the day:

The week of October 24th at the Marsh-Billings-Rockefeller National Historical Park different groups of fourth, fifth, and sixth graders each spent a day learning about photography with Mrs. Kaija and Ms. Simonds. We learned a lot about photography during this workshop. For instance photographers have many different styles. They may like colored or black and white photos. Some like to center their focal point while others like to move the focal point to the side of the photo. There are different ways to set up a photo. One option could be something called the "rule of thirds" which is when the photo has three different sections that can be either horizontal or vertical.

Seeing through a camera lens is somewhat different than seeing with your own eye. Sometimes with a camera lens, photographers can capture something that a human's eye cannot. Students in this workshop practice these photographic styles throughout the day, taking pictures of nature in the park, the mansion, and the mansion's garden. Students learned a great deal about photography and nature.
~Anabelle L., 6th Grade

Besides seeing through different lenses, I have a whole different perspective on photography than I had this morning. I look beyond the obvious now. I look more into the detail, like if I see a strange color moss, I will say "What type is it? Where is it from? Is it rare?"
~ Journal entry, by Claudia M., 6th Grade
---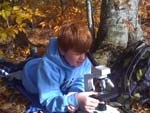 Of Algae and Anthropods: Cosmic Scales Day Two

Students from Pomfret, Barnard, Killington and Reading continued their journey today investigating the world through lenses. Teacher Ranger Lisa Kaija--also known as the art teacher at Killington, Pomfret, and Reading--started off the day with the question "What can the human eye do that other lenses can't do?" Answer: Directly connect with the brain. Students learned how our brains instantaneously make sense, or try to make sense, of the images we see.

Rob Hanson continued to challenge our brains with images of the Universe, pausing on a photo of a solar eclipse and noting that the sun and moon appear to us on Earth to be exactly the same size. Yet the sun is 400 times as big as the moon. He also clarified that a light year is a measure of distance (181,282 miles/seconds), not time. After dazzling the students with beautiful and thought-provoking images from the microscopic to the cosmic level, the students broke into three groups to explore these areas in greater depth.

The first group hiked to the Pogue (a large pond in the park) to learn how to use field microscopes and examine biotic and abiotic matter found on the forest floor and in the water. After a very clear and passionate introduction from Reading and Barnard 5th and 6th grade teachers, Patty Collins and Nancy Boymer, the students eagerly went to work. Comments such as "Oh my gosh, you have to come see this!" or "I never knew flies were so hairy!" were plentiful. They were also impressed by the brilliant colors of green, yellow, and blue organisms they found in the pond. They were able to identify many of the organisms on their own thanks to very vivid descriptions and the easy-to-read chart Ms. Collins provided them. By the end of the day, words such as "heliozoa" and "spyrogyra" were rolling off their tongues.

Stay tuned to learn more about the other discovery stations led by Ms. Kaija, Amy Simonds (from Killington) and Mr. Hanson. Finally, a hearty thanks to the new Windsor Central Supervisory Union Superintendent, Alice Worth, who hiked all the way up to the Pogue to observe this pilot program in action.
---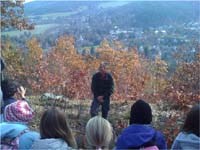 Exploring Cosmic Scales: Imaging beyond Imagining
Monday, October 25--Day 1

"Sight is a faculty, seeing is an art" --George Perkins Marsh This simple, yet profound, quote was the challenge given to 6th graders and some 5th grades from Barnard, Pomfret, Killington, and Reading.

Rob Hanson, 6th grade teacher at the Pomfret Elementary School, set the bar very high when he proposed to the students that they will see the world in a very different way by the end of the week. Students are spending this week exploring how lenses expand our understanding of the Universe. In collaborative, mixed-school field groups, students are traveling through the park using GPS units, cameras, computers, telescopes, microscopes, and imaging technologies to examine their world from the microscopic through the human to the astronomical scale.

These unique perspectives to give them a better understanding of how our universe functions, from the microscopic to the cosmic level, and help them to discover new connections between science, art, poetry, microscopy and astronomy.

The day began with a introduction to the park by Park Ranger Scott Davison. He encouraged the students to really listen to their surroundings to help them tune into to all that was going on around them. Next the students paired up with partners from different schools to explore how components in the environment might be diverse, yet often work better together because of this diversity.

The group then went on a hike to learn about the rich legacy of the Marsh, Billings, and Rockefeller families and get several broad perspectives on their community from Mount Tom vantage points. They also used loupes to take a closer look at their surroundings. They journaled about both, then returned to the Forest Center to view the classic film "Powers of Ten". While seeing first hand what a power of ten actually means, they also were encouraged to think about how humans fit into these incredibly small and large scales.
---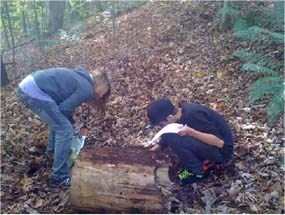 Randolph Elementary School

Tuesday and Thursday, October 18 & 19, 5th and 6th grade students from Randolph Elementary School came to learn about how we manage the the forest and how it manages itself. There were approximately 44 students each day, so after an introduction to the park and the overarching themes of stewardship and sustainability, the students were broken into three smaller groups. Each group rotated through stations to explore the following topics:

*Forest Management, led by Park Rangers Scott Davison on Tuesday and Marie Hanson on Wednesday

*Forest Succession, led by Park Ranger Julia Lynam

*Decomposition, led by Joan Haley

The park visit was organized by Forest for Every Classroom Fellow, Bonnie Kawecki, who worked closely with her teacher colleagues Julie Hinman, Lindsay Meyer, and Paul Shriver, to ensure there was a smooth connection between classroom and field work. The students really seemed to enjoy the field work. In fact it appeared many of the students could have gone on all day investigating the bustling world of rotting logs. Heartening exclamations such as "I've hit the jackpot!" and "Wow, you are never going to believe this!" echoed through the woods.
---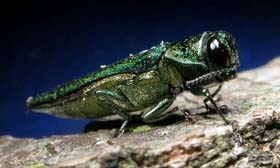 Invasive Species

We've all heard the term "invasive species", but what are they really? And why should we care? And what were those strange, purple, birdhouse-looking boxes hanging on the trees all over town?

Twenty-seven third-graders from Woodstock Elementary School (WES) came to the park last Monday to learn the answers to these questions. They also asked some pretty tough questions of their own to Kyle Jones, Chief of Resource Management. The students had been studying insects, but WES teacher Jill Kurash wanted them to better understand why it is important to know about these creatures. The purple Emerald Ash Borer (EAB) traps set up in the community piqued the curiosity of her students and provided a natural introduction into how insects, (especially invasive ones) can cause great damage to the natural resources we value. The students had already been learning about the many wonderful roles insects play in the environment and had researched insect migration by following Monarch butterflies through the Journey North program.

When the students came to the park, they learned about the characteristics of invasives and their mechanisms for taking over an area. As a specific example, Kyle explained how the Emerald Ash Borer larvae feed in the cambium between the bark and wood, killing branches and trees. Since Ash is one of the ten most common trees in Vermont, this insect could have a major impact if it becomes established here. Mr. Jones also explained how scientists are trying to learn more about the characteristics of this specific invasive and are monitoring for their presence by using the traps.

The students were surprised to find out the EAB is connected to baseball in two ways: First, the Ash is the preferred wood for making baseball bats since it is hard and doesn't splinter easily; Second, the sand in baseball diamonds is the preferred habitat for the non-stinging wasps which are also used to monitor the EAB beetle. Hopefully, the World Series has helped to drive these connections home!

---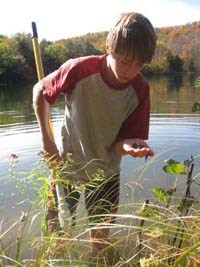 Mercury Monitoring through Partnerships

Hip waders on? Check. Data sheets in hand? Check? Sterile gloves, ziplocs, and spoons? Check. Macro-invertebrate guides? Check. Willingness to wade in the muck of the Pogue with a net and autumn leaves drifting down? Check.

Environmental Science students from both Woodstock Union High School and Stevens High School (in Claremont, NH) are participating in a joint research project funded by the National Park Foundation and supported by Dartmouth College, the Schoodic Education and Research Center, and Saint Gaudens and Marsh Billings Rockefeller National Historical Parks.

Students will become stewards of the environment by developing testable hypotheses about how mercury moves through the environment with a focus on dragonflies. So, armed with all of the necessary equipment, students took to the water to collect dragonfly nymphs that will be sent off to Dartmouth for analyzing. This process will involve freeze drying, digesting them in acid, nebulizing and analyzing by Mass Spectroscopy in the Trace Element Analysis Laboratory.

Once the results are received, students will use the data to determine if their hypotheses are correct. On February 15, students will present their findings in a poster presentation at Dartmouth-check back later in the year for more details about this exciting event!
---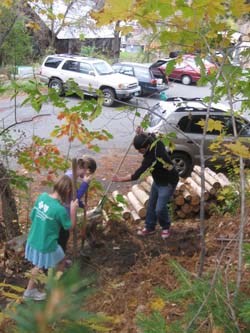 Shoveling Our Way to New Partnerships

Students from Woodstock Union High School's Forestry class, led by John Hiers and Laurel Tobiason, took to the trail this week. A very short, but important trail. This trail is newly dug and located on the small ridge behind Woodstock Elementary School. WES teachers John Souter and Jay Mumford had a vision for this ridge to be used as an outdoor classroom space, when they participated in the Forest for Every Classroom program. Over the last five years, this outdoor space has been used in various ways, but it was time for revitalization.

On September 24 a group of volunteers mobilized to work on the trail in honor of 350.org's Moving Planet Day. Folks from the National Park, the Vermont Youth Conservation Corps, Four Winds, Sustainable Woodstock, and Farm and Wilderness joined forces to construct the more technical pieces of the new trail, including installation of a log staircase and bench cutting new tread across a very steep slope.

This week, students from the high school returned to the trail to continue working on getting it in shape to truly be utilized as an outdoor classroom space. Groups of students from Mr. Mumford and Mr. Souter's 4th grade class eagerly followed the example set by the older students and set to work with shovels and rakes to smooth out a section of trail, use branches from limbed trees to create brush piles, rake aside fallen autumn leaves, and collect black swallowwort seed pods to lessen the expansion of this invasive species on school property.

Over time, we hope that student and teacher visions for this great resource will evolve and be implemented and that partnerships can continue to be formed between schools and the community.

---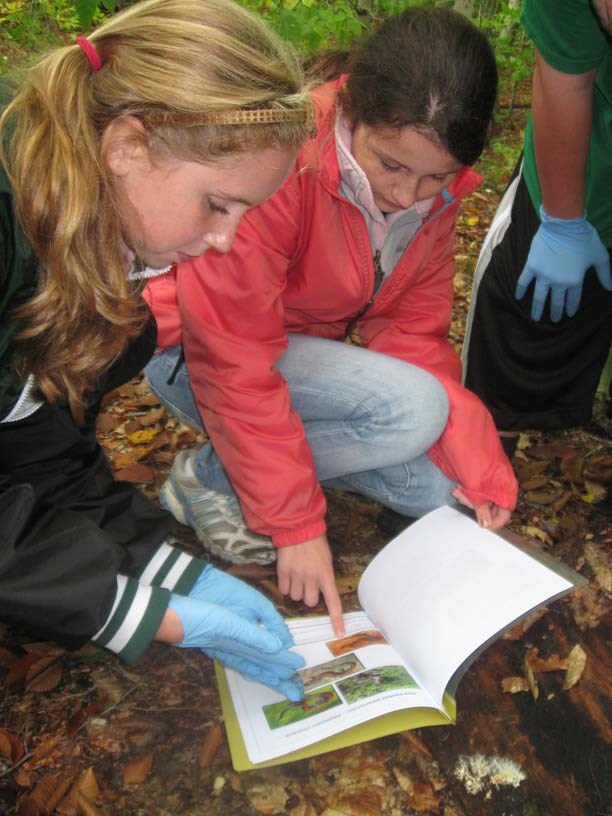 Assessing Forest Health

Ninth graders from Woodstock Union High School once again took the park by storm! This time, however, it was several Environmental Science classes who accessed the west side of the park to collect data that will help them determine the overall health of the forest. Armed with tree identification guides, measuring tapes, light meters, and levels, groups were assigned 10 meter x 10 meter plots to collect data in. They looked high and low, drew maps, measured dominant tree species, determined the texture of tree bark, sleuthed out signs of animals, analyzed prepared tree core samples, and recorded climate features such as wind direction and velocity. Finally, students spread out on two different established arrays to monitor salamanders. The salamander numbers they collected will feed into a regional database of student collected data that the Inventory and Monitoring division of the Northeast Temperate Network within the National Park Service will use when analyzing trends in vital signs of ecosystem health. The students were invigorated by the autumnal air and sunshine and happy to be out on Mount Tom again.

---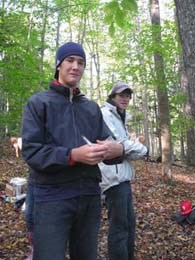 How Healthy is the Pogue?
This is the question that 10th grade Biology students from Woodstock Union High School collected data in order to try to answer. Two groups of 30 students hiked up to the Pogue with test kits and plankton nets in tow. Teacher Patty Murray has been coming to the Pogue for years, and is always excited to bring an element of field work into her biology classes.
Students used pond water sample to determine concentrations of dissolved oxygen, carbon dioxide, nitrogen, phosphate, pH, and temperature. They worked on refining their titration and measuring skills, which is tricky business in the field! In addition, students made sensory observations about the pond ecosystem, complete with sketches and area maps. As a follow-up, students will be taking out the microscopes to examine plankton that they captured in small samples. The conclusion of this unit will be a lab report where students argue how healthy they think the Pogue is based on the data that they collected.
---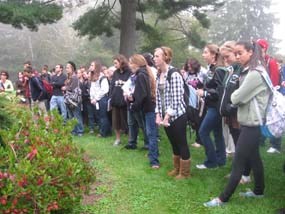 WUHS 9th Grade English classes take the park by storm!

The entire freshman class at Woodstock Union High School visited the park recently, all 94 of them. They are lucky enough to have English teachers who recognize the importance of how immersion in a place can enhance one's writing skills. This visit to the park was the kick-off to a longer unit about 'Sense of Place'.

While at the park, students pondered these questions: 'How do people affect place?', 'How does place affect people?' and 'How can you tell the story of a place?' They rotated through several mini-tours looking at art in the mansion, the history of the gardens, the fall-out shelter, and the forest. In between tours, students found a quiet spot to respond to writing prompts about place, as developed by the 2011 artist in residence Wendy Call. These prompts encouraged students to use a variety of senses to gather information about and experience the setting they were in.

This visit was followed up by a classroom presentation by Ranger Scott, who further discussed techniques for interpreting a place. Students will spend time this year reading excerpts from authors who have mastered the skill of inextricably tying plot to place and hone their own writing skills with this in mind. Ultimately, they will each produce a digital media presentation that tells the story of their own chosen places.
---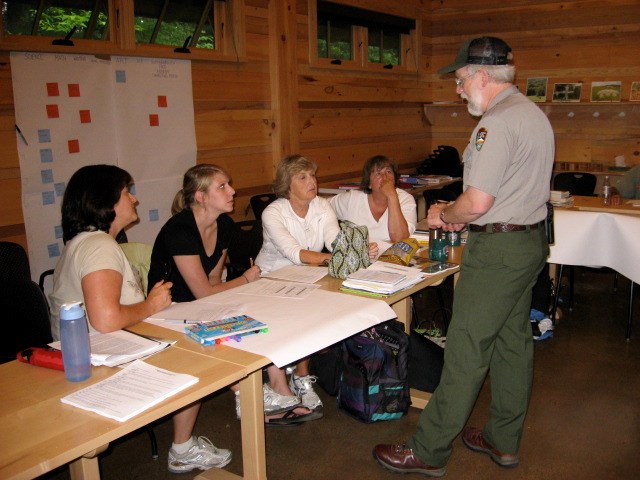 Teacher's Unite!

On August 25, 2011, fifteen teachers from the Windsor Central Supervisory Union and a dozen local resource experts gathered together at Marsh Billings Rockefeller National Historical Park (MBRNHP) in a day-long workshop focused on place-based education through the Park Research Program. Partnership with teachers and community members are at the core of Park Research. Ideally, units should also be inquiry-based, focus on authentic research, and include a service-learning component.

Prior participants in Park Research shared information about the evolution of this program and examples of successful units. All of the teachers shared what their spark of interest is in creating a curricular unit with MBRNHP. Park staff presented a number of newly created communication and coordination tools including a Teacher Field guide to the park, an e-calendar for scheduling park visits, and a new Google Group.

Then, teachers were able to participate in tours in which they were guided by Park Rangers and other experts to explore the park from a specific lens: Art, Conservation, or Natural History.

Finally, teachers were able to synthesize existing ideas with new inspiration into curricular units using the Understanding by Design format. They took time to meet and share ideas with each other and resource experts like foresters, park interpretive staff, and environmental educators.

Some of the unit ideas were: using natural sculptures to enhance a park visitor's interaction with a specific place, developing a 'cosmic sense of place' by looking through different lenses from the human eye to micro- and telescopes, managing invasive species, and relating the 'pulse of the forest' at different times throughout the year to that of the human body during exercise.

Now, teachers are rolling along with the school year and we are excited to see how these ideas manifest with their students! We look forward to partnering with these dedicated and energetic teachers this year.

Back to Current Posts
Last updated: March 17, 2017