History of Forest For Every Classroom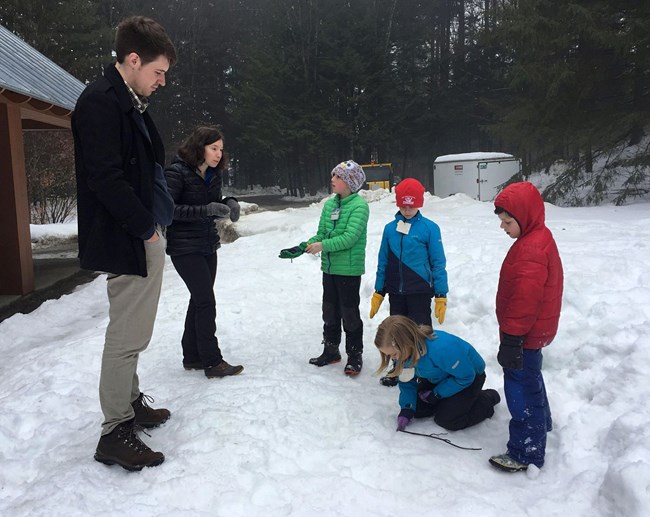 "Public lands have tremendous potential to contribute to education and quality of life in our communities. If we can get young people thinking about not only the future of their parks and forest but also the future of their local communities, that's the beginning of lifelong learning, and it's also cultivating stewardship." ~ Nora Mitchell, Director, Conservation Study Institute (Retired)
A Common Vision
Today's students will become responsible citizens if they understand the places in which they live, and if they have educational opportunities based on real life issues that encourage them to be stewards of their own communities.
Inspired by a common vision of students learning from and caring for public lands, Shelburne Farms, the Stewardship Institute (Formerly Conservation Study Institute), Marsh-Billings-Rockefeller National Historical Park, the Green Mountain National Forest, and the Northeast Office of the National Wildlife Federation joined efforts to create A Forest for Every Classroom (FFEC).
Innovation Through Collaboration
FFEC's unique partnership of public and private organizations is a model for how collaboration can increase the effectiveness of organizations to serve communities, enhance educational outreach, and protect public lands. An independent assessment of the FFEC program reported that the strengths of the program include:
Demonstrating best practices in place-based education
Cultivating an understanding of public lands and the local community
Offering diverse and balanced perspectives about public lands issues
Developing relationships with teachers through sustained professional support Fostering connections between the school, community, and resource specialists
Enhancing the role of public and private organizations as community resources
Fostering students as active participants in the care of public lands through service learning activities
Public Forums
To create a program that was responsive to local communities and the needs of teachers, FFEC partners solicited input from community members, teachers, and forestry professionals on the concepts and experiences that students should have in a curriculum about forest stewardship. The ideas generated from focus group sessions shaped the goals and structure of the FFEC program.
Teacher Workshops
Following the public forums, the partners developed and launched the first FFEC professional development program. A year-long series of three two-day workshops and a five-day summer institute provided educators with the opportunity to develop the skills, knowledge, and support they needed to create standards-based curriculum that connect students to the public lands in their communities.
On-going Teachers Support and Program Refinement
Based on lessons-learned from the pilot program, the FFEC program has been refined and offered to new groups of teachers. Additionally, graduates of FFEC programs are offered sustained professional development opportunities through content and skill-based workshops, as well as on-going support from the FFEC partners and the resource specialist network.
Program and Partnership Evaluation
FFEC and its partners are part of the Place-based Education Evaluation Collaborative (PEEC), a regional effort to develop best practices in place-based education. PEEC research contributes to the enhancement of the member programs, and to the development of evaluation techniques for place-based education. An initial assessment of FFEC has yielded impressive results and helpful insights. These insights will strengthen future program activities, and will be shared with other organizations interested in creating place-based education training programs.

The Benefits of Place-based Education (pdf - 744kb)*
FFEC Evaluation, September 2004 (pdf - 1.9mb)*
FFEC Evaluation, July 2003 (pdf - 379kb)*
In the summer of 2004, The Journal of Environmental Education published an article reporting on the results of the PEEC cross-program evaluation study. The article reports on two aspects of the study: a cross-program analysis of the four programs' strengths and challenges, and an analysis of trends in teacher practice change across the programs. Click here for the article (pdf - 927kb)*
*(PDF files require Adobe Reader for viewing. Click here to download it for free.)
Sharing Our Successes!
Promise of Place: The partners also created the Promise of Place website to share lessons learned through FFEC and to provide additional place-based education tools, resources, and curriculum. To learn more please visit www.promiseofplace.org.
New Hampshire FFEC Replication Program: In 2006, the New Hampshire Project Learning Tree, Hubbard Brook Research Foundation, White Mountain National Forest, and the USDA Forest Service's State and Private Forestry Branch came together to serve as a collaborative partnership to replicate the FFEC program in central New Hampshire. Using the Vermont program as a model, the NH FFEC program focuses on middle high school teachers and aims to strengthen teacher knowledge and skills in natural science. The New Hampshire FFEC partnership is planning to run another FFEC program in 2007-2008.
A Trail to Every Classroom is a place-based education and service-learning professional development program developed in partnership with and based on the FFEC model. Using the Appalachian Trial as its main focus, the goal of the program is to connect teachers with local resource specialists to create curricula that connect students to the Appalachian Trial. This year-long professional development series will be offered for graduate credit through Shepherd University in Shepherdstown, WV.
Training Modules: Drawing on the lessons-learned from the FFEC model, the partners have developed a comprehensive place-based education manual and training program that will be disseminated throughout the National Park Service and US Forest Service, and to educators and communities across the country. The manual outlines the keys to successful place-based programs and aids participants in developing partnerships between public land agencies, nonprofit organizations, teachers, and community members.
For more information, contact
Joan Haley
joan_haley@partner.nps.gov
(802) 457-3368 ext 222
Last updated: January 28, 2021