Teacher Workshops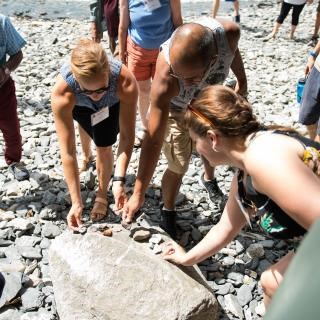 GLOBE Workshops - Professional Development for Teachers

For educators who are interested in helping students learn more about the ecology of the Upper Valley and contributing to a collective understanding of the key processes which keep it healthy, please join us for an exciting new series of place-based education workshops. The National Park Service is partnering with the Shelburne Farms and the National Oceanic and Atmospheric Administration's GLOBE program to offer educator professional development in environmental data collection protocols designed for K-12 students. Extensive opportunities exist to collaborate locally as well as internationally. Explore ways to engage students in authentic investigations, reflection, problem-solving, and sharing their work publicly to strengthen students' sense of efficacy and their abilities to create healthier lives and communities.
Carbon Cycle and Weather: January 17 -18, 2020 at Follansbee Inn, N. Sutton, NH (accommodations provided)


Water: March 20, 2020 at Marsh-Billings-Rockefeller National Historical Park
Phenology: April 3, 2020 at Marsh-Billings-Rockefeller National Historical Park

Workshop fees will be waived for these first three pilot workshops thanks to the generous support from the New Hampshire Charitable Foundation's Wellborn Ecology Fund.
Participants can attend one, two or all! Please register separately for each workshop. For more information and to register, visit the event page. Qualified candidates will be accepted on a first-come, first-served basis, up to 15 participants per workshop.
Last updated: November 20, 2019