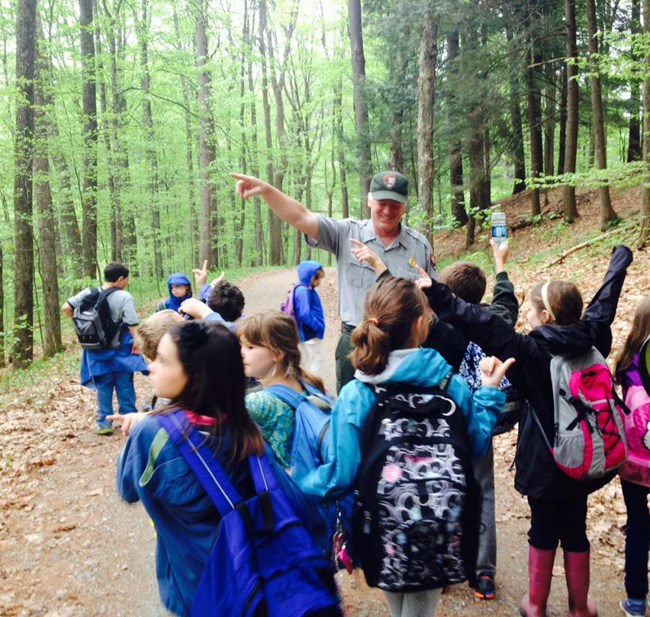 Park for Every Classroom:
A

Boots to Boats

Learning Journey for Educators!

Apply by March 5, 2018 - To apply, please complete the application and ask your principal to complete the endorsement form.
Connecting educators and youth to National Parks and public lands through place-based experiences that foster a lifelong appreciation of our local and national resources.
Educators are invited to join a four-day immersive workshop on July 5-8, 2018. The workshop will focus on exploring how our National Park System's resources can provide authentic learning opportunities for students. The journey begins at Marsh-Billings-Rockefeller National Historical Park in Woodstock, VT, continues along the Appalachian National Scenic Trail to Hanover, NH. From there, we will paddle down the Connecticut River to Saint-Gaudens National Historic Site in Cornish, NH.
This event will provide teachers with the opportunity to deepen their understanding of landscapes and watersheds in the northern New England region, and discover ways to engage their classes with place-based experiences using our public lands. Over the four days, teacher facilitators and participants will engage in lessons and discussions related to:
Regional climate change observations and implications

Forest and watershed ecosystem studies

Land use history in New England

Leave No Trace ethics & park stewardship

Abenaki place-based storytelling

Service-learning
At the end of the four days, participants will be prepared to plan a curriculum-based experience for their students to a local national park or other public land. Teachers from Title I schools will also have the opportunity to apply for a grant to cover bus transportation to one or more of the three local national parks explored during our "Boots to Boats" adventure.

This workshop is intended for educators who have experience with multi-day backpacking trips and who are comfortable transporting themselves on moving water. Participants will be carrying all of their own gear and some shared items, such as food. Participants should expect to accommodate their individual gear needs, and may expect to share tent space as trail etiquette dictates. Meals will be provided throughout the trip, as will boat rental and transportation from Saint-Gaudens NHP back to Marsh-Billings Rockefeller NP. Application deadline: March 5th!
For more information, or to apply for this program, please contact Joan Haley, jhaley@shelburnefarms.org