Artist in Residence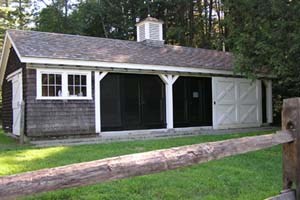 The application period for the Artist-in-Residence program for the 2023 season has now closed. Please check back in Fall 2023 for information on future opportunities.

The Artist-in-Residence program at Marsh-BIllings-Rockefeller National Historical Park aims to help visitors connect with the landscape through art and the artistic process. Unlike some sites, we don't expect, though in some cases may accept, a finished work of art for our collection. However, the artist must engage in a variety of outreach opportunities. These include, at minimum, 100-hours of on-site residency:
Demonstrating art at one of our public events
Teaching between one to three free workshops for the public in your preferred medium
Hosting an "open studio" at the Pony Shed Art Studio
Exhibiting or performing your work at either the park or ArtisTree.
Other opportunities include:
Presenting a talk about the connection between your art and the park's collections or themes
Participating in a dialogue about art and conservation with a small group
Delivering art-themed tours of the Marsh-Billings-Rockefeller mansion
Offering art workshops to school children
Anything else you'd like to try that connects people to place through art!
►Applications generally include:
A Letter of Interest
A Digital Portfolio
Our Artist-in-Residence studio is located at the Horse Shed at the park, just above the Belvedere summer house in the Horse Shed Meadow. The Horse Shed, designed by Theodor Muller and built in 1961, was originally constructed to house Mary Rockefeller's horses. The artist studio, in the rehabilitated Rockefeller Horse Shed, is off the grid with a 230 watt solar photovoltaic system. The renovation of this building was designed by SAS Architects of Burlington, Vermont, the same firm who designed the Forest Center, the park's Platinum LEED certified classroom and meeting space.

The park provides this studio space for the current artist in residence to work in. We are only accepting applications from local candidates, or canditates that are able to provide their own housing. For more information on the Artist-in-Residence program, please contact our Visitor Services Team.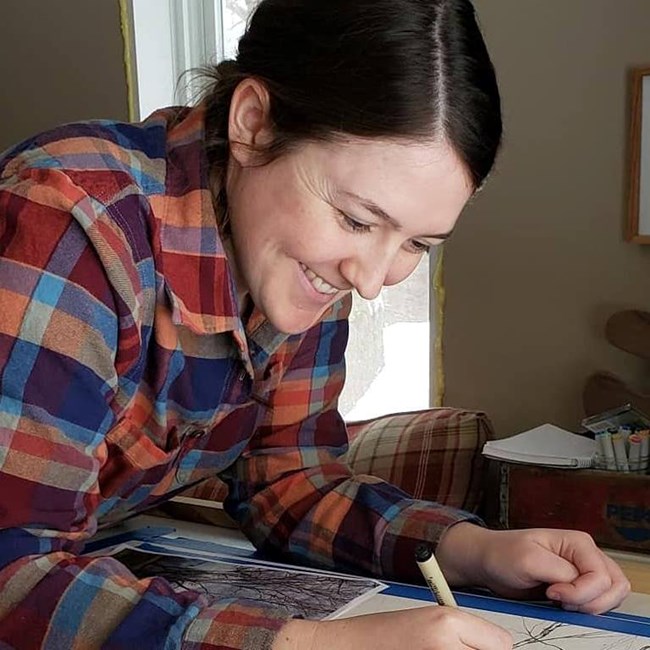 2022 Artist in Residence - Amy Hook- Therrien
Amy Hook-Therrien, a visual artist with a specialization in watercolor. Hook-Therrien grew up in Chelsea, Vermont, where she formed deep connections with the forests surrounding her. She went on to study art at the University of Maine in Orono, where she earned her Bachelor's of Fine Arts, focusing in painting. After graduating, Hook-Therrien returned to rural Vermont to immerse herself in nature and painting. She has since been featured in multiple publications and her work displayed in galleries throughout the state. In 2019, Hook-Therrien was awarded the Abenaki Artists Association's Artist of the Year Award.
Hook-Therrien primarily works in watercolor and chooses the natural world as her subject. With her landscapes, she aims to portray the tranquility and fragility found in nature. At Marsh-Billings-Rockefeller National Historical Park she will be exploring art inspired by the plants and animals who call this place home and working on an alphabet series inspired by the natural world and her Abenaki heritage. A portfolio of her art can be viewed at
Amy Hook-Therrien
.
Hook-Therrien will host open studio hours weekly and have plein air art demonstrations at several park events throughout the season, including at Forest Festival, on Saturday, September 24, and Peak to Peak to Pogue, on Saturday, October 15. She will also be offering the following workshops at the park:
Saturday July 23rd and Saturday October 22nd, 12pm-3:30pm
Guided Meditation Hike and Watercolor AdventureJoin Ranger (and yoga instructor) Jen Jackson and Artist-in-Residence Amy Hook-Therrien for a duet program that involves use of all five senses. No prior painting or meditation experience required.
All ages, limit 16 people
Starting Location: Carriage Barn Visitor Center
Friday, September 2nd, 5:30pm-7pm
Sip & Paint Summer Soiree (Leaf painting 101)
Enjoy the final days of summer while Artist, Amy Hook-Therrien, will be painting leaves from the forest in watercolor. You are welcome to take a mini painting lesson and try your hand at this incredible medium. Sit under the tent and paint or take your supplies to the garden and work among summer's floral splendor. Bring your own painting beverage of choice and enjoy a warm summer night on the mansion lawn.
All ages
Location: Mansion Lawn
Workshops are free and open to the public, but space is limited and registration is required. To register for workshops, visit www.nps.gov/mabi.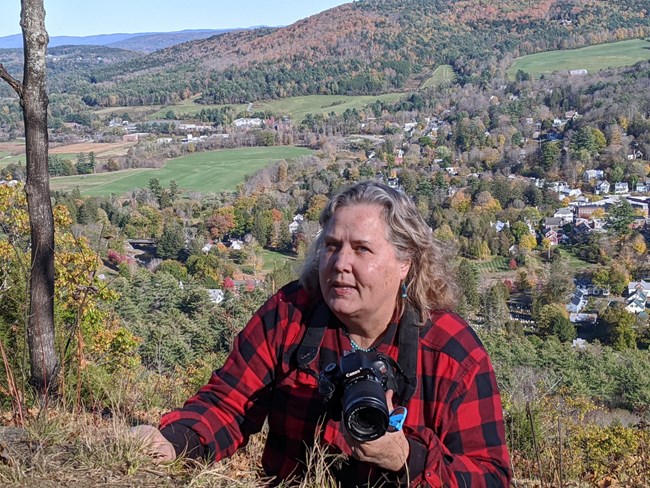 2021 Artist in Residence - Margaret Dwyer
► Read the Press Release
Marsh-Billings-Rockefeller National Historical Park, in partnership ArtisTree Community Arts Center, welcomes the return of Artist-In-Residence (AIR) Margaret Dwyer. Dwyer is a multi-media artist with a specialization in watercolor.

Her first residency at the park was in 2019 and the park was fortunate to have her return last year and this year to carry on the AIR program through the pandemic. Dwyer's current residency will run through October and will feature open houses at the park's artist studio, as well as workshops for children and adults. In the workshops, she will incorporate elements of the forest and encourage visitors to create a hybrid version of where they sit, what they see, even what they feel, finding deeper elements of the material from which their art is created. Dwyer's creativity emerges through the process of taking artistic risks. If what she is creating is too comfortable, she is not interested. If it is out of her comfort zone, that's happily where she lands. It is what makes her face light up. This approach to creativity keeps Dwyer pushing the limits of her mind and craft - even decades into a long career as professional educator and artist. With a sense of fun at "what could be" and "what lies beneath" she will pull a string through paint or see what happens with a new technique when found leaves and ferns are washed with color, literally playing her works into being.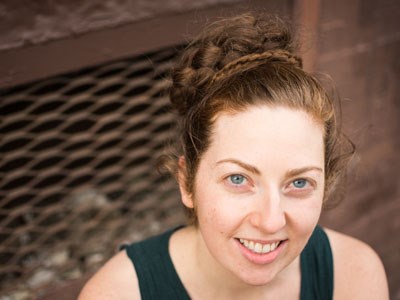 2018 Artist in Residence - Jessica Creane
Jessica Creane is a digital and tabletop game designer and performance artist based in Philadelphia, PA. She has worked on Broadway, in National Parks, at sidewalk festivals, in the digital abyss, and she is the founder of IKantKoan Games. She makes playful, philosophical games and performances that invite participants to playfully reimagine the limits of human agency through interactive and immersive experiences. More can be found at
www.jessicacreane.com
.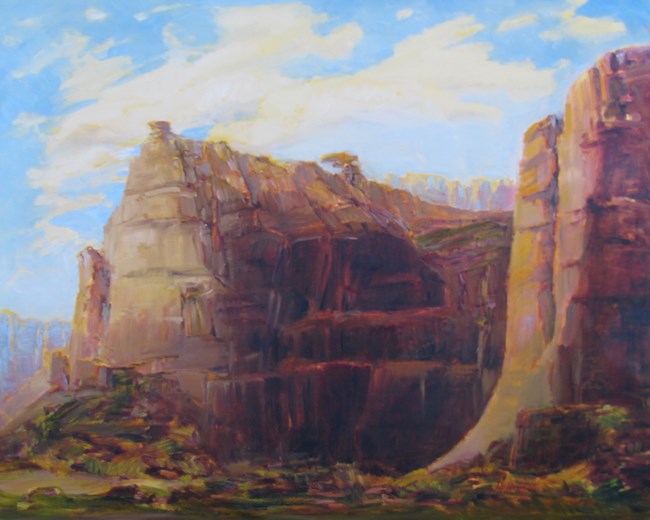 2016 Artist in Residence - Joan Hoffmann

2016 Artist in Residence, Joan Hoffmann dedicated her time over the summer to helping the National Park Service celebrate its Centennial. Co-sponsored by ArtisTree Community Arts Center, Ms. Hoffmann offered painting demonstrations, en plein air painting workshops, and a public lecture all on-site at various scenic locations around the park.

Read the Artistree blog posting about Joan Hoffmann's work and Artistree exhibit.

2015 Artist in Residence - Lyal Michel
While participating in
Of Land & Local
as a resident artist at Marsh-Billings-Rockefeller National Park, Lyal explored the theme of the figure in a landscape, drawing inspiration from the surrounding woods as well as the
Park's collection
of Hudson River School paintings.
You can see some of Lyal's work here:
http://lyalmichel.com/home.htm
During the 2015 season
, the park collaborated with
Of Land & Local
, an annual multidisciplinary, state-wide exhibition organized by Burlington City Arts (BCA) and designed to initiate a dialogue about issues surrounding the Vermont landscape.
---

2013/2014 Artist in Residence - Alastair Noble
Environmental artist and printmaker, Alastair Noble, returned to the park to in 2014 to complete the installation of his forest-inspired poetry log sculptures and ink-washed drawings begun in 2013.

Link to this Valley News article by Nicola Smith, "Art Notes: Words for Woodland; Alastair Noble's Art Rises from the Soil."

---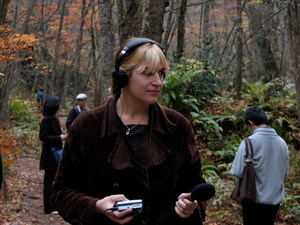 2012 Artist in Residence - Andrea Polli

Andrea Polli, 2012 Artist in Residence, is a digital media artist whose work with science, technology and media has been presented widely in over 100 presentations, exhibitions and performances internationally, has been recognized by numerous grants, residencies and awards including a NYFA Artist's Fellowship, the Fulbright Specialist Award and the UNESCO Digital Arts Award. Her work has been reviewed by the Los Angeles Times, Art in America, Art News, NY Arts and others. She has published several book chapters, audio CDs, DVDs and papers in print including MIT Press and Cambridge University Press journals.

She currently works in collaboration with atmospheric scientists to develop systems for understanding storm and climate through sound (called sonification). Polli is also an Associate Professor of Art and Ecology with appointments in the College of Fine Arts and School of Engineering at the University of New Mexico. She holds the Mesa Del Sol Endowed Chair of Digital Media and directs the Social Media Workgroup, a lab at the University's Center for Advanced Research Computing. Polli used her time at the park in 2012 to work with sound and other environmental data.
---
2011 Artist in Residence - Wendy Call

2011 Artist in Residence, nonfiction writer was Wendy Call. Wendy has become something of an itinerant writer in residence, holding that position in 2011 at Cornell College of Iowa, and has also been writer in residence at a dozen other institutions. She presented her writing in public readings several times during the summer, including Saturday, July 30 at Bookstock: A Green Mountain Festival of Words and also on Saturday, September 24 at the Park Forest Festival weekend. During her two months Wendy was at the park three to four days every week. She offered several writing workshops as well as other ways for park visitors to engage with the world of words.

---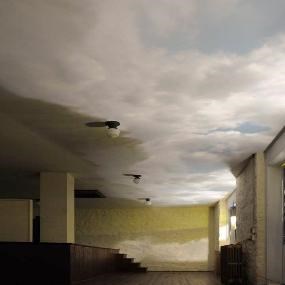 2010 Artist in Residence - Ethan Jackson
2010 Artist in Residence was Ethan Jackson, a visual artist working in photographic media and optical installation from Portland, Oregon. Through his work, Ethan explores aspects of landscape representation and the notion of "place".








---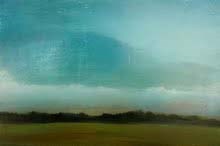 2009 Artist in Residence - Susan Metzger

2009 Artist in Residence was Susan Metzger, trained in painting, landscape architecture, and architectural drawing and is from Washington, Maine.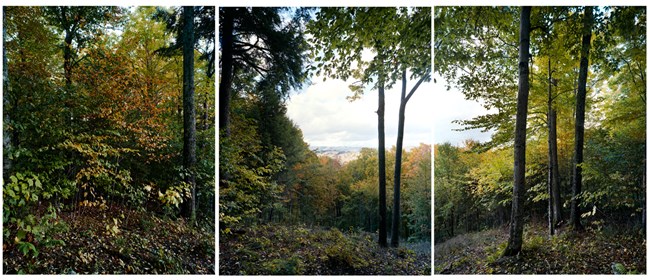 2008 Artist in Residence - Barbara Bosworth

Link to this Smithsonian Institution exhibition The Singing and the Silence: Birds in Contemporary Art featuring some of Barbara Bosworth's photographs.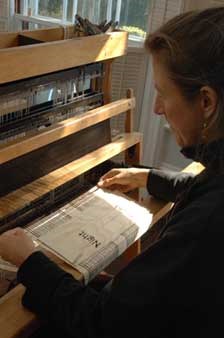 2007 Artist in Residence - Elizabeth Billings


Link to this Smithsonian Institute - Arts in Conservation Education feature on Elizabeth Billings.
Last updated: May 30, 2023