Sustainability

As a participant in the Climate Friendly Parks program, Marsh-Billings-Rockefeller National Historical Park belongs to a network of parks that are putting climate friendly behavior at the forefront of sustainability planning in national parks. By conducting an emission inventory, setting an emission reduction target, developing this Action Plan, and committing to educate park staff, visitors, and community members about climate change, Marsh-Billings-Rockefeller National Historical Park is serving as a model for climate friendly behavior within the park service.

Read more about this park's climate friendly efforts. Visit the National Park Service's Climate Change Response Program website to explore more information, including these useful resources and links.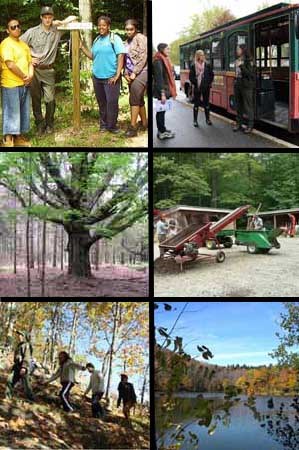 Toward a Sustainable Future at the Park:

►View video clips related to the park's efforts in environmental education & green practices.
►Share with us on our social media pages: Facebook, Instagram, Flickr, More

►Become a Citizen Scientist!

►Find some success stories highlighting sustainable practices at the park.

►Discover the park's sustainably managed forest and read about Nature & Science.

►Connect to classroom materials like this Climate Change in Vermont lesson plan.

►Learn about students studying mercury in the environment. And find Resource Briefs on various natural resources monitoring updates for the park.

►Join guided tours (offered May 25-Oct 31) to learn more about stewardship and conservation at the park.

►Read about George Perkins Marsh, called "The Prophet of Conservation" and his landmark treatise, Man and Nature which marked its 150th year in 2014.

►Visit the Park's Platinum LEED Certificated Forest Center (See the article below)

►Enjoy Hiking the historic carriage roads and paths of the Marsh-Billings- Rockefeller National Historical Park.

We look forward to seeing you in the Park!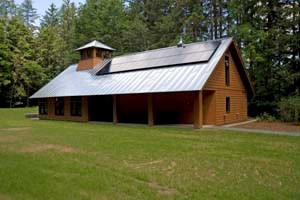 Forest Center
The U.S. Green Building Council awarded its highest rating for Leadership in Environment and Energy Design (LEED) to the new
Forest Center at Marsh-Billings-Rockefeller National Historical Park
. Both the Forest Center, a classroom and meeting space and the adjacent 1876 Wood Barn, home to a new exhibit on the Forest, share the Platinum LEED certification. This partnership project of the National Park Service and The Woodstock Foundation was also recognized with a
Designing and Building with FSC®
award presented by the
Forest Stewardship Council®
(FSC), an international non-profit organization devoted to encouraging the responsible forest management. Both buildings used FSC certified wood from the Park's historic forest, the oldest professionally managed woodland in North America. FSC certification encourages the highest standards of woodland management through credible, independent evaluation and verification of exemplary forestry practices.

Reflecting on the building's beauty, efficiency and simplicity, (Retired) Park Superintendent Rolf Diamant describes the Center as "an example of thoughtful building practices and innovation enriched by human-scale design and hand-built quality." Looking to the future, Woodstock Foundation President David Donath said, "We are very pleased to join with the National Park in creating a place for reflection, dialogue, and lifelong learning around forward-thinking stewardship."

The Forest Center was designed by Steve Smith of Smith, Alvarez, Sienkiewycz Architects, Burlington, Vermont and built by H.P. Cummings, Woodsville, New Hampshire. Forestry services were provided by Redstart Forestry and Consulting, Corinth, Vermont, with additional work undertaken by Long View Forest Contracting of Westminster, Vermont.

View more photos of the Forest Center.
Last updated: December 5, 2019