Date & Time

06/30/2018 7:00 PM

Fee Information

Free

Contact Us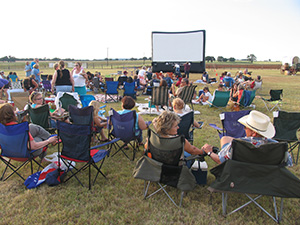 Lyndon B. Johnson National Historical Park continues its popular outdoor summertime movie series on Saturday, June 30, with the showing of "Yellow Submarine" at the LBJ Ranch near Stonewall. The film starts at dusk and will be presented on a large outdoor screen. Access to the ranch begins at 7:00 pm. 
 
Guests are encouraged to bring lawn chairs, blankets, and refreshments. The program is free of charge. Entry to the LBJ Ranch is conveniently located off U.S. Highway 290 onto Ranch Road 1. Parking is available on the airstrip taxiway adjacent to the movie site.
 
The Johnsons enjoyed inviting guests to their ranch to show some of the biggest blockbusters of the 1960s. For modern visitors, the "Movie Under the Stars" series is a great way to enjoy timeless classics while experiencing a fun-filled night of family fun on the LBJ Ranch—just like friends of the Johnsons experienced in the 1960s and 1970s.    

The LBJ Ranch airplane hangar visitor center will be open from 7 pm through the end of the film. Visitors are welcome to explore the interactive exhibits, shop the Western National Parks Association sales outlet, and use the restrooms in the building.