Date & Time

09/10/2016 9:00 AM to 12:00 PM

Fee Information

Free

Contact Us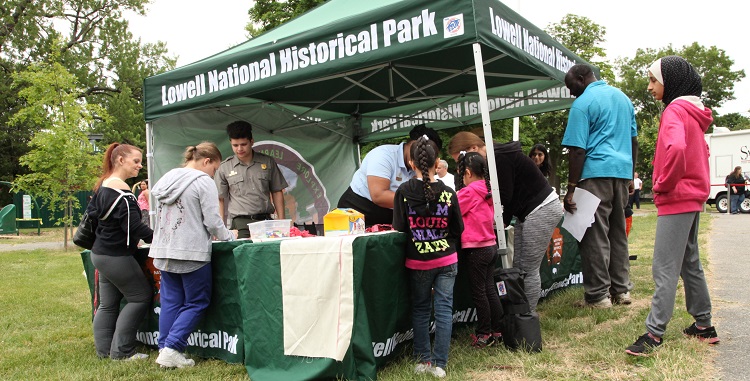 Lowell National Historical Park will be Bringing the Park to the People of Lowell's Pawtucketville neighborhood at Hawk Valley Farm! Join us on Saturday, September 10, 9:00 a.m.-12:00 noon for a morning of activities and a walking tour led by Lowell Walks' Richard Howe and Lowell Parks & Conservation Trust's (LPCT) executive director Jane Calvin. 
Stay around for the Lowell Parks & Conservation Trust's workshop on "Making Natural Dyes" offered immediately afterward from 12 noon to 1:30 p.m. Did you know that you can make beautiful natural dyes from plants found right here in Lowell? Join LPCT at Hawk Valley Farm to learn about the dyeing process and how you can use black walnut, madder, and more to make colorful fabrics! For knitters, naturalists, and anyone interested in this fascinating process. The workshop is free and no reservations are necessary.  
Free paring is available along the street on Varnum Terrace just off of Varnum Avenue. 
Lowell Parks & Conservation Trust  
In celebration of the National Park Service's 100th Birthday, Lowell National Historical Park is Bringing the Park to the People! Look for a ranger coming to a neighborhood near you as we co-host a series of programs and activities centered on the people that make up our city! These events may include interactive pop-up museums with crafts and informational materials, neighborhood tours co-hosted by Dick Howe and Lowell Walks, and a very special community weaving project. 
To represent the people who make up our diverse community, Lowell National Historical Park is inviting community members to participate in our community weaving project. The goal of this project is to create a tangible representation of the rich diversity in our city. We're inviting community members to select a strip of fabric from their home which is representative of who they are, their family, their culture and/or their heritage. Then join us on the day of the event in your neighborhood to weave your piece alongside those of your neighbors, friends, and family. The communal piece, with all of the neighborhoods represented, will then be displayed throughout the city through 2017. 
To participate in the activity, you and your family are asked to bring a strip of cloth approximately 24" (60cm) by 1" (25mm) to be incorporated into the project.
To encourage a sense of unity, each neighborhood has been assigned a color.Community members are encouraged to bring purple cloth for the Pawtucketville segment of Bringing the Park to the People. Fabric of other colors will not be turned away.