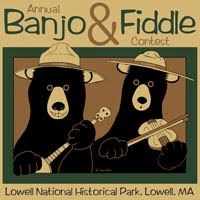 Free Admission. Donations Welcome.

Well folks, it is time to plan for an exciting day of traditional music and family fun at Boarding House Park. The Banjo & Fiddle Contest celebrates its 38th event on September 8, 2018, from 10:00AM to 6:00PM.

The event is free for contestants, as well as all traditional music fans who would like to come and listen. Never been to a banjo and fiddle contest before? Bring your lawn chairs and settle in to watch the friendly competition and get in touch with our country's musical roots.

Jon Gersh of WUMB Folk Radio will be the Emcee for the contest and other exciting events of the day.

The fun starts at 10am! We'll have music workshops and jam sessions from 10AM-noon and then a whole afternoon full of a music contest and community. Parents arriving early should consider taking a free trolley ride at 10AM from the visitor center, visiting the family corner at the visitor center, and the Boott Cotton Mills Museum where kids can pick up a Jr. Ranger activity book. There will also be a kid's craft activity organized by the park rangers at the contest during the day.
Schedule below:

Day Schedule
10AM-11AM - Free Workshops
11AM-12PM - Organized Jam Sessions
11AM-1PM - Registration
12PM-5:30* - Banjo & Fiddle Contest
Time TBD - Kids' Activities
5:30*PM-6PM - Judges Tally Final Scores & Prizes Awarded

* Contest will end and judge tally begin when the final contestant has performed.

Check back during the summer for details regarding workshops and jams, contest categories, rules and registration, and prize money.

At Lowell National Historical Park, we honor the connections between past and present. At the Banjo & Fiddle Contest, we invite you to come celebrate musical heritage. The repertoire of tunes played during the Contest is what Folklorists refer to as traditional music-music practiced by groups of people who share a common ethnic heritage, geographic region, or way of life. Tunes are shared within families and communities and are passed on over generations.

Rain Location: Lowell High School Auditorium, 50 Fr. Morrissette Blvd., across the street from Boarding House Park.

More information and regitration packets can be found here.
For more info, contact: info@lowellbanjoandfiddlecontest.org

Free parking is available at the Visitor Center parking lot at 304 Dutton Street (about a 10 minute walk to Boardinghouse Park). Paid parking is available in the city garage at the corner of French and John Streets, directly across the street from Boardinghouse Park.