2011 Lowell Photography Contest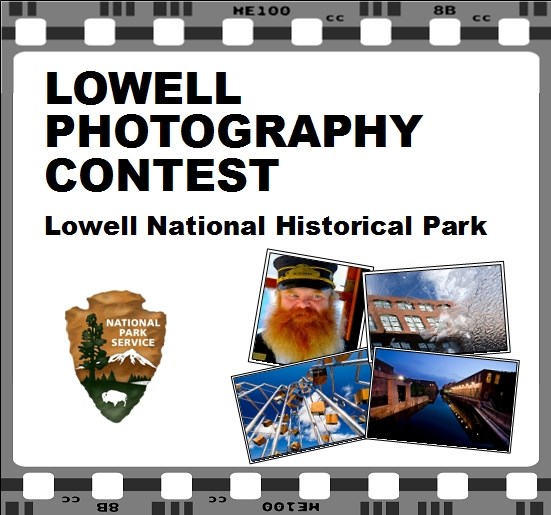 Lowell National Historical Park is pleased to announce the finalists for the 2011 Lowell Photography Contest. The public is invited to view the top 21 photographs at a reception at the Boott Cotton Mill Museum on Saturday, November 12th from 4:00 p.m.-6:00 p.m. The winners for the contest will be announced during the reception and then posted to this page. The 21 finalist photographs will remain on display at the Boott Cotton Mills Museum through the spring of 2012.
Contest participants from nine states and two foreign countries submitted 171 photographs documenting Lowell's incredible range of compelling visual subjects. Many local residents, both from Lowell and from more than a dozen surrounding towns, also participated in the contest. From Lowell's iconic mill architecture, to Lowell Folk Festival performers, to raging torrents along the Merrimack River, professional and amateur photographers alike managed to digitally capture a wide variety of Lowell's historic, cultural and natural resources.
Local professional photographers Sharon Lowe, Adrien Bisson, Laura Doran, John Wren, and Jack Holmes generously contributed their expertise in judging the contest entries. The judges evaluated each of the photographs based on the image's originality, technical execution, composition, and overall photographic technique.
Congratulations to the Finalists:

Kaleigh Brothers - "Industrial Nature"
Ashley Cantrell - "TwinStacks"
Norm Caron - "Mill Work"
Don Cohen - "Lonesome Traveler"
Eduardo M. Chumbes - "Scene 9"
Jillian Dumais - "Boarding House Park Walkway"
David Funk - "Girders"
Maggie Holtzberg - "Master Yary carving kbach"
Richard Kenyon - "Moody Street Feeder Gate Drive"
Andy Kim - "Tsongas Arena - Lowell, Massachusetts"
Benjamin Lange - "All Clouds Lead to Lowell"
Peter E. Lee - "Letter 'A'"
Janice Lind - "Silent Pipes"
Brian D. Luster - "Lowell's Mills: Still Producing"
Dylan J. Mannion - "Musically Focused"
Mollie McPhee - "Boott Mill at Night"
David Millward - "Canalside Summer 2011"
Lena Mirisola - "Windows to the Past"
Terri Munson - "Angkor Performer at the Lowell Folk Festival"
Corina Panait - "Arthurs"
Beverly Turnquist - "Hub Hosiery Building"

Lowell National Historical Park congratulates and thanks all the contest participants and judges for making the 2011 Lowell Photography Contest a success. The public can view all of the submitted contest photos, along with the entries and winners from the inaugural 2009 Photography Contest at the links below. Following the November 12th reception, the winners for this year's contest will also be posted here.
For more information about the Lowell Photography Contest, call Park Ranger David Byers at 978-970-5028.
Links for the Photography Contest Galleries:
2009 Contest Finalists and Winners
Last updated: February 26, 2015