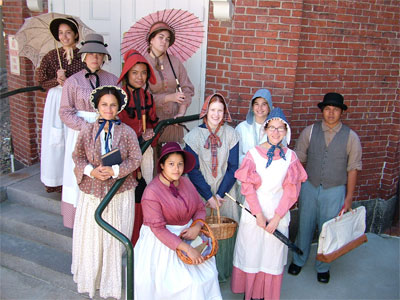 News Release Date:
July 16, 2008
Contact: Phil Lupsiewicz, 978-275-1705
Kirk Boott, among Lowell's original incorporators, returns to the City. Anna Whistler, James McNeil's mother, speaks of her famous son. You won't want to miss these and many other historic figures through July at sites in the park and Lowell's historic downtown district. Students from Lowell High School are portraying these famous characters as part of the Youth Theater Program under the aegis of the Spindle City Corps through Community Teamwork Inc. and in partnership with Lowell National Historical Park. This new program is in its first season and already visitors are delighting in their surprise encounters with costumed figures on the historic cobblestoned streets.
In addition to meeting and greeting you on the street or on the trolley, half-hour formal performances are scheduled at Boarding House Park for Wednesday, July 16th and Thursday, July 17th after the Children's Concert (approximately at noon). As part of this summer's Youth Theater Program ten students have researched or created their own composite characters from Lowell's heyday. Staged by Marianne Corcoran, an educator at Lowell High School, this program serves as a complement to the park's newly re-invigorated costumed interpreter's program, which is back by popular demand. This summer you will also see costumed park staff at sites such as the Francis Gate complex and other locations.
From Noon to 2:30 pm the Youth Theater Program will be in the park on the following dates: July 16, 17, 19, 21, and 23.  During the Lowell Folk Festival they are scheduled to appear downtown on Saturday, July 26 and Wednesday July 30th from 1:00-4:00 pm. There is a special evening performance on Friday August 1st in the Boott Mills Courtyard at 7:00 pm preceding the Summer Music Series Concert. All performances are free.
For more information on this and other park programs, please give the park a call at (978) 970-5000, or visit the website at www.nps.gov/lowe.  Photos available.
Pictured are: Front row, L-R
Stephanie Guerra  
Megan Hadley  
Clarissa Runzio  
Emily Anstey
Karl Yonhorn
Standing, front to back:
Marianne Corcoran, team leader
Victoria Vann (red dress)
Stephanie Maglio  (pink parasol)
Rhaissa Pereira Menezes (grey bonnet)
Nilya Mitchell  (back left with parasol)