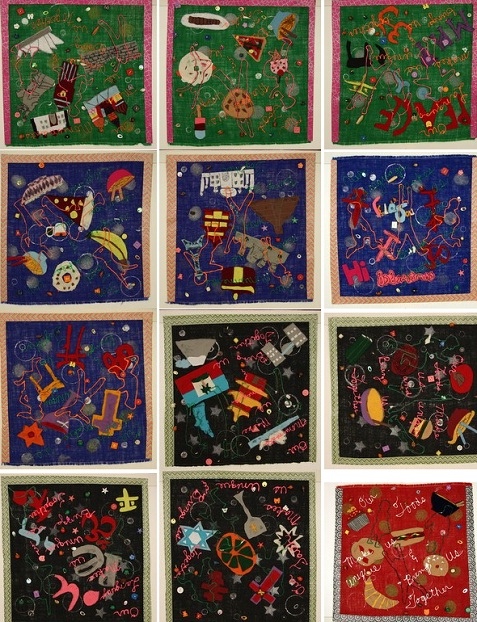 News Release Date:
September 29, 2014
Contact: Phil Lupsiewicz, 978-275-1705
Lowell MA - As a city built for textile manufacturing, Lowell has a long history associated with the production of cloth. Although cloth is no longer manufactured in the city, using textiles and fibers in the creation of art serve as a modern inspiration to connect to the city's past.
In a partnership with the International Fiber Collaborative, in Topeka Kansas, Lowell National Historical Park and over nine hundred students in Massachusetts and across the nation are participating in a unique art project called the "Dream Rocket."
A theme was created for the Lowell NHP project to connect to a facet of Lowell's story that resonates both in the city's past and the present: immigration and migration. Using the theme "Who Am I? Personal Connections to Immigration or Migration," students from Lowell and the Massachusetts communities of Acton, Ashland, Chelmsford, Hopkinton, Lexington, Lynn, Malden, and Swampscott contributed textile art panels to the project. Students from Wisconsin, Illinois, Missouri, Ohio, Arizona, Kansas, Virginia, and New York contributed panels, too. There were two international contributions, one from Hungry and another from Canada. Most all of the panels created by the students for this project, whether Lowell, Massachusetts, the nation, or world, will be on display at the Boott Cotton Mills Museum from October 1 - November 15, 2014.
In 2015, the Lowell-displayed panels will join thousands of others to create a giant piece of art work that will cover the reproduction of NASA's Saturn V rocket at the NASA space center in Huntsville, Alabama. In the words of astrophysicist Neil deGrasse Tyson, "The Saturn V is the ideal icon to represent a big dream. This rocket was designed and built as a collaboration of nearly half-a-million people and allowed our human species to venture beyond our world and stand on another - surely one of the biggest dreams of all time. Enabling the dreams of young people to touch this mighty rocket sends a powerful message."
For more information on the "Dream Rocket," visit www.thedreamrocket.com. 
The Boott Cotton Mill Museum at Lowell National Historical Park is located at 115 John Street in downtown Lowell. Parking is available at the Early Garage at the intersection of John and French Streets. The exhibit is free but there is a fee to visit the adjacent Boott Cotton Mil Museum. The museum is open seven days a week from 9:30 am to 5:00 pm. For more information about planning your visit to Lowell, visit www.nps.gov/lowe or call 978-970-5000.