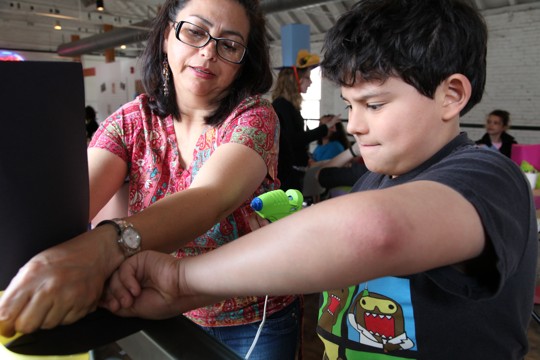 News Release Date:
June 9, 2014
Contact: Phil Lupsiewicz, 978-275-1705
Come hang out with park rangers, get creative, and explore your city's stories! This summer, Lowell National Historical Park invites families to Your City Summer, a regular series of free inter-generational activities. Each Friday from June 20-August 22, come to Mack Plaza near the Visitor Center from 10AM-11AM for creative activities exploring three themes important to Lowell's past and present: Family Stories (June 20-July 4), City Kids (July 11-August 1), and Stories of Stuff (August 8-August 22). Your City Summer will take place outdoors (weather permitting, rain location inside the Visitor Center) with different explorations each week.
Although Your City Summer programs are offered on a free, drop-in basis, families should arrive by 10AM and plan to participate for the complete hour.
Your City Summer is part of a year-round series of family programs that includes Your City Saturdays (October-April), Lowell Kids Week (February school vacation), and April PLAY-cation (April school vacation). These programs aim to inspire creativity in the next generation of National Park stewards, and to engage families in hands-on investigations of Lowell's unique stories, past, present, and future. Lowell played an important role as the country's first major planned industrial center in the 1820s, and continues to reflect cycles of creativity, industry, immigration, and innovative urban planning.
While you're downtown, make a day of it! Family-friendly activities at Lowell National Historical Park include canal boat tours, museum demonstrations, Lowell Summer Music Series kids' concerts, and trolley rides.
Your City Summer Dates:
Family Stories:
June 20
June 27
July 4
City Kids:
July 11
July 18
July 25
August 1
Stories of Stuff:
August 8
August 15
August 22
Where: Mack Plaza, across from the Visitor Center, 246 Market Street (rain location inside the Visitor Center). The Visitor Center also offers information about many other park offerings and cultural attractions in Lowell.
Your City Summer is part of Lowell National Historical Park's kids' and families' programming planned for 2014. For more information, contact Emily Levine at (978) 275-1780/emily_levine@nps.gov. For more information about Lowell National Historical Park visit www.nps.gov/lowe or call 978-970-5000.