Weaving Bitter with the Sweet: The Meaning of Heritage for Refugees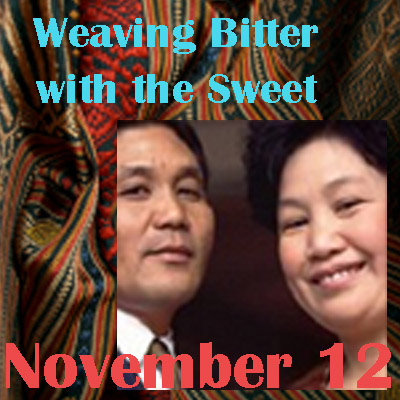 News Release Date:
October 28, 2013
Contact: Maggie Holtzberg, 978275-1719
Contact: Phil Lupsiewicz, 978-275-1705
Lowell, Massachusetts.Come join us for a fi­lm, a hands-on experience of weaving, and a facilitated conversation. Mone Saenphmmachak is a master weaver. She is also a Lao refugee, tormented by survivor guilt. Resettled in St. Louis during the 1980s, she ­finds factory seamstress work sewing gun holsters. In her precious spare time, she weaves traditional Lao skirts and teaches the next generation of Laotian children. Winning a National Heritage Award in 1993, Mone ultimately chooses to give up her looms.
Weaving Bitter with the Sweet is a moving documentary film that explores the refugee experience and its impact of sustaining cultural heritage. The fi­lm invites viewers to "unpack" assumptions about the meaning of cultural heritage for refugees -- a topic with the potential to resonate with many re-settled communities here in Lowell.
7:00 p.m. Welcome & introduction
7:15 p.m. Hands-on weaving experience
7:45 p.m. Film screening
8:15 p.m. Facilitated conversation
For information about Teacher Professional Development Points, contact the Tsongas Industrial History Center: TIHC@uml.edu Event is free and open to the public
The Lowell Folklife Series program is free & open to the public at 7:00 pm Tuesday, November 12, 2013, at the Lowell National Historical Park Boott Cotton Mills Museum, 115 John Street, Lowell, MA. For information on the event call Maggie Holtzberg at 978-275-1719. For more information about Lowell National Historical Park visit www.nps.gov/lowe or call 978-970-5000.
Last updated: February 26, 2015