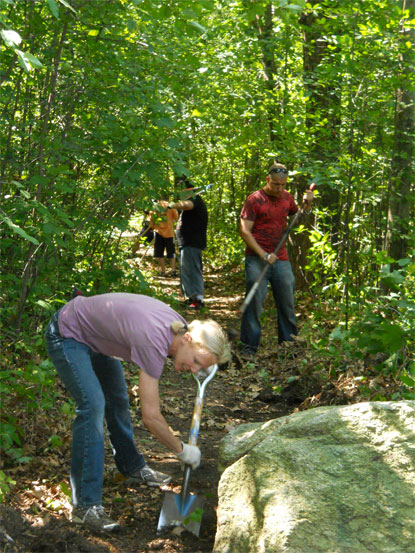 News Release Date:
September 13, 2011
Contact: Phil Lupsiewicz, 978-275-1705
LOWELL, MA - In partnership with Lowell Canalwaters Cleaners, Keep Lowell Beautiful, Community Gardens Greenhouse, and Conscious Alliance Student Group at University of Massachusetts Lowell, Lowell National Historical Park will celebrate the 18th annual National Public Lands Day with a canal cleanup along the Merrimack Canal, fall bulb planting and park beautification from 9:00 AM-12:00 PM. Afterward, come by for a barbecue at Lowell's Community Gardens Greenhouse and for pumpkin decorating by the Conscious Alliance Student group. Sigma Tau Gamma, a fraternity at UML, will be on hand to provide entertainment from noon to 4pm at 220 Aiken St., Lowell, MA.
2011 National Public Lands Day celebrates service and recreation on public lands while educating volunteers about the effects of climate change on our parks. NPLD engages a diverse audience of adult and youth volunteers to get to outdoors and improve their lands, whether at the grandest national park or at an urban park in their neighborhood.
National Public Lands Day began in 1994 with three federal agencies and 700 volunteers. Last year 170,000 volunteers worked at over 2,080 locations and in every state and in many U.S. territories. Now, 8 federal agencies and many state and local lands participate in this annual day of caring for shared lands.
Last September, volunteers....
• Removed an estimated 450 tons of trash
• Collected an estimated 20,000 lbs of invasive plants
• Built and maintained an estimated 1,320 miles of trails
• Planted an estimated 100,000 trees, shrubs and other native plants
• Contributed an estimated $15 million to improve public lands across the country
National Public Lands Day keeps the promise of the Civilian Conservation Corps, the "tree army" that worked from 1933-42 to preserve and protect America's natural heritage.
This annual event:
• Educates Americans about critical environmental and natural resources issues and the need for shared stewardship of these valued, irreplaceable lands;
• Builds partnerships between the public sector and the local community based upon mutual interests in the enhancement and restoration of America's public lands;
• Improves public lands for outdoor recreation, with volunteers assisting land managers in hands-on work.
NPLD inspires a new generation of volunteers committed to service on public lands. The event also encourages volunteers to explore and enjoy America's natural wonders through outdoor recreation. After working hard, volunteers can take a hike, a swim, a bicycle ride and get healthy in America's backyard. As part of the celebration, free entrance will be granted to all 391 National Parks on Saturday, September 24.
For more information about National Public Lands Day events in Lowell, please call 978-275-1740, or email Lowell_NHP_Volunteers @nps.gov.
For more information about National Public Lands Day nationwide, please visit www.publiclandsday.org.