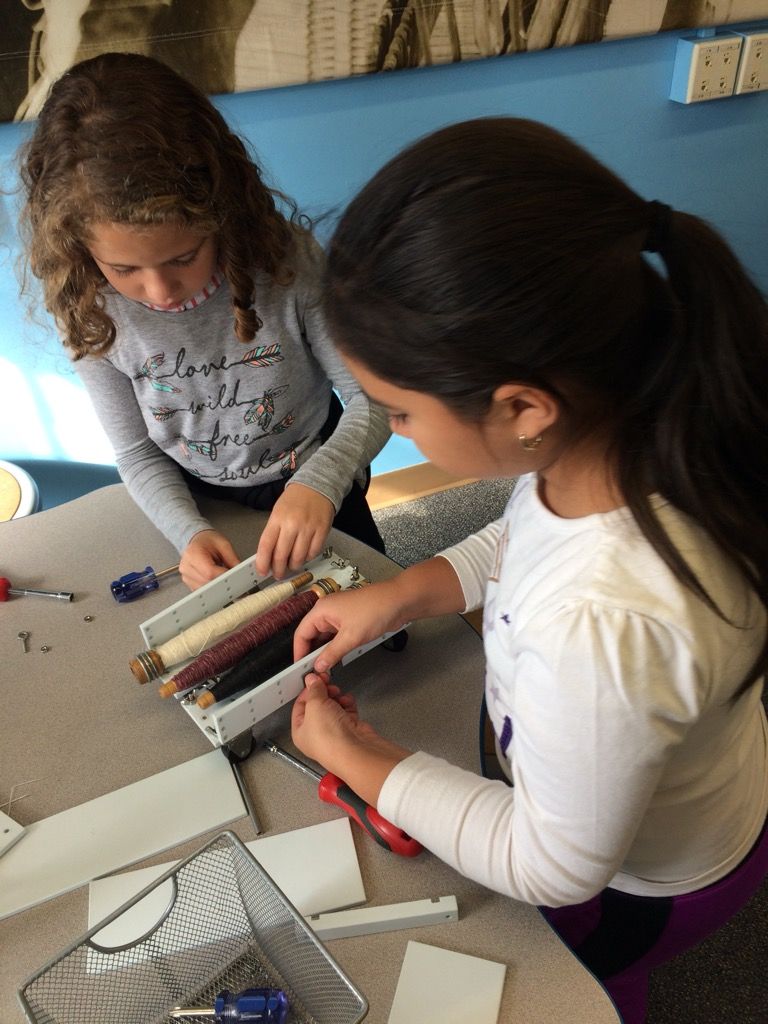 News Release Date:
January 12, 2018
Contact: Kristin Gallas, 978-970-5084
Contact: Phil Lupsiewicz, 978-275-1705
Lowell, MA – The Tsongas Industrial History Center, an education partnership between the University of Massachusetts Lowell College of Education and Lowell National Historical Park, was selected to receive a 2017-2018 field trip grant from the National Park Foundation, the official charity of America's national parks. All 370 4th graders in the Somerville, MA public schools will visit the Tsongas Industrial History Center to participate in Engineer It!, a hands-on engineering experience.
During the field trip students undertake an engineering design challenge. Using real tools, they work in teams to build and test a prototype of a cart to move bobbins and bolts of cloth around a simulated mill floor – a challenge analogous to what 19th century engineers might have confronted. The fourth graders also visit Lowell National Historical Park's amazing historic engineering resources.
 
Wendy Cliggott, a 4th grade teacher at Somerville's Benjamin G. Brown School, remarked, "I have brought classes to the Tsongas Industrial History Center for over twenty years now, and the programs are always high quality, well-presented, and memorable. We are very grateful to the National Park Foundation for this generous grant that will allow all of our fourth grade students to experience the hands-on engineering program at the Center."
This grant, part of the Foundation's Open OutDoors for Kids program, supports Every Kid in a Park.
"I can still remember the excitement of exploring my first national park as a kid and it made me want to discover more," said National Park Foundation President Will Shafroth. "I'm thrilled that our National Park Foundation grants make it possible for hundreds of thousands of kids to experience the wonder of parks for the first time, sparking a lifelong love for national parks."
 
About the National Park Foundation
The National Park Foundation is the official charity of America's national parks and nonprofit partner to the National Park Service. Chartered by Congress in 1967, the National Park Foundation raises private funds to help PROTECT more than 84 million acres of national parks through critical conservation and preservation efforts, CONNECT all Americans with their incomparable natural landscapes, vibrant culture and rich history, and INSPIRE the next generation of park stewards. In 2016, commemorating the National Park Service's 100th anniversary, the Foundation launched The Centennial Campaign for America's National Parks, a comprehensive fundraising campaign to strengthen and enhance the future of these national treasures for the next hundred years. Find out more and become a part of the national park community at www.nationalparks.org. 
About the Tsongas Industrial History Center
The Tsongas Industrial History Center is a hands-on center where over 55,000 students a year learn about the American Industrial Revolution through activities and tours of the sites where history—and science—happened. The mission of the Tsongas Industrial History Center is to inspire connections with and understandings about America's industrial past, present, and future through experiential learning using Lowell's unique resources.
About Lowell National Historical Park
The National Park Service cares for special places saved by the American people so that all may experience our heritage. Lowell National Historical Park tells the story of America's first planned city for large-scale textile production and the Industrial Revolution. The Park includes historic cotton textile mills, 5.6 miles of canals, operating gatehouses, and worker housing.
To learn more about this and other park offerings, including the Junior Ranger program, Boott Cotton Mills Museum, Mill Girls and Immigrants Exhibit, curriculum-based education programs, ranger-led tours, and upcoming special events stop by the Visitor Center at 246 Market Street, or contact Lowell National Historical Park at (978) 970-5000, or visit www.nps.gov/lowe .
-NPS-