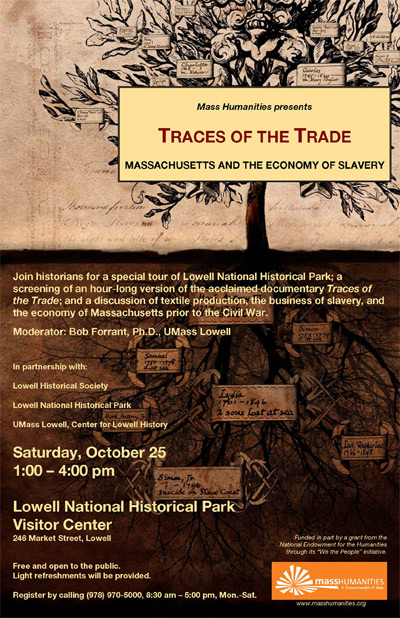 News Release Date:
October 16, 2008
Contact: Phil Lupsiewicz, 978-275-1705
Traces of the Trade
Public Forum in Lowell to Explore Legacy of Slavery
Northampton - Mass Humanities (formerly known as the Massachusetts Foundation for the Humanities) will present an exploration of the relationship between the economy of southwestern Massachusetts and plantation slavery elsewhere through Traces of the Trade: Massachusetts and the Economy of Slavery, Saturday, October 25,1:00-4:00 pm, at the Lowell National Historical Park Visitor Center, 246 Market Street, Lowell.
The public is invited to join historians for a special tour of Lowell National Historical Park, followed by a screening of an hour-long version of the acclaimed documentary, Traces of the Trade.  UMass historian Bob Forrant will moderate a discussion of textile production, the business of slavery, and the economy of Massachusetts prior to the Civil War.  Refreshments will be provided.  To register, call (978) 970-5000, Mon.-Sat. 8:30 am to 5:00 pm.
Lowell textile mills consumed eight hundred thousand pounds of Southern cotton per week in 1858, producing, among many other things, the inexpensive cloth known as "Lowell," or "Negro" cloth used by plantations throughout the South. In this and other ways, though slavery was abolished in the Commonwealth during the 1780's, Massachusetts citizens continued to reap profits from slave labor elsewhere until the Civil War.
In Traces of the Trade, filmmaker Katrina Browne confronts the historical record to discover that her ancestors, the DeWolf family of Providence, RI, were the largest slave-trading family in U.S. history.  She and nine cousins retrace the Triangle Trade, from New England to Ghana and Cuba, and gain a powerful new perspective on the black/white divide.  More information about the film can be found at www.tracesofthetrade.org.
The event is presented in partnership with the Lowell Historical Society, Lowell National Historical Park, and the UMass Lowell Center for Lowell History.
This is one of six events presented by Mass Humanities in commemoration of the 200th anniversary of the abolition of the slave trade at historical sites in Massachusetts.  Others include: Sheffield, October 4; Boston, October 7; Whitinsville, October 18; Salem, November 8; New Bedford, February 12.
Northampton-based Mass Humanities is affiliated with the National Endowment for the Humanities and the Massachusetts Cultural Council.  Mass Humanities conducts and supports projects that use history, literature, philosophy, and the other humanities disciplines to strengthen and enhance civic life across the Commonwealth. For furtherinformation about initiatives, grant deadlines, and awarded grants, visit: www.masshumanities.org.