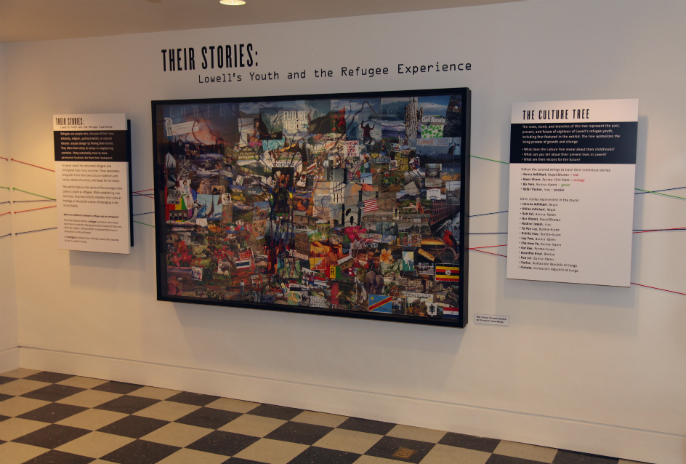 News Release Date:
August 26, 2014
Contact: Phil Lupsiewicz, 978-275-1705
LOWELL, MA —A new exhibit at Lowell National Historical Park's Mogan Cultural Center, features the previously untold stories of youth who came to Lowell as teenage refugees. "Their Stories: Lowell's Youth and the Refugee Experience" features the narratives of five young people who hail from Bhutan, Burma, Congo, and Iraq. They share commonalities of the refugee experience, yet each has his/her own perspective. The exhibit is supported in part by a grant from the Lowell Cultural Council, a local agency supported by the Massachusetts Cultural Council.
The exhibit –a collaboration between the Tsongas Industrial History Center, the International Institute of Lowell, University of Massachusetts Lowell professor Susan Thomson, and Lowell National Historical Park –opens on Tuesday, September 9th.All are welcome to the opening event from 4:00pm-6:00pm. The Mogan Cultural Center is located at 40 French Street in Lowell.
This project began with UMass Lowell students from Dr. Thomson's sociology classes interviewing five members of the International Institute's Youth Fellowship group. The oral histories captured the thoughts of these young people as they established new lives here and tried to maintain their cultural heritage while building a sense of belonging in the United States. Audio clips of the interviews will be accessible to visitors in the exhibit.
Featured prominently in the exhibit is a mural created by 18 refugee youth from the International Institute of Lowell. Titled "The Culture Tree," the mural depicts a tree with its roots, trunk, and branches representing their collective past, present, and future. The tree symbolizes the living process of growth and change.
The exhibit,Mill Girl and Immigrant Exhibit, is open to the public during Mill Girl and Immigrant Exhibit hours of 11-5 daily through Labor Day, and 1:30 - 5:00 from September 2 through Columbus Day, and, will be used as part of the Tsongas Industrial History Center's popular "Yankees and Immigrants" program. Serving more than 9,000 students annually, the "Yankees and Immigrants" program explores the lives and experiences of the Yankee mill girls and the various immigrant and refugee groups that have called Lowell home. The Tsongas Industrial History Center is an education partnership between the University of Massachusetts Lowell Graduate School of Education and Lowell National Historical Park.
For more information contact: tihc@uml.edu or 978-970-5080. For more information about Lowell National Historical Park visit www.nps.gov/lowe or call 978-970-5000.