The Trolleys are back!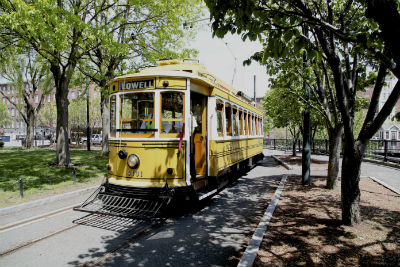 News Release Date:
March 21, 2014
Contact: Phil Lupsiewicz, 978-275-1705
Lowell, Massachusetts. The return of trolleys operating in downtown Lowell is a sure sign of Spring at Lowell National Historical Park. Students have already begun traveling aboard the trolleys through downtown Lowell Monday through Friday. Weekend service begins Saturday, March 22, 2014.
As our trolleys traverse the City of Lowell please be aware of marked intersections where the trolley crosses! Intersections and crossings to be particularly aware of include Market Street and Dutton Street,Merrimack Street and Dutton Street, the Main Post Office, Paul E. Tsongas Arena entrance and Father Morrisette Blvd. adjacent to Lowell High School. Safety First!
The National Park Service trolleys, replicas of the historic cars that ran in Lowell, operate from Marchthrough November each year. Trolley operators, park staff in period uniforms, make stops at the Mack Plaza along Dutton Street, Boott Mills at the foot of John Street, and the Tremont Gatehouse near Wannalancit along French Street. Trolley rides are free! Schedules are posted at the Boott Mills and Mack Plaza stops.
For further information about the trolleys, visit www.nps.gov/lowe or contact Phil Lupsiewicz at 978-275-1705 or phil_lupsiewicz@nps.gov.
Last updated: February 26, 2015