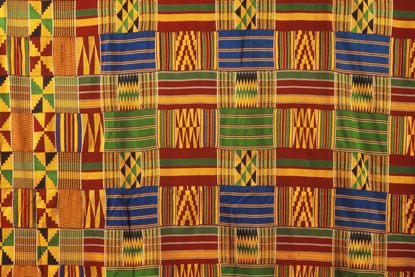 News Release Date:
August 8, 2013
Contact: Rubby Wuabu, (978) 970-5029
LOWELL, MA — See, touch, share, create! Celebrate Lowell's rich textile history with "Lowell's Cloth Traditions: A Celebration of our Communities," a free program at Lowell National Historical Park's Boott Cotton Mills Museum (115 John Street, Lowell, MA) on Sunday, August 25th from 1:00pm to 4:00pm. Discover the vibrant colors, intricate patterns, and fascinating stories behind Lowell's cloth traditions.From the clothes we wear to traditional methods of weaving and dyeing passed between generations, textiles play a central role in the lives of people around the world.
Nearly 200 years ago, the Merrimack Manufacturing Company produced cotton cloth in the new city of Lowell. Today, members of Lowell's diverse communities preserve and create cloth using traditional techniques originating around the globe. During the event, presenters representing the Angkor Dance Troupe, American Textile History Museum, New England Quilt Museum, as well as community members from Cameroon, Ghana, Nigeria, India, Cambodia, Vietnam, Trinidad, and other countries, will display their unique textiles and the stories, techniques, and significance behind them. Visitors will have the opportunity to explore cloth, engage with presenters, partake in creative hands-on activities, and view cloth being made on 100-year-old power looms! Bring or wear the fabric of your culture and share your family traditions.
In addition to the cloth fair, Lowell National Historical will offer free museum admission and interpretive programs on the local history of textile production all day on August 25 in conjunction with National Park Service Founders Day.Visitors of all ages are welcome!
For more information about Lowell National Historical Park visit www.nps.gov/lowe or call (978) 970-5000. For additional information on this program, please contact park ranger Rubby Wuabu at e-mail us.For information about national parks nationwide that are participating in fee free events during these same days, please visit www.nps.gov/findapark/feefreeparks.htm.