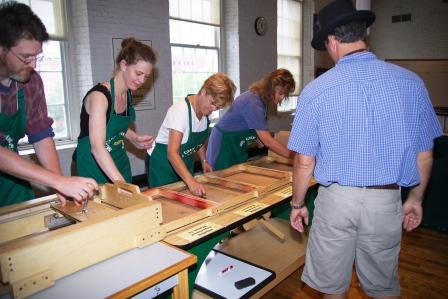 News Release Date:
August 10, 2007
Contact: Leslie Obleschuk, 978-970-5084
Teachers Explore History, Science, and the Arts in Lowell
Approximately 75 teachers representing 12 states across the country gathered at Lowell National Historical Park on August 6 and 7 for a U.S. Department of Education Teacher-to-Teacher Workshop.
The park, in partnership with the University of Massachusetts Lowell, collaborated with the U.S. Department of Education to co-host this latest workshop at the Tsongas Industrial History Center. An award-winning program, the Tsongas Center is a unique teaching and learning laboratory for interdisciplinary, place-based experiential learning for 60,000 teachers and students annually.
"What this place is about is relevancy," said master teacher Sandy Sanford. "It puts the magic back into teaching… The National Park Service has developed world-class, standards-based programs that support K-12 education." This workshop in Lowell highlights history, science, and the arts in hands-on sessions and tours of National Park historic resources including the operating weave room of the Boott Cotton Mills Museum, the Mill Girls and Immigrants exhibit, and a boat tour of Lowell's historic canal system. Teachers become unskilled workers "on the line" to experience the tension between workers and managers, learn to weave cloth on a hand loom to understand how technology changed work, design and build a canal system, and explore how industrial pollution affects both ground and surface waters. Participating teachers qualify for professional development credit for all sessions.
The workshop in Lowell was part of the U.S. Department of Education's "Teacher-to-Teacher" Initiative, one of six offered in National Parks this summer. Workshops feature a variety of speakers and breakout sessions conducted by master teachers and practitioners sharing best practices and strategies that have been successful in their own classrooms in raising student achievement. The U.S. Department of Education supports teachers in a variety of ways, including keeping them informed about the latest strategies and research for closing the achievement gap and helping all students meet high standards.