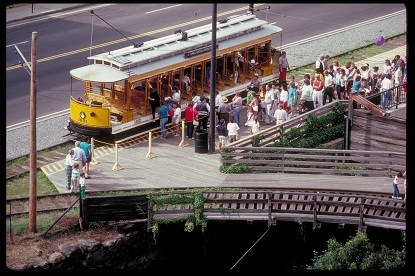 News Release Date:
April 3, 2013
Contact: Phil Lupsiewicz, 978-275-1705
Lowell, Massachusetts. - Lowell National Historical Park trolleys are a familiar site in the historic downtown area. Historically, trolleys enabled workers to commute more easily to their jobs. By 1935, trolleys were replaced by the automobile, as they grew in popularity for easy commuting. Today, you can listen for the bells and whistles of our replica trolleys and wave to the passengers and trolley crew as they navigate the busy streets of Lowell once again.
Take a ride on a relic of the past in a modern setting. Trolleys run daily throughout downtown Lowell along Dutton, John and French Streets. Be on the lookout for our yellow and green streetcars, as you walk or drive through the city.
Check with a ranger at the Visitor Center or the Boott Cotton Mills Museum for departure times and locations.
For further information about the trolleys, please contact Phil Lupsiewicz at 978-275-1705 or phil_lupsiewicz@nps.gov. Follow us on Twitter @Lowell_NPS.