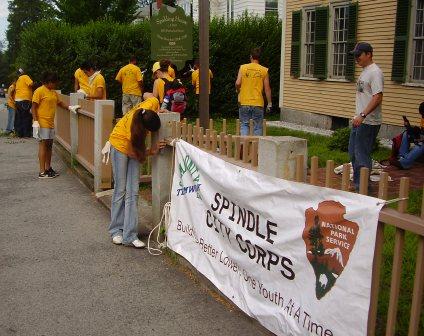 News Release Date:
August 12, 2008
Contact: Sue Andrews, 978-275-1702
Spindle City Corps Hosting
Youth Summit 2008
In Lowell
On Saturday, August 16, 2008 the Lowell Spindle City Corps will host a gathering and celebration of approximately 175 members, team leaders, and families of youth environmental programs from throughout New England. The Lowell Spindle City Corps is a partnership among Lowell National Historical Park and Community Teamwork, Inc. The team members are participants in summer programs with a hands-on focus toward completing environmental projects in urban settings as well as incorporating environmental education and leadership development into the curriculum. 
The summit attendees include: The Lowell Spindle City Corps including the Lowell Youth Partnership Theater Program, the Boston African American National Historic Site Trailblazers, Thompson Island Green Corps, Boston Harbor Islands NRA Ambassadors, Olmsted Center for Landscape Preservation "Branching Out", and the Groundwork Trust Green Teams of Concord, NH, Lawrence and Somerville, MA, and Providence, RI.
The event will begin at 10:00 am at Boarding House Park, French Street, Lowell and then move to the Tsongas Industrial History Center, 4th Floor of Boott Cotton Mills, 115 John Street. For more information regarding this event, please contact Amy Glowacki, 978-970-5024.
 - More -
The Youth Summit Agenda
10:15-10:45           Summit Welcome
                                Michael Creasey, Superintendent, Lowell National Historical Park
                                Representative, Community Teamwork Inc.
                 Robin Snyder, National Park Service Northeast Region Youth Programs Coordinator
                                Youth Essay Contest Winner
10:45-11:15           Participant Mixer
11:30-12:30              World Cafe at Boardinghouse Park  
Each group will present an exhibit highlighting their summer. The theater group will be roving in costume.
12:45-1:30               Catered Lunch       Boardinghouse Park
1:45-2:30                 At Tsongas Industrial History Center, Boott Mills 4th Floor
- Awards
                                  - Closing audio-visual program
                                  - Closing Remarks
2:30                          Adjourn