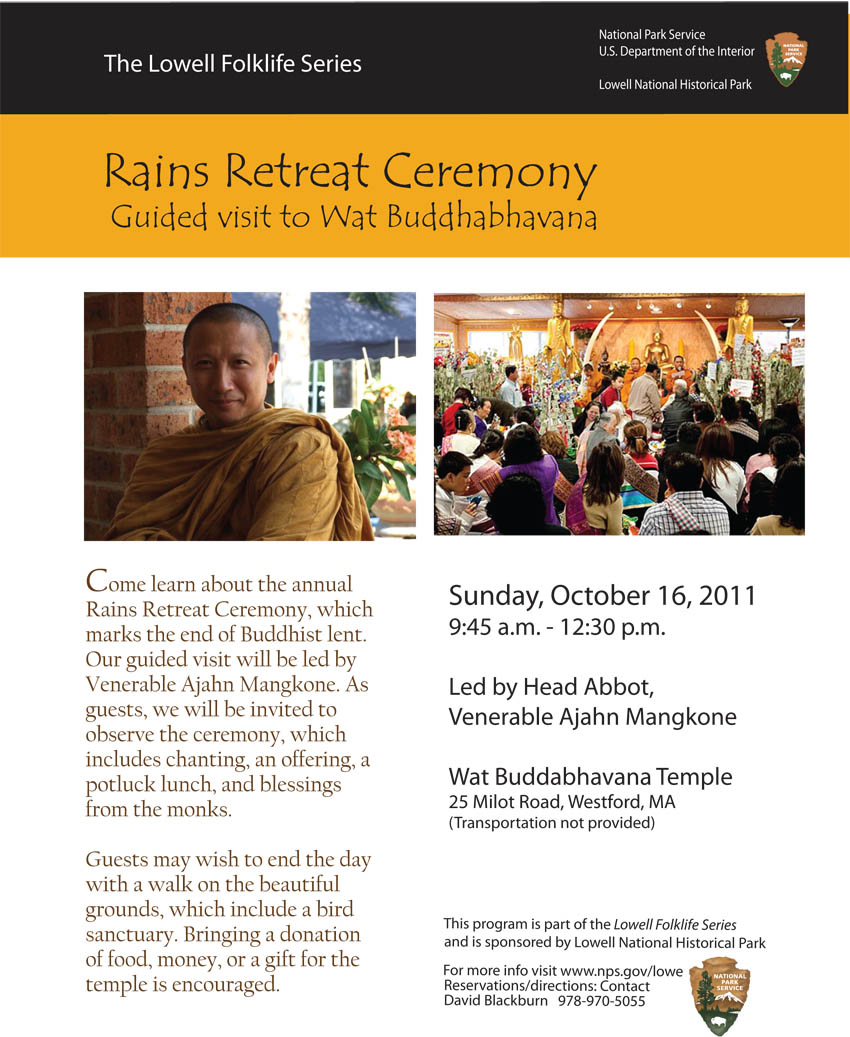 News Release Date:
September 29, 2011
Contact: David Blackburn, 978-970-5055
Contact: Phil Lupsiewicz, 978-275-1705
Lowell, MA -On October 16, 2011, Lowell National Historical Park partners with Wat Buddhabhavana in offering a guided visit to the temple for the Rains Retreat ceremony, which marks the end of Buddhist Lent.
Come learn about the annual Rains Retreat Ceremony, which marks the end of Buddhist lent. In partnership with Wat Buddhabhavana, the Lowell Folklife Series has organized a guided visit to the temple led by the Head Abbot, Venerable Ajahn Mangkone on Sunday, October 16, 2011, 9:45 am to 1:00 pm.
The End of Rains Retreat ceremony, held close to the first full moon of October, marks the end of a 3-month period of time coinciding with Asia's rainy season. Traditionally, it is a time when monks must refrain from traveling and remain at the temple. It has evolved into a time of intense spiritual practice for the monks, as well as a time when the laity has more access to the monks.
During the ceremony, lay people bring offerings to the temple, in gratitude for a good harvest. Attending the End of Rains Retreat ceremony is both a chance to make offerings to the temple and to receive blessing from the monks. People bring home cooked food, fruit, packaged food, candy, gifts, donations, or money.
As outside guests, we will be invited to observe the ceremony, which includes chanting, an offering, a potluck lunch, and blessings from the monks. We are also invited to end the day with a walk on the beautiful grounds which include a bird sanctuary. Participants are encouraged to bring a donation of food, money, or gift for the temple.
9:45a.m.Welcome and overview of ceremony by Venerable Ajahn Mangkone
10:00 a.m. Auspicious chanting and taking Three Refuges and Five Precepts
10:30 a.m.Thuk Baht (offering food to the monks) followed by a Dhamma talk (sermon) and the monks commence to eat their meal
12:00pm Lay people select their lunch (buffet style) and can eat either in the Hall or, weather permitting, outside
Due to limited space at the temple, reservations are required. Wat Buddhabhavana is located at 25 Milot Road in Westford, MA. You are responsible for getting there on your own.
For reservations and directions, call David Blackburn at: 978-970-5055

Visit the Massachusetts Cultural Council blog at:
http://blog.massfolkarts.org/blog/index.php/2011/09/rains-retreat-ceremony-on-oct-16/