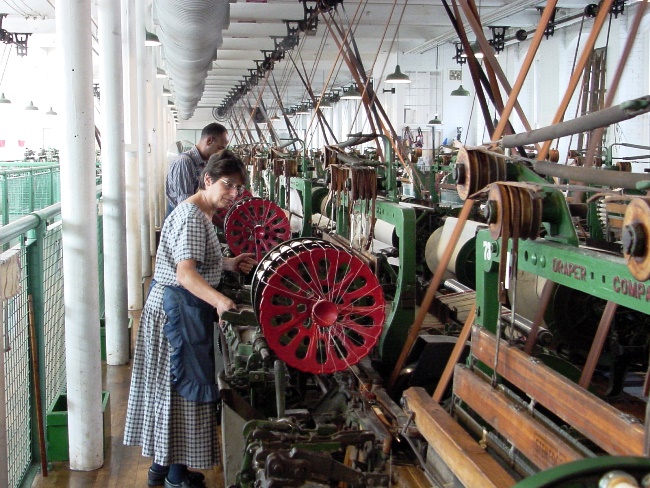 News Release Date:
February 6, 2015
Contact: David Byers, (978) 275-1705
Free Admission to the Boott Cotton Mills Museum
President's Day Weekend, February 14-16, 2015
Lowell, Massachusetts. LOWELL, MA —Lowell National Historical Park is waiving museum fees at the Boott Cotton Mills Museum in honor of Presidents' Day weekend, February 14-16, 2015. Come discover the story of America's Industrial Revolution, and experience the sights and sounds of the power looms manufacturing cloth in an operating 1920s weaveroom.
On Monday, February 16, join us at the Boott Cotton Mills Museum from 11 a.m. to 4 p.m. for the We Can Do It! Lowell Kids Week Family Festival. Meet your neighbors, make art, and learn how kids can make a positive change in their communities and the world! The free festival will include a scavenger hunt in the museum exhibits, activities with community organizations, kid-friendly workshops, and art-making. Participants include Merrimack Valley Time Exchange, Lowell Humane Society, Girl Scouts of Eastern MA, Lowell Macaroni Kid, Lowell Parks &Conservation Trust, UNICEF USA, The Umbrella Community Arts Center, Middlesex Community College, Lowell National Historical Park, and others!
The Family Festival signals the start of Lowell Kids Week, a series of free and fun family activities during February school vacation, February16-21, 2015. Nearly fifty events are hosted by over twenty partner organizations and take place throughout Lowell. Check www.lowellkidsweek.org for a complete schedule. All programs are free, but many require pre-registration –plan ahead and register early!
In addition to Presidents Day weekend, five more fee-free days are scheduled in 2015: opening weekend of National Park Week (April 18-19), the National Park Service's Birthday (August 25), National Public Lands Day (September 26), and Veterans Day (November 11).
The Boott Cotton Mills Museum is open daily from 12:00 noon to 4:00 p.m. The Mill Girls and Immigrants Exhibit is open daily from 1:30 p.m. to 4:00 p.m. Visitors are encouraged to begin their visit to the Park at the Visitor Center, open daily from 9:00 a.m. to 5:00 p.m., at 246 Market Street. Free parking is available near the Visitor Center at 304 Dutton Street.
For more information about Lowell National Historical Park visit www.nps.gov/lowe or call 978-970-5000. For information about national parks nationwide that are participating in fee-free events during these same days, please visit www.nps.gov/findapark/feefreeparks.htm.
- NPS -