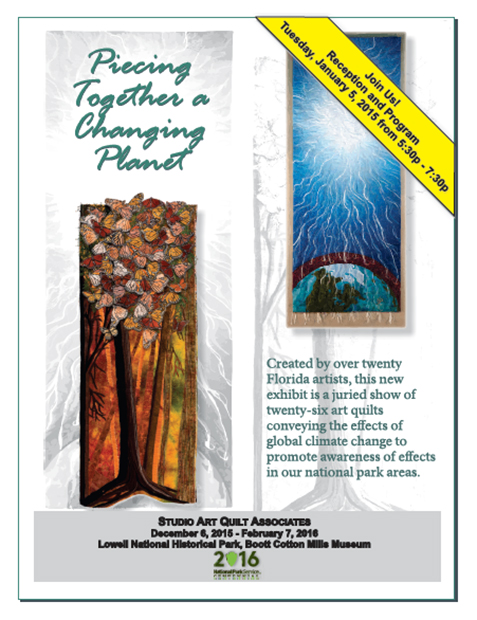 News Release Date:
December 18, 2015
Contact: Phil Lupsiewicz, 978-275-1705
Lowell, MA –Discover the inside story of the quilts in the exhibit "Piecing Together a Changing Planet" on Tuesday, January 5. Lowell National Historical Park will host an exhibit reception and curator talk for the traveling exhibit currently at the Boott Cotton Mills Museum that is focused on the impacts of climate change through the lens of America's National Parks. Curator Maya Schonenberger will join us live via teleconference from her home in Florida to share the process of creating the exhibit, what is required for inspiration, and the process to create the fiber artwork.
Ms. Schonenberger said, "The artists' goal was to help open people's eyes to the beauty of nature that surrounds them, and share their concern for its loss." Melani Brewer, one of the exhibiting artists, hopes that, "Our art will serve as a call to action to for viewers to take steps to protect our planet." In addition to Ms. Schonenberger, artists Melani Brewer, Andrea (Deda) Oliveria Maldonado, and National Park Service (NPS) exhibit coordinator Gary Bremen will join the discussion from Florida. Pamela Weeks, Curator of the New England Quilt Museum, will talk about the aesthetics of creating the quilts in the gallery. The reception and program begins at 5:30 PM.
 As part of the National Park Service Centennial, Lowell National Historical Park is hosting this and numerous events for 2016. The NPS Centennial goal is "To connect with and create the next generation of park visitors, supporters, and advocates." Additional programming in January related to this exhibit includes a "Fee Free" day at the Boott Cotton Mills Museum on January 18th and the Lowell Parks &Conservation Trust Eco-Film Series: Thin Ice, the Inside Story of Climate Science on Tuesday, January 26 at 6:30pm at the Boott Cotton Mills Museum Event Center.
This free exhibit will remain at the Boott Cotton Mills Museum, 115 John St., Lowell through February 7, 2016. For more details about the exhibit, visit the show's website at www.nationalparkartexhibit.com, the park's website at www.nps.gov/lowe, or contact Jack Herlihy at 978-970-5241.