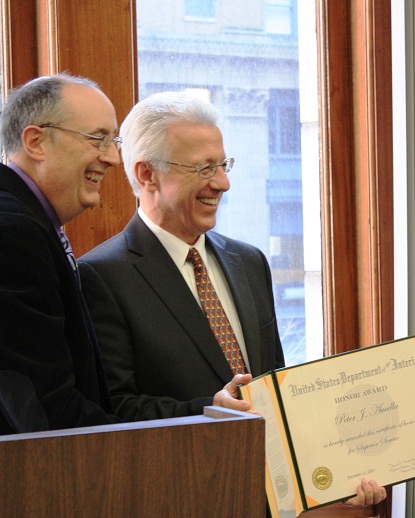 News Release Date:
December 23, 2013
Contact: Phil Lupsiewicz, 978-275-1705
Lowell, Massachusetts. Peter Aucella, Assistant Superintendent at Lowell National Historical Park has received the Department of the Interior's Superior Service Award for his 24 years of vision, planning, and efforts associated with the Lowell Summer Music Series. This music program has become a critical component to fulfilling the park's unique mandate – to serve as a catalyst in revitalizing the Lowell's physical, economic and cultural environments. Mr. Aucella received the award from the National Park Service Northeast Regional Director Dennis Reidenbach at an awards ceremony in Boston on December 11, 2013.
In 1989, Mr. Aucella was director of the Lowell Historic Preservation Commission, which assisted with much of the historically sensitive building rehabilitation that took place between 1979 and 1995 in downtown Lowell. A parking lot in front of the former H & H Paper Company was targeted to become the newly designed Boarding House Park, complete with an outdoor performance stage in the center of the National Park. Mr. Aucella recognized that the space, designed as a 2300 person theatrical performance venue, had the potential as a platform to attract more visitors to the park and city, to celebrate Lowell's cultural renaissance, and to transform the city's image from a bygone mill town to an up-and-coming vibrant community.
e led the effort to partner with the Lowell Festival Foundation to launch the Lowell Summer Music Series. Twenty-four years later, and still under Peter's direction, the series attracts visitors from all around New England to see a variety of musical performers from John Hiatt and Ani Difranco, to Blues Traveler, Joan Baez, the Indigo Girls, Arlo Guthrie, Cake, Buddy Guy, andmany more.  
Between 25,000 and 30,000 people a year travel to Lowell to experience what the Boston Globe called "New England's best outdoor concert venue." In addition to bringing new audiences to the National Park, the shows help support the local economy, with concert goers filling restaurants, shops and parking garages before each show. Through it all, Mr. Aucella is at the helm, supervising two staff, dozens of interns and work study students, and annually overseeing the selection of 17 musical acts (average 1500 attendees per show), and 10 kids shows (average 700 per show).
Peter also works closely with the Lowell Festival Foundation on the identification of sponsors, program development, budget and execution of marketing strategies via social media, radio, press, and ticketing. Last year, he helped secure a three-year sponsorship from Jeanne D'Arc Credit Union. Peter helps the Foundation strategize annually with the Natural/Organic Food industry, partnering with over 30 companies who provide substantial cash and product trade. 2014 will be the 25th For his vision, planning, and efforts associated with the Summer Music Series.