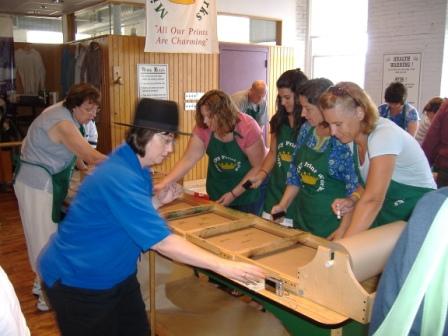 News Release Date:
August 13, 2009
Contact: Phil Lupsiewicz, 978-275-1705
Teachers Immersed in Lowell National Historical Park Resources
LOWELL, MA - This summer the Tsongas Industrial History Center, a partnership of Lowell National Historical Park and its partner, the University of Massachusetts Lowell's Graduate School of Education, hosted an unprecedented four weeks of residential teacher workshops.  One hundred and seventeen teachers, selected from nearly 270 applicants, participated in a prestigious National Endowment for the Humanities (NEH) "Landmarks of American History and Culture" teacher workshop entitled "Inventing America - Lowell and the Industrial Revolution."  This workshop is part of NEH's "We the People" project, which promotes the teaching, study, and understanding of American history and culture through the exploration of significant events and themes in American history.  "The Tsongas Industrial History Center consistently provides high quality professional development for teachers.  Its contributions to K-16 education are unique, because of
the well-established partnership that exists between the university and the National Park," said UMass Lowell Chancellor Martin T. Meehan.
For each of three weeks, an average of 39 teachers from dozens of different states attended an intensive, week-long workshop at the Tsongas Industrial History Center.  Through scholarly presentations from UMass Lowell's faculty and on-site investigations of Lowell's canals, mills, and worker housing as America's first large-scale planned industrial city, as well as through field studies of Old Sturbridge Village, Walden Pond, and Minute Man National Historical Park, workshop participants explored the far-reaching economic and social changes brought about by industrialization.  Summer 2009 marks the fourth year in a row in which the Tsongas Industrial History Center has received an NEH Landmarks grant. "The caliber of the educators attending and the talent of the University and National Park staff match up wonderfully in the outcomes of the NEH Workshops. The feedback from the participating teachers illustrates their high regard for what is made available here in Lowell," said Michael Creasey, Superintendent of Lowell National Historical Park.
The Tsongas Center also hosted a week-long workshop for Vermont teachers through a Teaching American History Grant, numerous one-day workshops for other teacher groups, and five weeks of summer camp for students age 8-14.