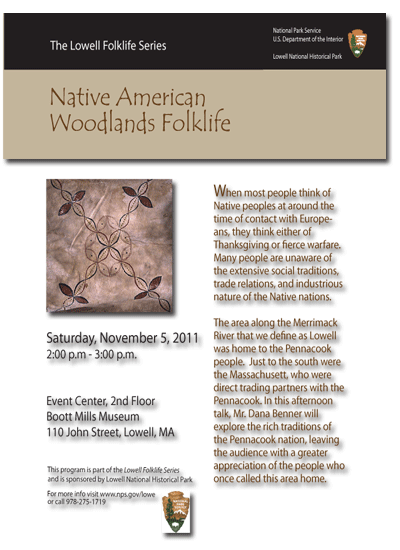 News Release Date:
October 21, 2011
Contact: Maggie Holtzberg, 978-275-1719
Contact: Phil Lupsiewicz, 978-275-1705
Lowell, MA-When most people think of Native peoples at around the time of contact with Europeans, they think either of Thanksgiving or fierce warfare. On Saturday, November 5th at 2:pm the Lowell Folklife series presents the history of Native Americans on the eve of pre-European settlement. Many people are unaware of the extensive social traditions, trade relations, and industrious nature of the Native nations. The area along the Merrimack River that we define as Lowell was home to the Pennacook people.Just to the south were the Massachusett, who were direct trading partners with the Pennacook. In this afternoon talk, Mr. Dana Benner will explore the rich traditions of the Pennacook nation, leaving the audience with a greater appreciation of the people who once called this area home.
Dana Benner is of Micmac/Penobscot/Piqwacket descent and is a member of the Inter-Tribal Council of New Hampshire.He has been studying Native history and culture his entire life and has been writing about it for over 25 years.He holds a BA in Liberal Arts with a concentration in U.S. History and Native Culture from Granite State College and he is working on his M.Ed in Heritage Studies with a concentration in Native History and Culture from Plymouth State University.
The program will take place at the Boott Cotton Mills Museum, 115 John Street, Lowell, Massachusetts, at 2pm on November 5th.
This free program is part of the Lowell Folklife Series and is sponsored by Lowell National Historical Park. Additional support comes from the National Endowment for the Arts and the Massachusetts Cultural Council. Contact Maggie Holtzberg 978.275.1719 for more information.

Follow the blog here.